The Perfect Blondie Recipe is the only blondies recipe you'll ever need.  Straightforward, no tricks, just a sweet, chewy blondie with the perfect addition of coarse sea salt.  This will be in your recipe box for years to come!
This blondie recipe was originally posted in 2014. I have altered the recipe to make them extra perfect and updated the pictures in 2023.
My Perfect Blondie Recipe Is A MUST MAKE!
I post a lot of recipes here. But my favorite, and most requested recipes are always the classics. There's just something about delicious fudgy brownies, snickerdoodle cookies, or even a perfect rice krispie treat that is comforting. I mean, they are classic for a reason!
So while I definitely like to play around with inventive, and creative recipes, I love to have recipes that are always in style. And I KNOW you need a perfect blondies recipe. Everyone does.
Why Is This The Best Blondies Recipe?
I've been making a version of this easy blondie recipe for years and years. I've tweaked it, changed it, changed it back, and now have finally settled on what I feel is the BEST blondie recipe you will ever have. Here's why:
The perfect soft chew sets this recipe apart. The proportions are spot on, and the addition of mini marshmallows into the batter add a sweet, chewy texture. They're my secret ingredient!
Buttery, golden edges with soft centers with a sweet brown sugar/caramel flavor. Topping these with a little extra flaky sea salt sends every bite to a whole new level.
The exact right amount of chocolate is in these blondies. You don't want them to be overly chocolate-y, but the semi-sweet chocolate chunks I add compliment the sweetness like a dream.
Coconut…I know there are non coconut lovers out there, but I"m going to give you a few options, so continue reading below if you're not into coconut! 
This recipe makes a LOT. This is the perfect cookie bar recipe to feed a crowd. Everyone loves them, they travel (or ship) well, and stay fresh for days!
What's the Difference Between A Blondie And A Brownie?
A brownie is a fudgy, dense baked bar made with cocoa powder or melted chocolate. The texture is rich and thick, but ALL chocolate. A "blondie brownie" is a bar made with brown sugar or a combination of brown sugar and granulated sugar, giving it a more buttery, caramel/butterscotch flavor. And if you add in chocolate chips like I do they're kind of like chocolate chip cookie bars. I have some other great versions of blondies here on my site that I think you will love:
Blondie Recipe Ingredients:
All the ingredients with their full measurements are listed at the bottom of this post, so make sure scroll all the way to the bottom or click the "Jump To Recipe" button at the top of this page!
I use salted butter in this recipe. I prefer the flavor it gives, but you can use unsalted butter if that's all you have. I like to add even more flaked sea salt on top, so you can skip that if you have a salt intolerance. 
Granulated sugar and light brown sugar are both used in this recipe. The brown sugar imparts a caramel/butterscotch flavor and moistness.
Always use large sized eggs in all my recipes unless otherwise noted. Using Extra large or Jumbo eggs can change the consistency or texture.
I use a large amount of vanilla extract in this recipe because the recipe makes a LOT of blondies, but I also live by the rule that you really can't add too much vanilla! measure with your heart!
Dry Ingredients: All purpose flour, baking soda, and flaked sea salt. You can use kosher salt if you prefer, but I really love larger saltier bits throughout my blondies!
There is shredded sweetened coconut in my recipe. I know I will get asked if you can leave it out, and the answer is yes, but I love it so much in this recipe! You can also toast the coconut before adding it into the cookie dough it really just adds flavor without the "coconut texture", Trust me when I say that when you toast the coconut you lose the fibrous texture that a lot of folks don't like. It ends up kind of melting into the blondies as they bake leaving a sweet depth of flavor that you can't quite put your finger on. And if you're like me, and don't mind coconut texture you can add it without toasting it! It's a win-win!
Chocolate chunks, or chopped semi-sweet chocolate. You can use chocolate chips if that is all you have too!
My secret is adding mini marshmallows to the cookie dough. They melt completely when baked, and just give the blondies a sweet, chewy, caramel texture throughout. It's my trick!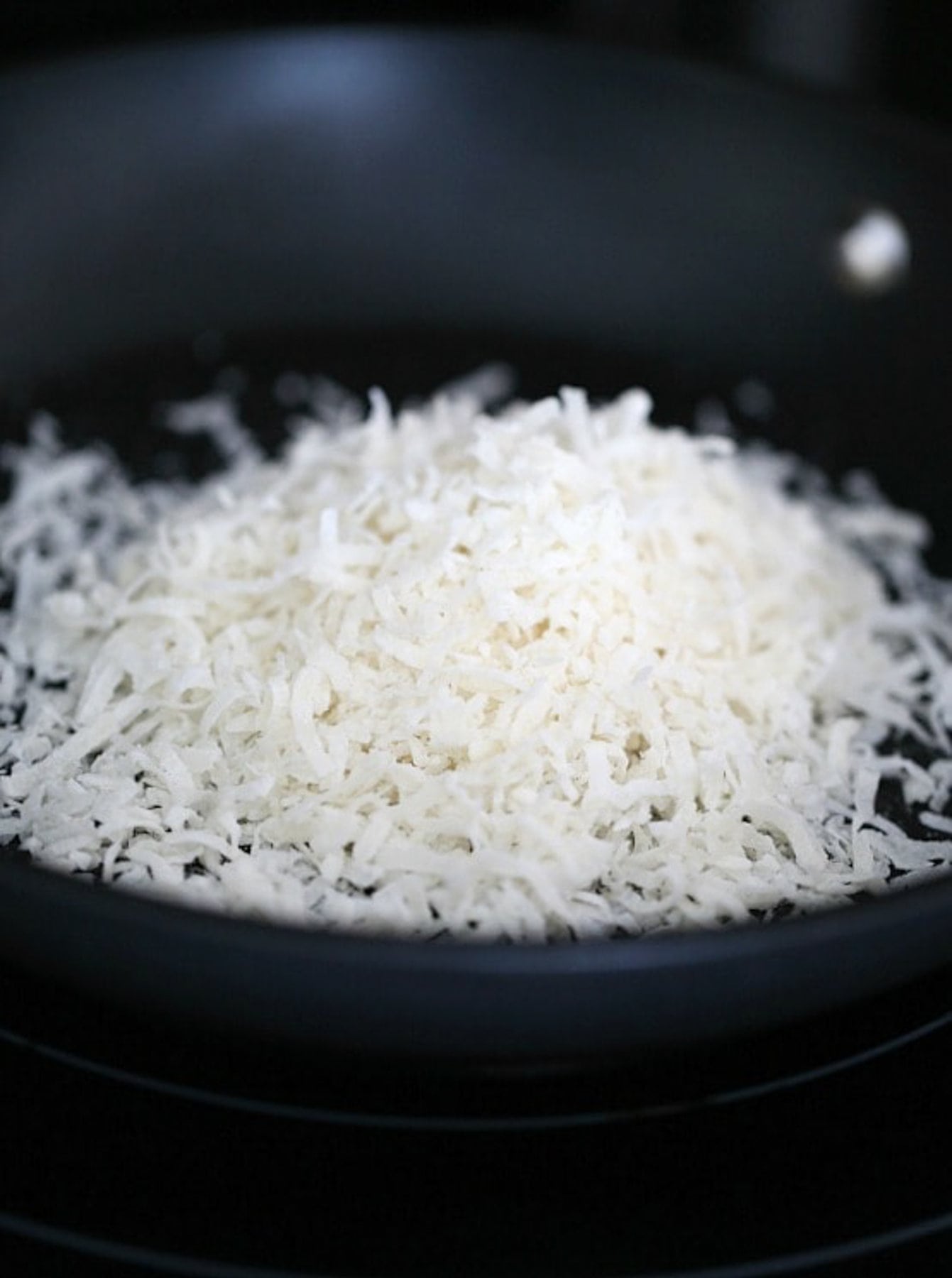 How to Toast Coconut (If You Want)
Besides the mini marshmallows adding sweetness and texture, the coconut in this recipe really adds another layer of flavor. But like I have said, if coconut isn't for you, try toasting it! Toasting coconut is super easy and can be done ahead. Toasted coconut gets crispier and when mixed into and then baked in the cookie dough it loses the texture completely, leaving you with a nice depth of flavor. Even if you like coconut texture, toasting it is a great option!
Simply add the sweetened flaked coconut to a cold skillet. Heat your skillet to medium-low and stir the coconut frequently. As it heats up it will begin to toast, becoming a deep golden brown color. 
Once the coconut starts browning, watch it carefully because it can burn quickly. Remove the pan from the heat and allow it to cool.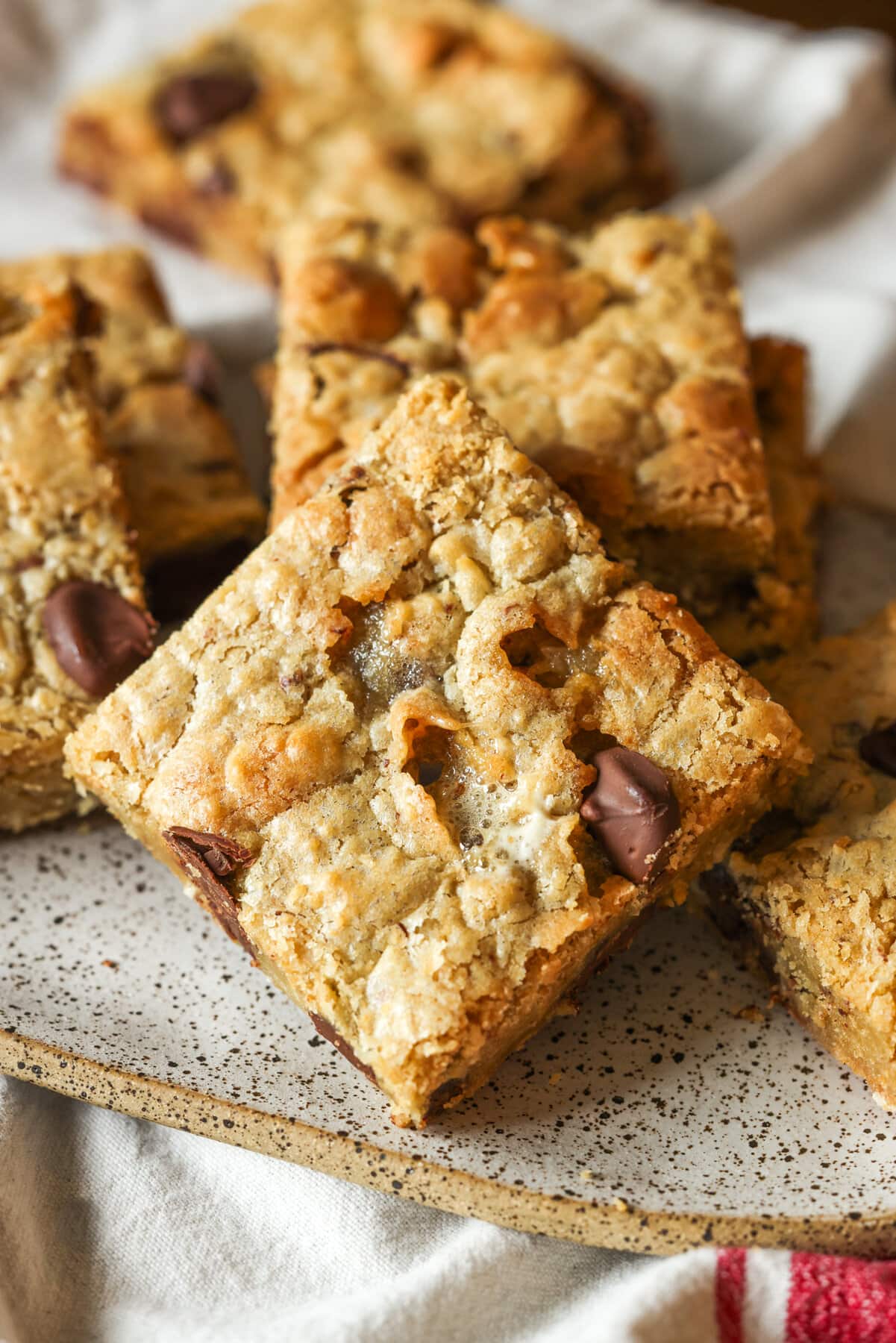 How To Make Blondies:
In the bowl of your stand mixer, beat the room temperature butter and both sugars together for 2 minutes on medium speed until they are light and fluffy. Next add in the eggs, vanilla, baking soda, and salt. Make sure to scrape down the sides of your bowl so everything is mixed in evenly. 
Turn the mixer to low and add in the flour, mixing just until combined. Finally stir in the coconut, chocolate chunks, and marshmallows.
Using a wooden spoon fold in the chocolate chunks, marshmallows and coconut.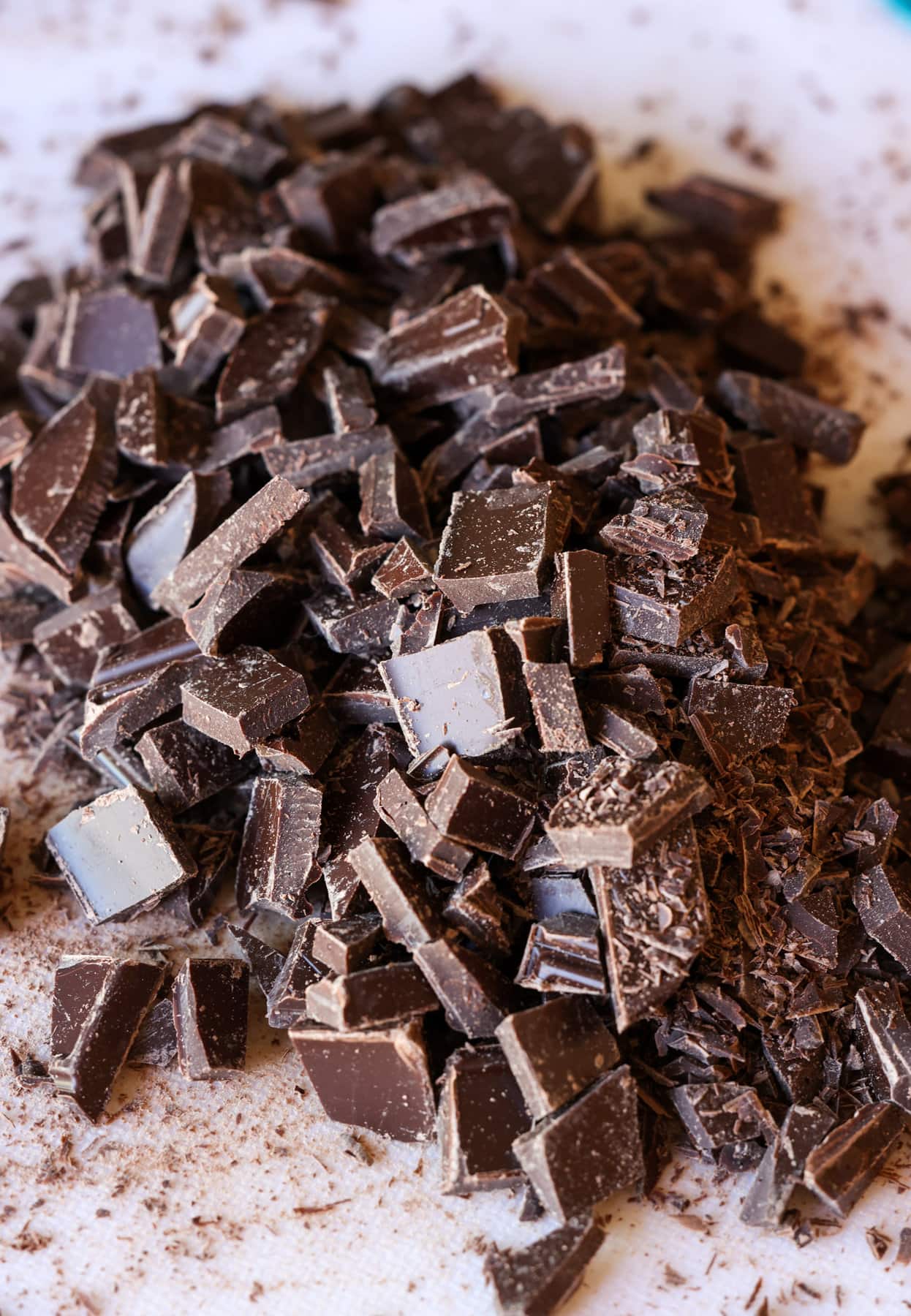 Spread the batter evenly into a nonstick, or parchment paper lined jelly roll style baking pan with 1″ rim (dimensions are 12″ x18″). Bake the blondies for 25-ish minutes, or until the center is just set. Do not over bake!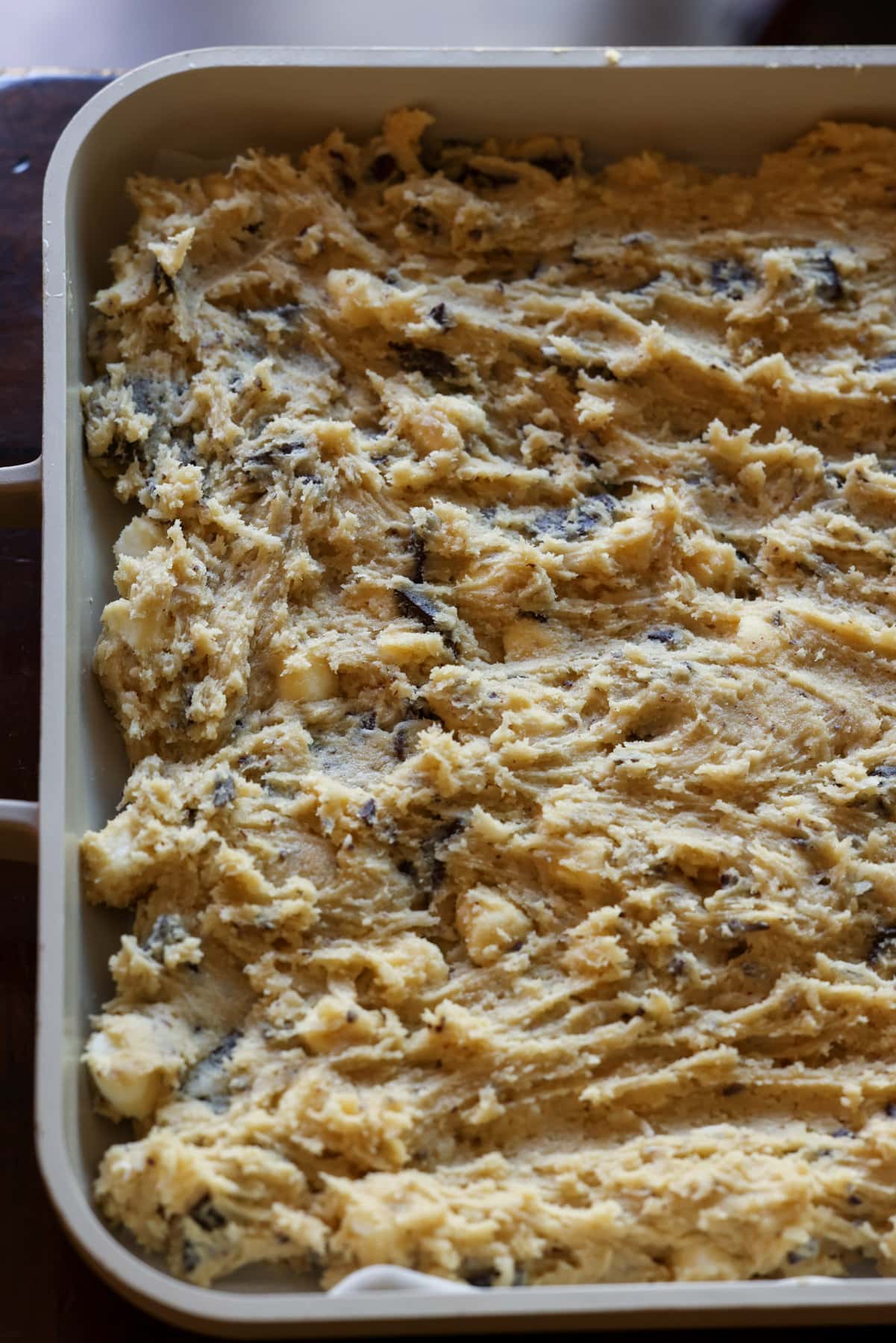 Place the pan on a wire rack and allow the blondies to cool in the pan completely, and then cut them into squares to serve!
Blondie Recipe Variations:
The base recipe for my blondies is totally adaptable, and can be switched up easily to play around with different flavors or mix-ins. Here are a few great ideas:
You can brown the butter or use melted butter in this recipe if you prefer. Just allow the butter to cool until it's just warm (not hot) before continuing on with the recipe as written. You can skip the stand mixer since the butter is melted, but since this recipe makes such a large batch, the mixer is usually the easiest method. Note: using melted butter will produce a more dense blondie. Still delicious, but the texture will be slightly different!
Add in any shopped up candy bar you like! Chopped Snickers would be amazing in this recipe!
Use white chocolate chips instead of chocolate chunks. Pair the white chocolate with dried cranberries as an add-in for a buttery, delicious treat perfect for the holidays!
Add in chopped nuts like walnuts or pecans!
Swap out the light brown sugar for dark brown sugar for a deeper flavor. This would be great if you browned the butter and also toasted the coconut. SUPER rich and flavor-packed!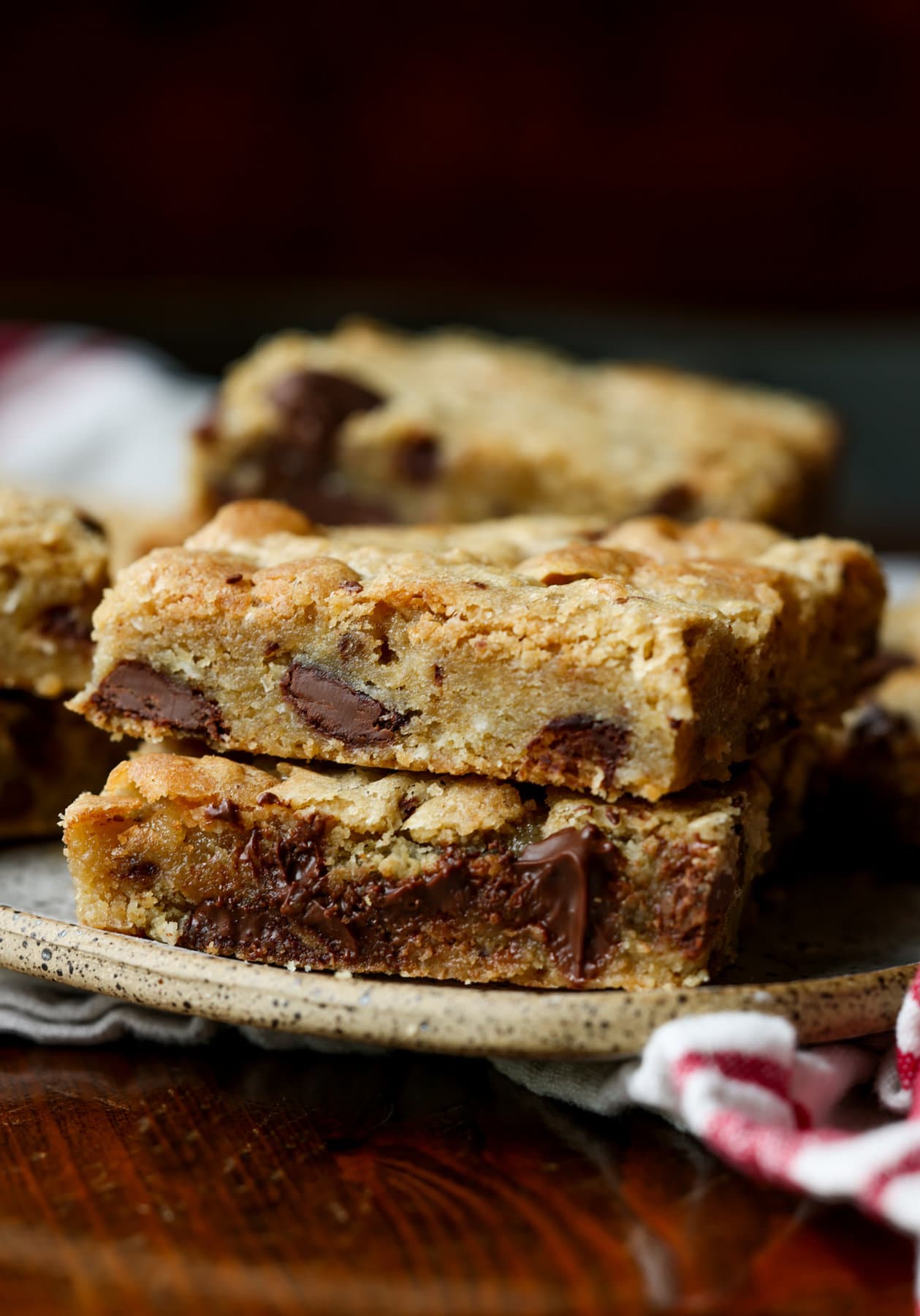 How To Store Blondies:
Blondies store great if kept airtight at room temperature. They will stay fresher even longer if you wait to slice them. 
This recipe is also fantastic to freeze. Slice them, place them in an airtight container or freezer bag and freeze them for up to 30 days for best freshness. Allow them to thaw at room temperature.
---
Description
This is one of my all-time favorite recipes! Over the years I've changed it and tweaked it, and I will stand by the fact that this is the BEST Blondie Recipe ever!
---
2 cups

salted butter at room temperature

1 1/2 cups

granulated sugar

1 1/2 cups

light brown sugar, firmly packed

4

large eggs

1 tablespoon

vanilla extract

1 teaspoon

coarse sea salt 

1 teaspoon

baking soda

4 1/2 cups

all purpose flour

1 cup

shredded sweetened coconut

2 cups

chocolate chunks

1 1/2 cups

mini marshmallows
optional – flaked sea salt to sprinkle on top
---
Preheat the oven to 350°F. Line a 15x10x1- inch pan with parchment paper and coat lightly with nonstick spray. Set aside. 

In the bowl of your stand mixer fitted with the paddle attachment mix the butter, granulated sugar, and brown sugar together on medium-high speed for 2 minutes, until fluffy. Turn the mixer to medium and add in the eggs, one at a time, mixing well. Add in the vanilla, salt, and baking soda and mix until smooth and combined. 

Turn the mixer to low and slowly add in flour, mixing until just combined. Don't over-mix. 

Stir in the coconut, chocolate chunks, and marshmallows. 

Spread the batter evenly into the prepared pan and bake for 25 minutes. The edges will be golden and the center will just be set. Careful not to over-bake.

Sprinkle with flaked sea salt if desired.

Allow the bars to cool completely in the pan before cutting into bars.
---
Notes
Store airtight at room temperature for up to 3 days.
Freeze airtight for up to 30 days for best freshness
Keywords: blondies, blondies recipe, cookie bars
Want To Save This Recipe?
Find more recipes like this:
PIN for later: