Streusel Topping aka Crumb Topping is so easy to make and can be used on many different baked goods from muffins and breads to cakes and pies or baked up on its own and used as a buttery crumble topping!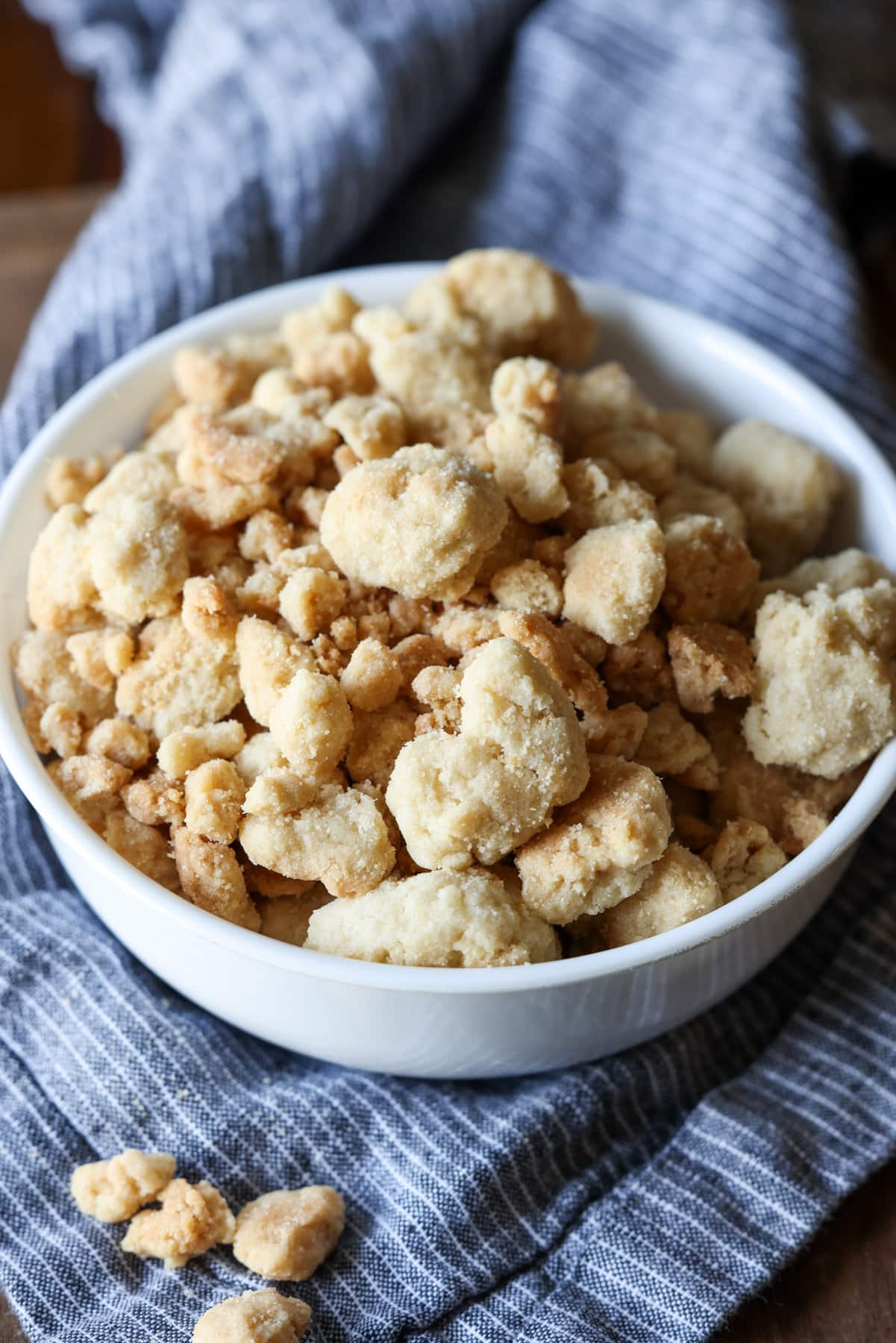 Easy Streusel Topping Recipe
I'm going to let you in on a little secret: Crumb Topping is one of my all-time favorite sweets in the world. I'm talking just bake up a tray of ONLY crumb topping and eat it on yogurt, or by the handful…no judgement! Of course that's not what I normally do…I usually make streusel topping along with pies, muffins, and quick bread. 
Plus, my classic streusel topping recipe is super versatile. You can add it to WAY more things than coffee cake. Basically it can be added anytime you want a buttery, crumb on top! 
What Is Streusel Topping?
Streusel topping, also known as crumb topping or crumble topping, is a mixture of flour, sugar, and butter. The ratios are higher on the flour vs the butter to produce a dry, crumbly texture, but still moist enough to hold together when squeezed into large "crumbs". Streusel adds a layer of buttery flavor and crunchy texture to baked goods. 
You can add spices like cinnamon, cardamom, nutmeg or pumpkin pie spice to add to the flavor, or keep it simple and let the brown sugar and butter do the heavy lifting in terms of flavor. Add it to your favorite blueberry muffin recipe or bake it up until it's crunchy and sprinkle it on top of ice cream!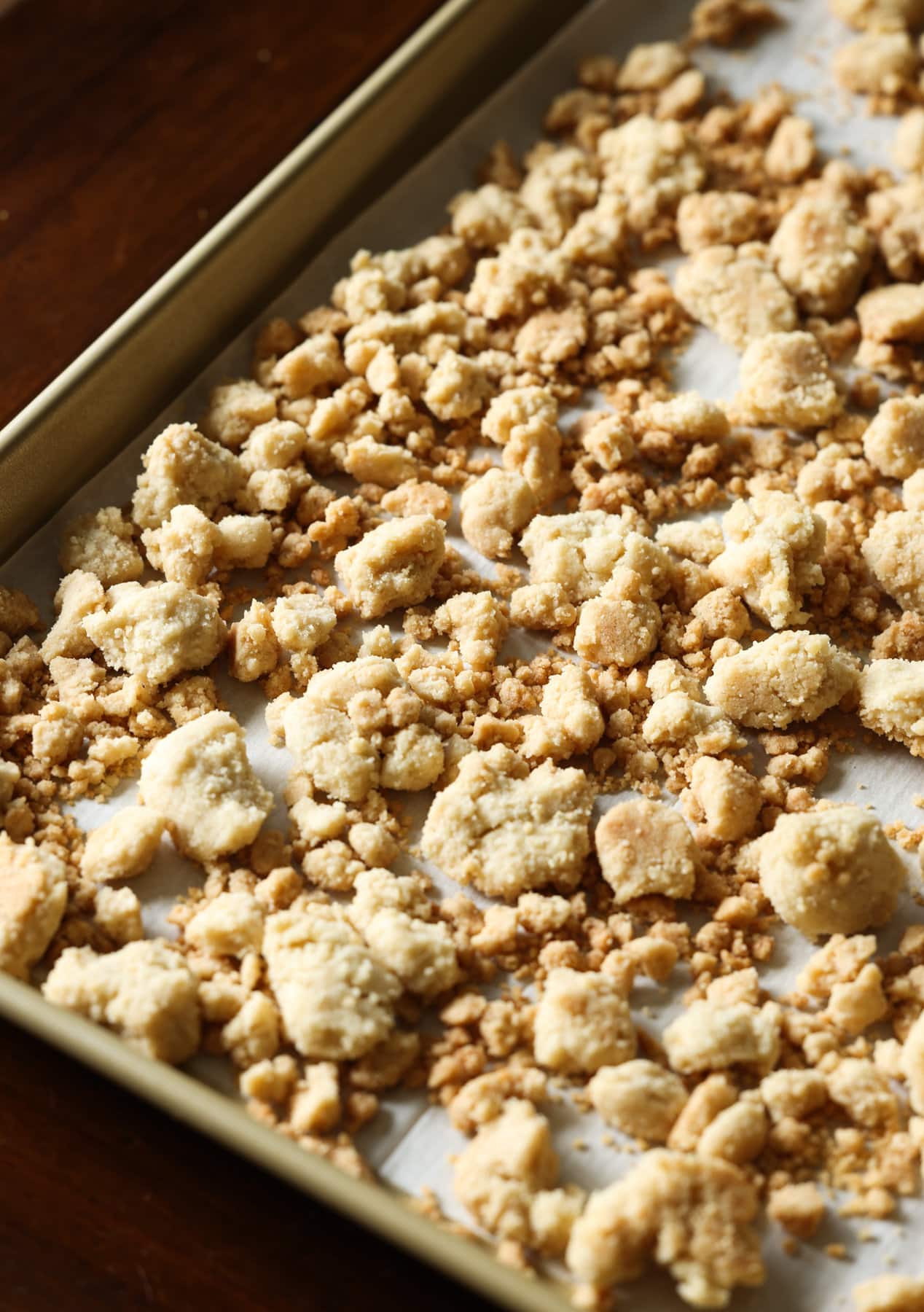 What Is the Difference Between Streusel and Crumble Topping?
Streusel topping and crumble (or crumb) topping are basically the same thing with two different names. Whenever you see a streusel topped recipe, it's going to be the same as a buttery crumb topping. Although don't mix this up with a "crisp" topping which typically includes oats like in my Apple Crisp recipe! 
Also I want to mention to not confuse Streusel with Strudel! Two totally different recipes!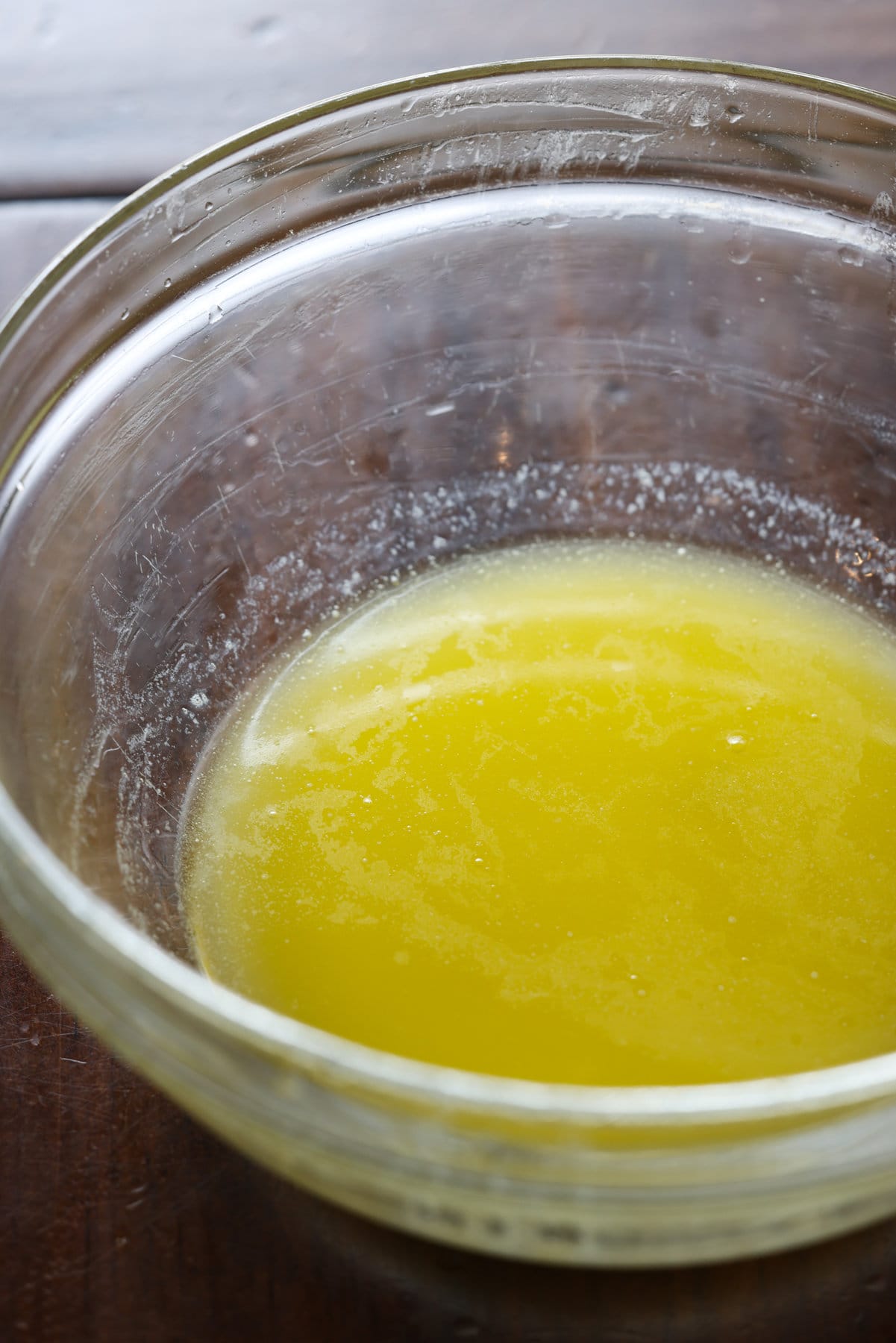 Ingredients:
What is a streusel topping made of? The simple ingredients are most likely in your kitchen right now. Make sure to hop down to the bottom of this article to the recipe card which includes the full ingredient measurements and instructions. 
Melted Butter. I prefer using salted butter in this streusel recipe, but you can certainly use unsalted butter as well. I would increase the amount of additional added salt to 1/2 teaspoon.
Sugar. I use a combination of granulated sugar and light brown sugar, You could also use dark brown sugar as well or all granulated. 
Flour. Simple all purpose flour works great in this recipe. If you would like a gluten free option you can use a gluten-free "cup for cup" flour. 
Salt. Along with the salted butter I like to use a pinch of kosher salt as well. Since there is no real added flavor, the extra pinch of salt in the butter helps balance out the sweetness from the sugar.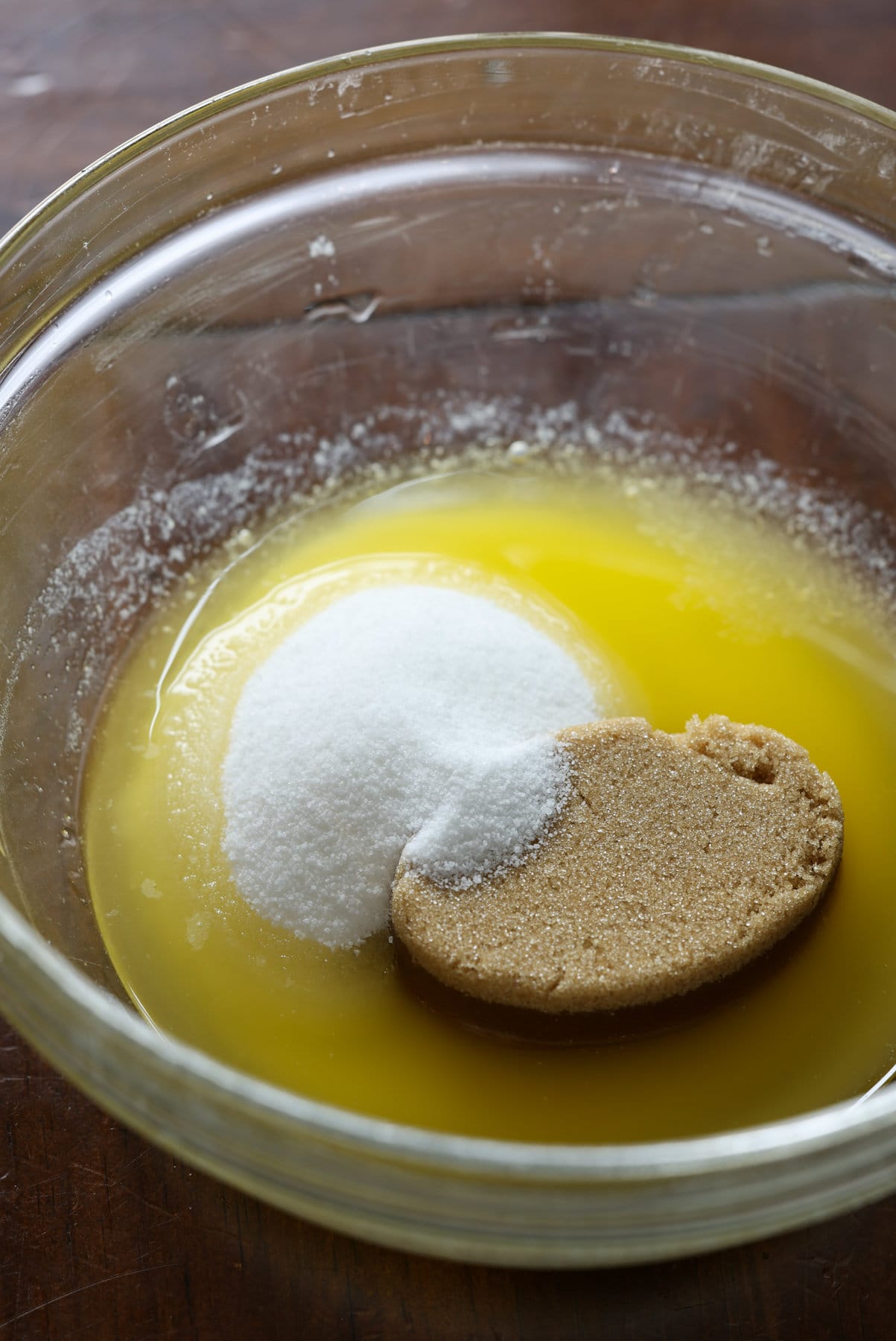 Recipe Variations:
Here are a few ideas on ingredient additions to change up the classic streusel:
1 teaspoon ground cinnamon would make a delicious cinnamon streusel 
1/4 cup chopped pecans (or any other type of nuts like walnuts)
1 teaspoon pumpkin pie spice
1/2 teaspoon vanilla extract
1 teaspoon dry vanilla beans
How To Make Streusel Topping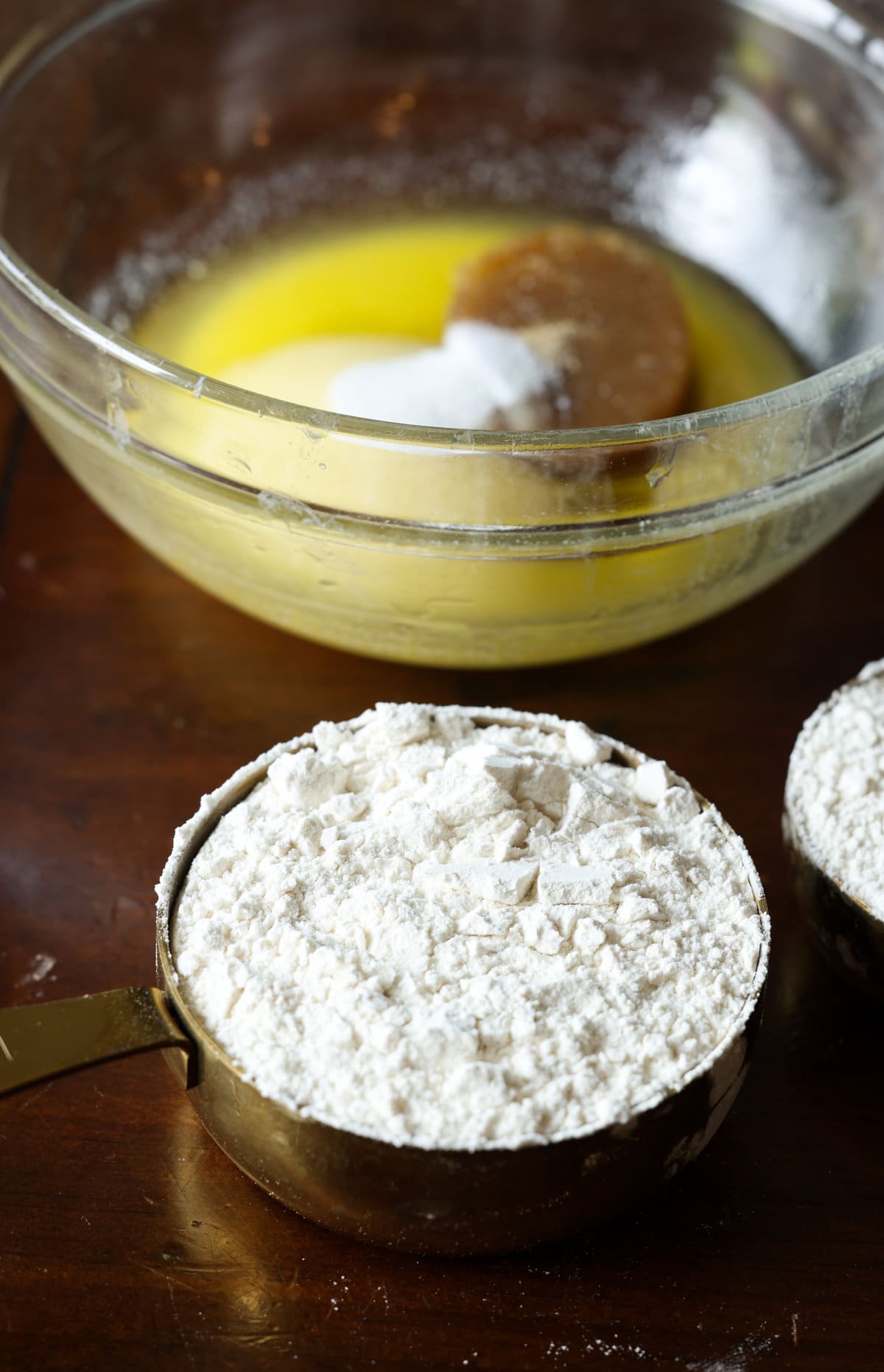 The ease in making this recipe is part of the beauty of it! All you do is mix the dry ingredients and melted butter together in a bowl until combined, so basically no prep time. The mixture will be drier than pie dough, but will still hold together in large crumbs when squeezed. Since I use melted butter you can simply stir it up with a large spoon and then squeeze into crumbs with your hands!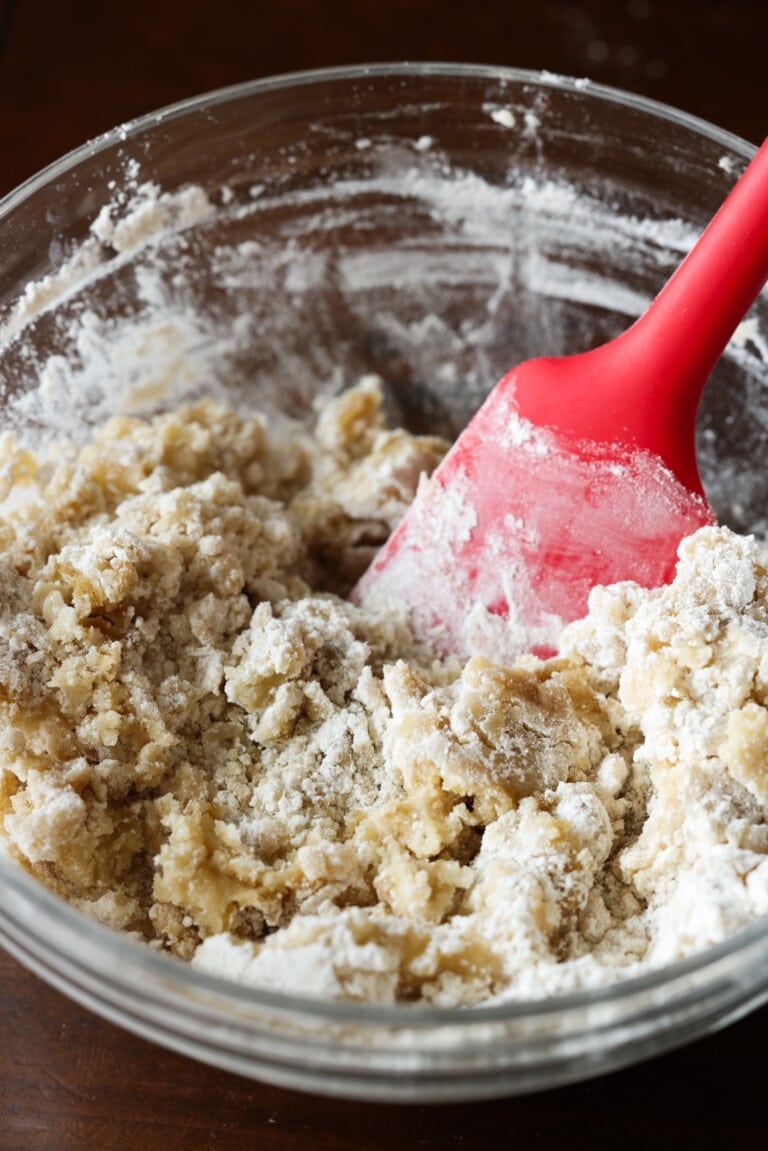 Add it on top of whatever baked good or desserts you're making OR bake it by spreading it on a lined baking sheet for 15 minutes until the crumbs are golden brown. Once they're cooled they will get fully crisp!
Is Melted or Cold Butter Better For Streusel?
So many streusel recipes require the use of cold butter. You use a party cutter or fork to "cut" or work the butter into the flour, making sure all the flour and sugar gets coated completely. This allow the topping not to melt when baked. BUT after tons of experimenting, I never saw a difference in the finished product when using cold butter vs melted butter EXCEPT how much easier it was to make using melted butter. 
Once I got the measurements correct I only use melted butter in my crumb topping now. No pastry cutter or elbow grease necessary, just a bowl and a spoon!
Can You Make Streusel Topping In Advance?
Absolutely. If you are planning on baking with streusel topping go ahead and prep it, storing it in an airtight container in the refrigerator. If you notice that it dries out too much just melt a tablespoon of butter and drizzle that on top and work it in. You'll be good to go!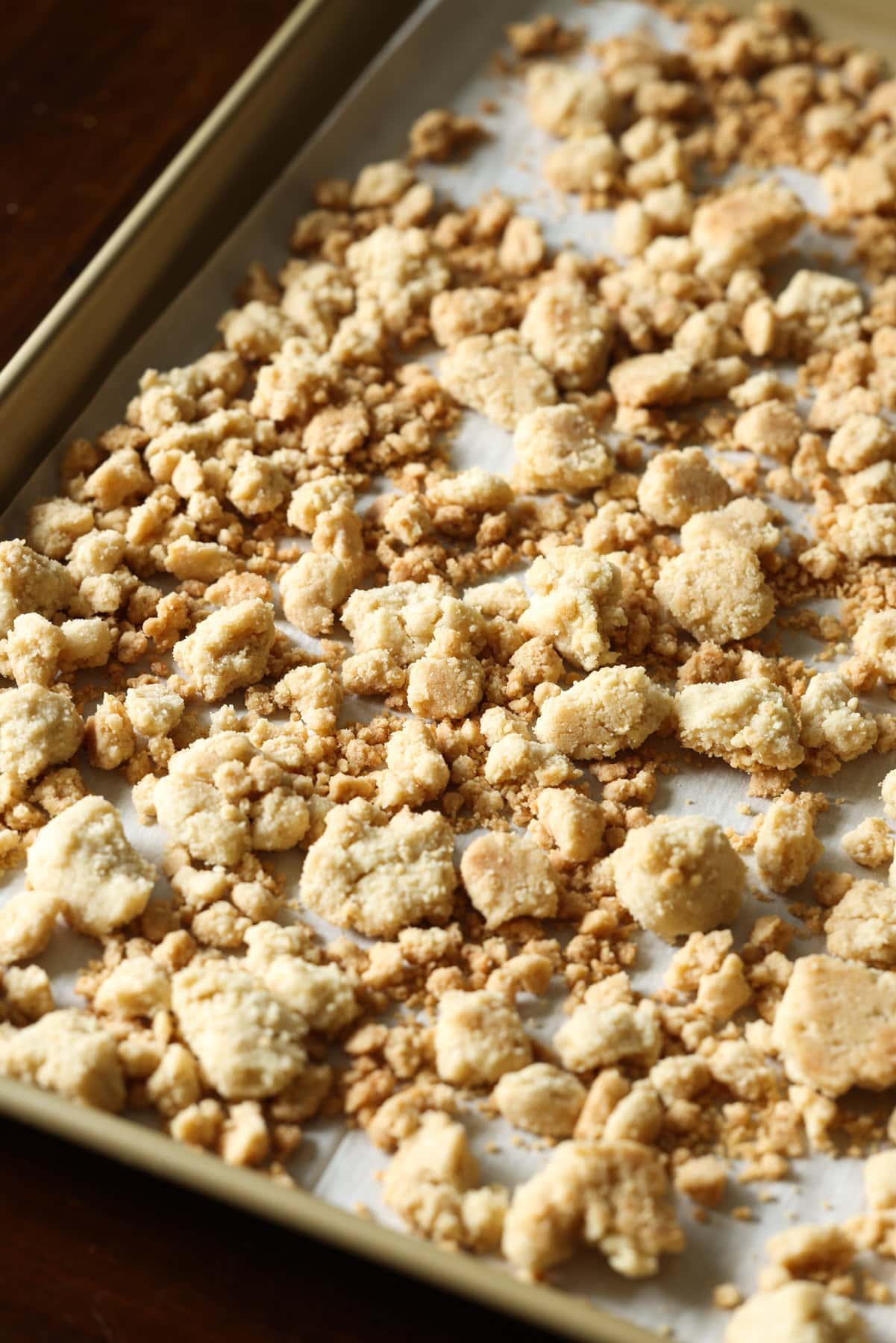 Can You Bake Streusel Topping On Its Own?
Absolutely! I have included in the recipe card below the instructions on how to bake streusel topping alone. You can use this on top of a frosted cake, or even add it onto any recipe that uses streusel topping…the pre-baked streusel will make the topping extra  crispy!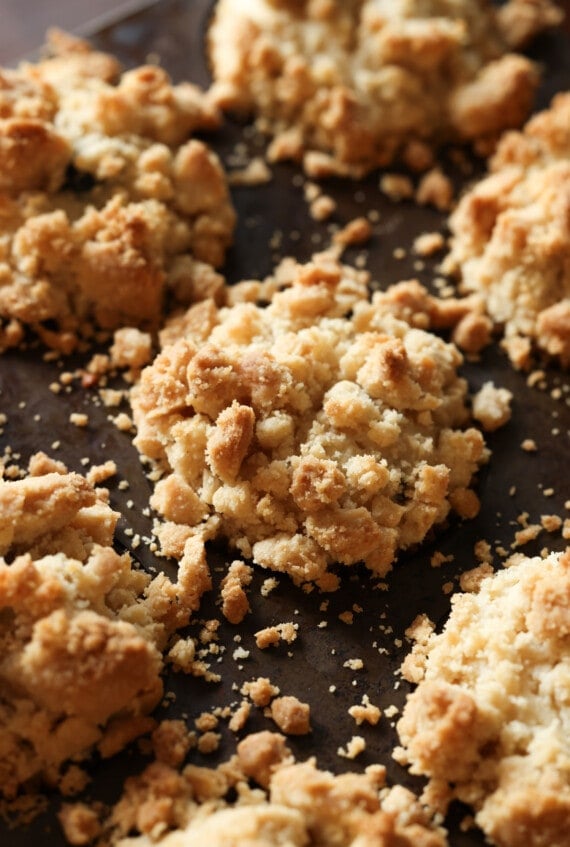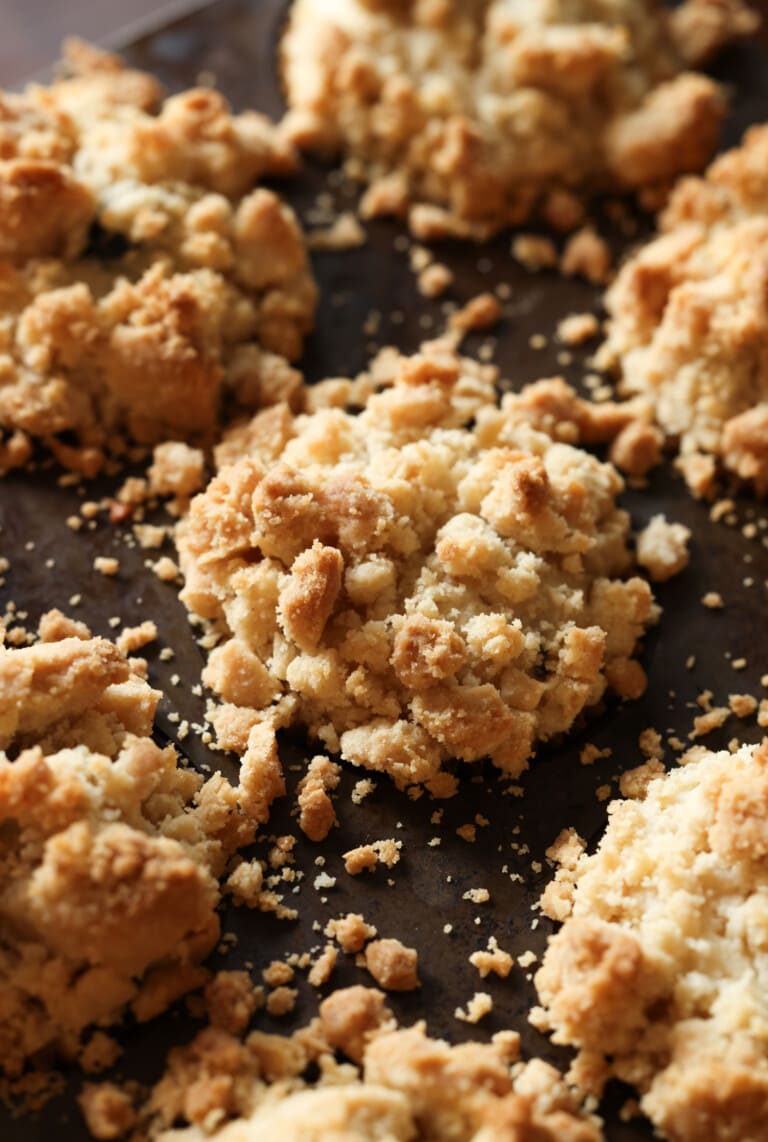 How To Use Crumb Topping?
Here is a list of recipes that you can use this streusel/crumb topping on. Note that if the recipe doesn't already call for a crumb topping you might need to increase the bake time by a few minutes!
Muffin Recipes:
Pie Recipes:
Quick Bread Recipes:
Cake Recipes:
Some baked, crunchy crumb topping sprinkled on top of the frosting on a layer cake adds texture and flavor, as well as making the cake look pretty! Think of it as buttery sprinkles!
Use It As A Topping:
I shared how to bake the streusel alone in the recipe card below. This will make a buttery crumb topping that you can use to sprinkle on so many things like: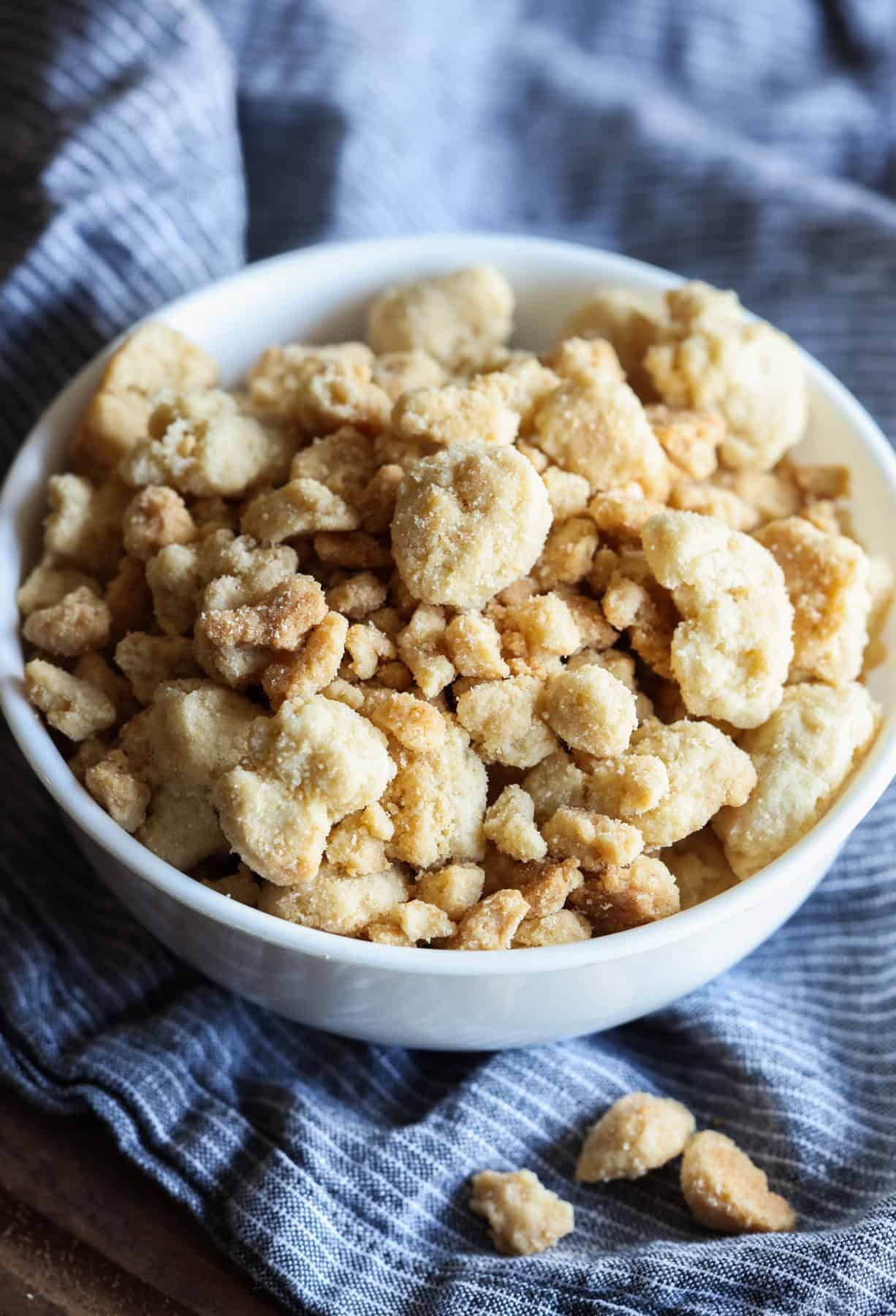 How To Store Streusel Topping
Making streusel topping ahead is a time saver, whether you're pre-baking it, or saving it to top your banana bread with. 
Pre-baked streusel: Baked streusel can be stored airtight at room temperature for up to 5 days. You can also freeze it for up to2 months in a freezer bag. Allow it to thaw at room temperature.
Unbaked streusel: You can store in an airtight container in the refrigerator for up to 5 days before using. 
FAQ's
What is the difference between crumb and crumble?
Just the name. Crumble topping and Crumb topping are essentially the same thing: a mixture of butter, sugar, and flour.
Should the streusel topping be added before or after baking?
You add streusel topping before baking your pies, cakes, or muffins. It bakes along with whatever you are making.
Why is my streusel topping not crumbly?
If your crumb topping isn't crumbly you need to add a little more butter. Chances are you mis-measured the flour, but it is an easy fix. Start with 1 tablespoon of melted butter and mix that in, adding more if necessary. Don't add too much butter, though, as it will melt as it's baked. Alternately if your crumb is too wet you can add more flour 1 tablespoon at a time until the right consistency is achieved.  
Why does my streusel sink?
Streusel topping will sink if the batter you are adding it on top of is too thin. It can also melt into the batter if there is much butter content
Why is it called a streusel?
Streusel is a German word, and the translation is as a verb to be sprinkled or scattered. Streusel topping is often sprinkled on top of baked goods, hence the name.
---
Description
This easy Streusel Recipe is super versatile and can be used on so many recipes from pies and muffins to simply baking it alone and using it as a buttery, crisp topping (as these instructions show). OR use this recipe anytime a crumb topping is needed or desired!
---
1/3 cup

granulated sugar

1/3 cup

light brown sugar 

1/4 teaspoon

salt

1/2 cup

salted butter, melted and cooled slightly

1 1/2 cups

all-purpose flour
---
Preheat the oven to 350°F. Line a baking sheet with parchment paper and set aside. 

In a large bowl mix the granulated sugar, brown sugar, salt, butter, and flour together until combined. 

The mixture will be crumbly, but will hold together and form large crumbs when squeezed. 

Form into crumbs and spread on prepared baking sheet.

Bake for 10 – 15 minutes until lightly golden. The crumbs won't get completely crunchy until they cool.

Allow the topping to cool completely and then package in an airtight container, or zip-top bag until ready to use.
---
---
Notes
If using this streusel on a separate recipe, follow the instructions as listed but don't bake it. Sprinkle the uncooked streusel topping on whatever recipe you are making and bake according to THOSE instructions.
– Store airtight at room temperature for up to 5 days.
– Freeze in an airtight container for up to 2 months. Thaw at room temperature. 
Keywords: streusel topping, crumb topping, crumble topping, streusel recipe
Want To Save This Recipe?
Find more recipes like this:
PIN for later: