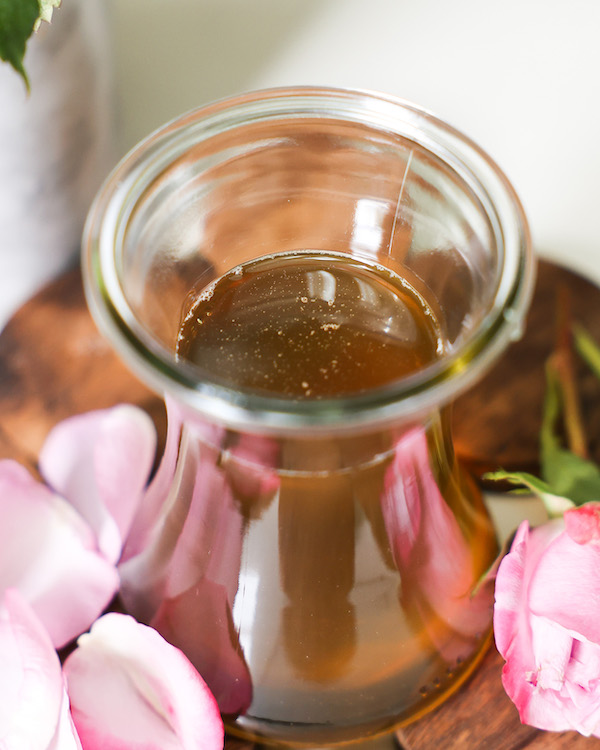 A delicious and easy-to-make Rose Simple Syrup you can enjoy in cocktails, coffees, sodas, and more! This recipe uses store-bought rose water so you can make it all year round.
Scents and flavors are often deeply tied to memories and feelings. Cinnamon feels like a cozy fall day around the fireplace, hot beverage in hand. Coconut feels like the hottest day of the summer spent on a beach, sand between your toes. Rose petals feel like my best feminine self: happy, in love with life, and embracing my identity. Roses are in season May to October, and I feel so good amongst all the blooming flowers under the summer sun. One way to get that feeling you love year round is through food and this rose simple syrup is perfect for that!

Are roses edible?
Did you know some flowers are edible? Rose petals are edible (all varieties!), and make for a beautiful garnish for food and drink. You can grow edible flowers yourself, or look for food grade flowers at the store. Just make sure they're not grown with harmful, inedible chemicals. Rose petals specifically are a good source of vitamin C, calcium, Iron, vitamin A, and vitamin E. They are also high in phytonutrients [source]. Rose water is even great for your skin! Use it as a toner to hydrate and help soothe irritation. Not to mention it smells incredible!
Dried rose petals look beautiful on lattes, in a bath, or as a dessert or drink garnish. Rose syrup is the perfect addition to coffees, teas, and cocktails. Have you tried my strawberry rose bramble recipe yet? It's made with gin, muddled strawberries, and this homemade rose simple syrup. Talk about refreshing!

How to make rose simple syrup
Simple syrup comes in many variations and the instructions and ingredients are simple. Homemade syrup is a 1:1 ratio of sugar to water, simmered until the sugar is dissolved and the mixture is thickened. You can add pretty much any flavoring to change the syrup: citrus peels or zest, flower petals, and flavor extracts are all things that change the flavor of simple syrups.
Step one: Combine sugar, rose water, and water in a small pot and bring to a simmer. Stir well to help the sugar dissolve.
Step two: Reduce the heat to low and cook for 20 minutes, or until the simple syrup has reduced by half. The syrup should be about the same consistency as agave, if not a little runnier. It will thicken more once it cools. Be careful not to over reduce it and cook out all of the liquid.
Step three: Allow to cool then store in a glass jar for up to 2 weeks. If using other ingredients, like fresh petals or citrus peels, strain the liquid before transferring it.
I love adding floral flavor to my drinks and foods. If I'm feeling a little down, it's a small pick-me-up that gets me feeling better. What flavor or food makes you feel that way?
Other uses for rose simple syrup
Use to sweeten this Hibiscus Pineapple Skin Tea (pictured above)
Add it to cocktails like this refreshing Strawberry Gin Bramble
Drizzle simple syrup over waffles, pancakes, and crepes
Add to lemonade or sparkling water (homemade soda, anyone?)
Sweeten coffee and tea (iced or hot)
Drizzle over cakes after they're baked to keep them moist and hydrated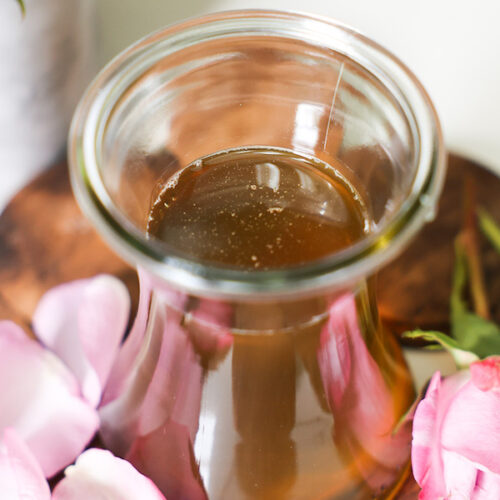 Rose Simple Syrup
Floral and delicious homemade rose simple syrup is perfect in drinks, on desserts, and in cocktails. With just 3 simple ingredients, it is easy to make, and stays fresh in the fridge for weeks.
Ingredients  
Notes
Where to find rose water
Look for rose water at your local grocery store in the "International" foods aisle. You can also find it at international grocery stores, Middle eastern and Indian grocery stores, or online. 
Rose water is usually less expensive in store (as little as $2 a bottle) than online.
How to store
Rose simple syrup should be stored in an airtight glass jar in the refrigerator for up to 2 weeks.