Kiss me, I'm cooking! Lá Fhéile Pádraig is both a celebration and a religious day throughout Ireland–and for those of us with Éire in our veins. Try a few of these amazing recipes and count yourself luckier than most.
I am decidedly not Irish–not even a chromosome. I'm hardly lucky. And the best I can do is nurse a pint of Guinness.
But I do share a few things with my Irish brethren: I love the color green, I can't get enough of potatoes, and I believe corned beef can bring about world peace.
So in honor of St. Patrick's Day, I've rounded up some of our favorite recipes that pay tribute to the Emerald Isle's rich culinary heritage. From traditional soda bread to boozy Irish coffee, these dishes are sure to put a lilt in your voice and a smile on your face.
So grab your leprechaun apron and let's get cooking!
xo,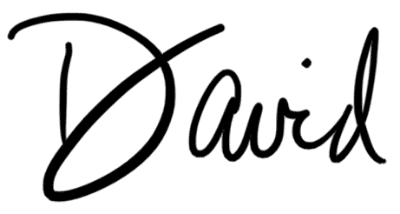 The Black Velvet cocktail contains the word "velvet" in its title for a reason. The effervescent mingling of stout and Champagne is uncommonly smooth and subtly sophisticated. Go on. Take a sip and see for yourself. 
---
Absolutely fantastic, I love this cocktail and will definitely enjoy it assembled in this dramatically looking version.–Jenny
---
Colcannon is so much more than mere cabbage and potatoes. Still not convinced? Taste this version with kale and bacon and beer and get back to us. A twist on the traditional Irish dish. Excellent for St. Patrick's Day.
---
This colcannon was delicious! I love that the cabbage/kale/onions are cooked separately and then served on top of the potatoes. And bacon! It's a keeper.–Mandy
---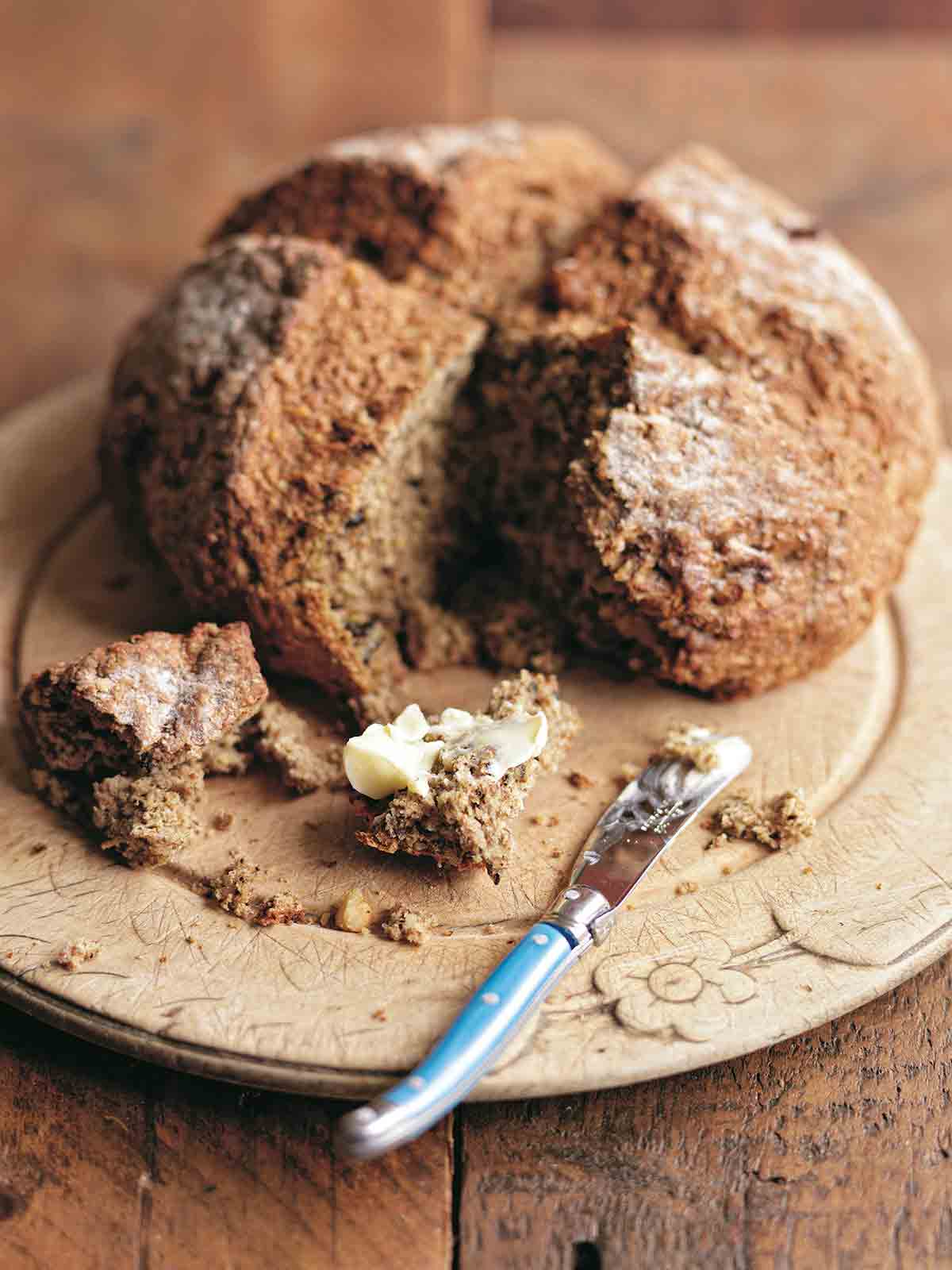 This Irish soda bread is very close to traditional with the exception of using pantry-friendly yogurt instead of buttermilk. It also includes whole-wheat flour and walnuts and has incredible flavor, keeps well, and goes with everything from soup to jam. Here's how to make it.
---
This Irish soda bread is so good. It's the easiest bread I've ever made, great toasted for breakfast, great with Hungarian cauliflower soup and just a wonderful introduction to whole wheat breads. I mixed it by hand (been watching Paul on Great British Baking Show and he says it gives you a feel for the dough and reduces the chance of overmixing).
Another winner from Leite's Culinaria—-whatever did I do without this website? I feel like a kid at Xmas when I open the site and see what goodies you all have found, every day, and from soup to dessert, there is something that makes my mouth water.–Marilyn S.
---
Homemade corned beef is crazy easy to make. It's essentially brisket that's given a makeover by letting it linger in an easy brine with spices and then slowly braised until falling-apart tender. Here's how to make it (including a slow-cooker variation).
---
This corned beef was so delicious!! After the 6 days of brine, I soaked the brisket in clean water for 3 hours to remove some of the salt, changing water every hour, then cooked on stove for 4 hours (5 lbs brisket). Added potatoes, carrots and cabbage for the last 45 minutes. SAVE the broth– it makes the best Pho (actually that might have been my family's favorite part.–Jeneen
---
These twice-baked potatoes with corned beef are potato jackets stuffed with fluffy mashed potatoes, Cheddar cheese, and corned beef. Perfect for dinner on its own or as a side.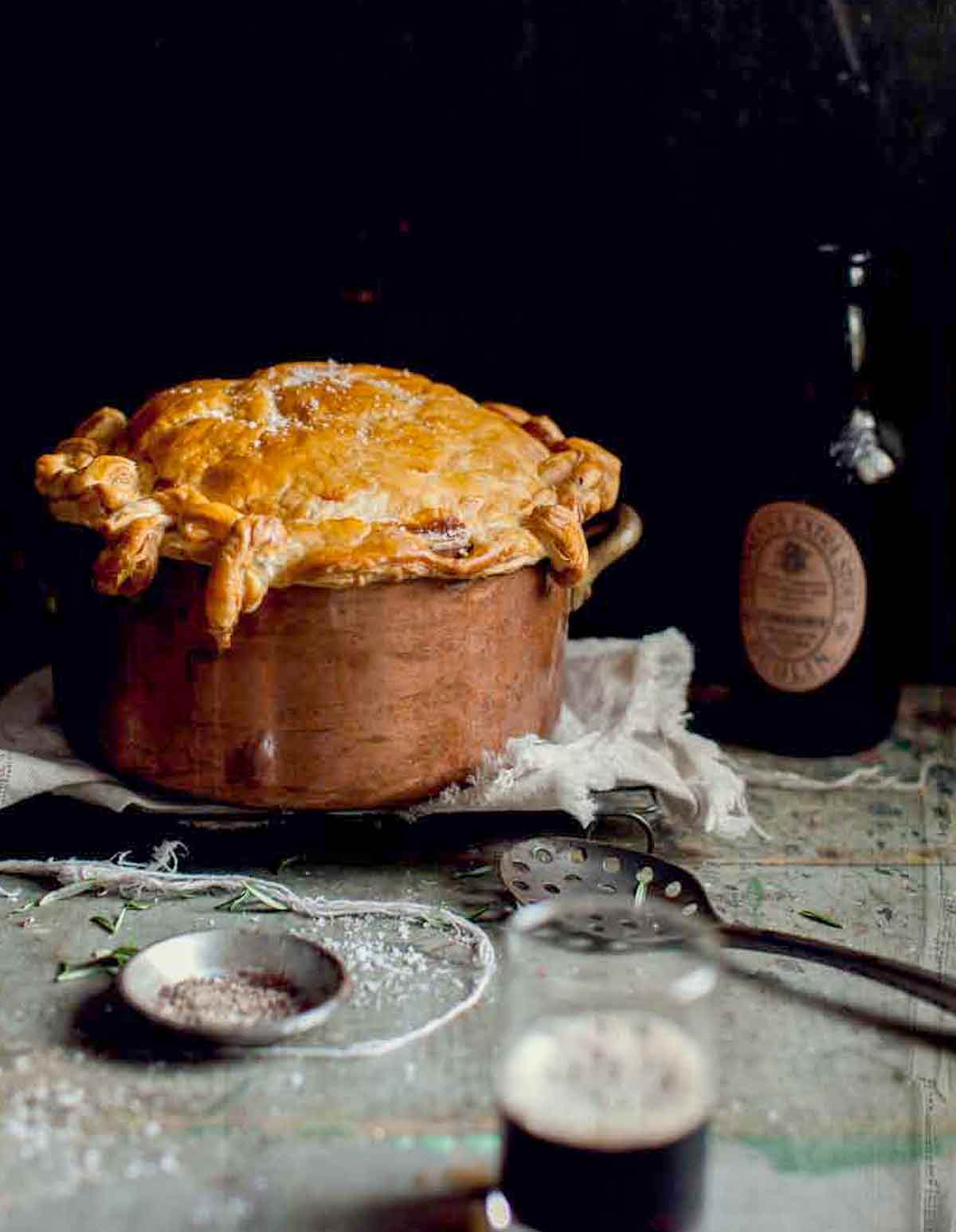 This beef and Guinness pie is essentially traditional Irish beef stew filled with onions, carrots, celery, garlic, beef broth, and herbs, all topped with some lovely and simple store-bought puff pastry. Simple, delicious, and marvelously hearty.
---
This pie was so incredibly tasty I can't recommend enough. Plus there's Guinness to drink when you're cooking. Honestly, very hearty and relatively easy to cook.–Jack H.
---
This Irish coffee spikes strong coffee with Irish whiskey and sweetens it with confectioners' sugar, cream, and vanilla. The perfect way to start, er, end your day.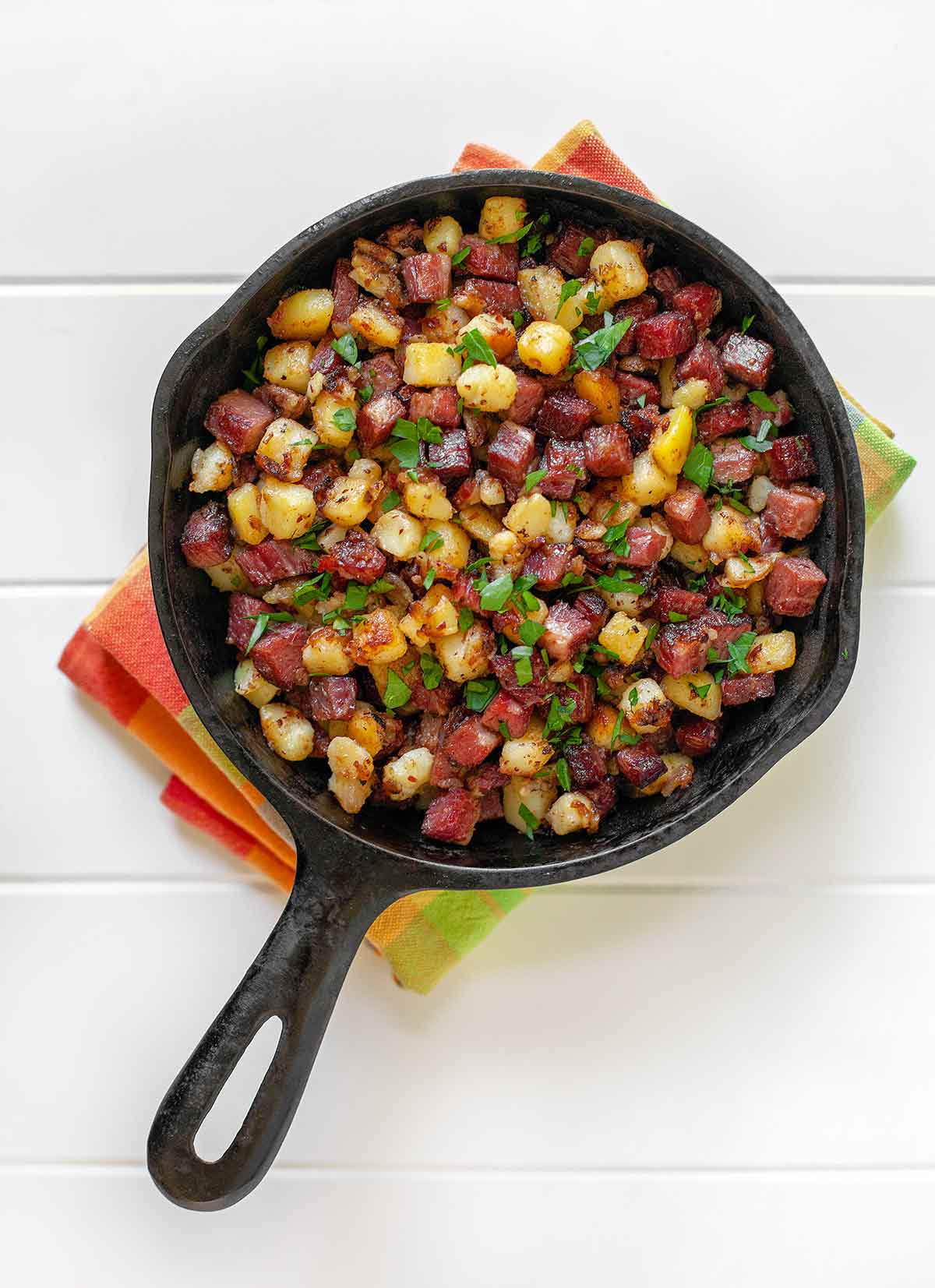 This corned beef hash, made of potatoes, onion, butter, and corned beef, turns St. Patrick's Day leftovers into homemade lusciousness any time of day. Even if you're not Irish. Just look at me!
---
Made cornbeef hash tonight. It was fabulous! We added the fried egg and it enhanced the overall flavor of the dish!–Elda G.
---
This pan boxty is essentially an Irish potato pancake. Just a few ingredients–grated potatoes, a little flour, and butter–constitute this classic Irish dish. Lovers of colcannon, rösti, latkes, and hash browns will find comfort here.
This Guinness and ice cream float, made with stout and vanilla ice cream is kind of like a root beer float for adults.
---
This Irish float is another winner! The more the vanilla ice cream and the Guinness beer would blend together, the more we felt a slight coffee taste, so much so we thought about trying it again by actually adding a shot of expresso with it.–Sofia
---
This recipe gives everything one could possibly want in a chocolate cake and more, and yet the star ingredient isn't just chocolate; it's also stout beer. Yes, perhaps an odd ingredient for a dessert, but hear me out: the stout adds an earthy undertone that enhances the flavor of the chocolate more than anything else and adds a bit of flair.
FAQs
What would you serve at a traditional Irish St. Patrick's Day meal?
The most popular St. Patrick's day dishes include corned beef and cabbage, soda bread, colcannon, stew or shepherd's pie, and plenty of Guinness or Irish whiskey. In Ireland, it's also very common to serve lamb.
What is the difference between Irish and American-style corned beef?
In Ireland, corned beef is typically made with lean brisket, while American-style uses a fattier cut. The flavoring of the corned beef brine also contains different spices, giving each a unique flavor. Overall, corned beef in Ireland tends to be leaner than American, with a milder spice profile.
Why is corned beef and cabbage considered a traditional Irish dish?
Although we often think of it as an Irish dish, the history of corned beef and cabbage is Irish-American. It became popular among immigrants due to the lower cost of cured beef and abundant cabbage, and over time became associated with St. Patricks's day.
What's your favorite way to celebrate St. Patrick's day? Let us know in a comment below.
© 2022 Leite's Culinaria. All rights reserved. All materials used with permission.