My Lemon Curd is a delicious homemade recipe that consists of lemon juice, lemon zest, eggs, sugar and butter. Perfect to use in baked goods, as well as a spread on biscuits or pancakes!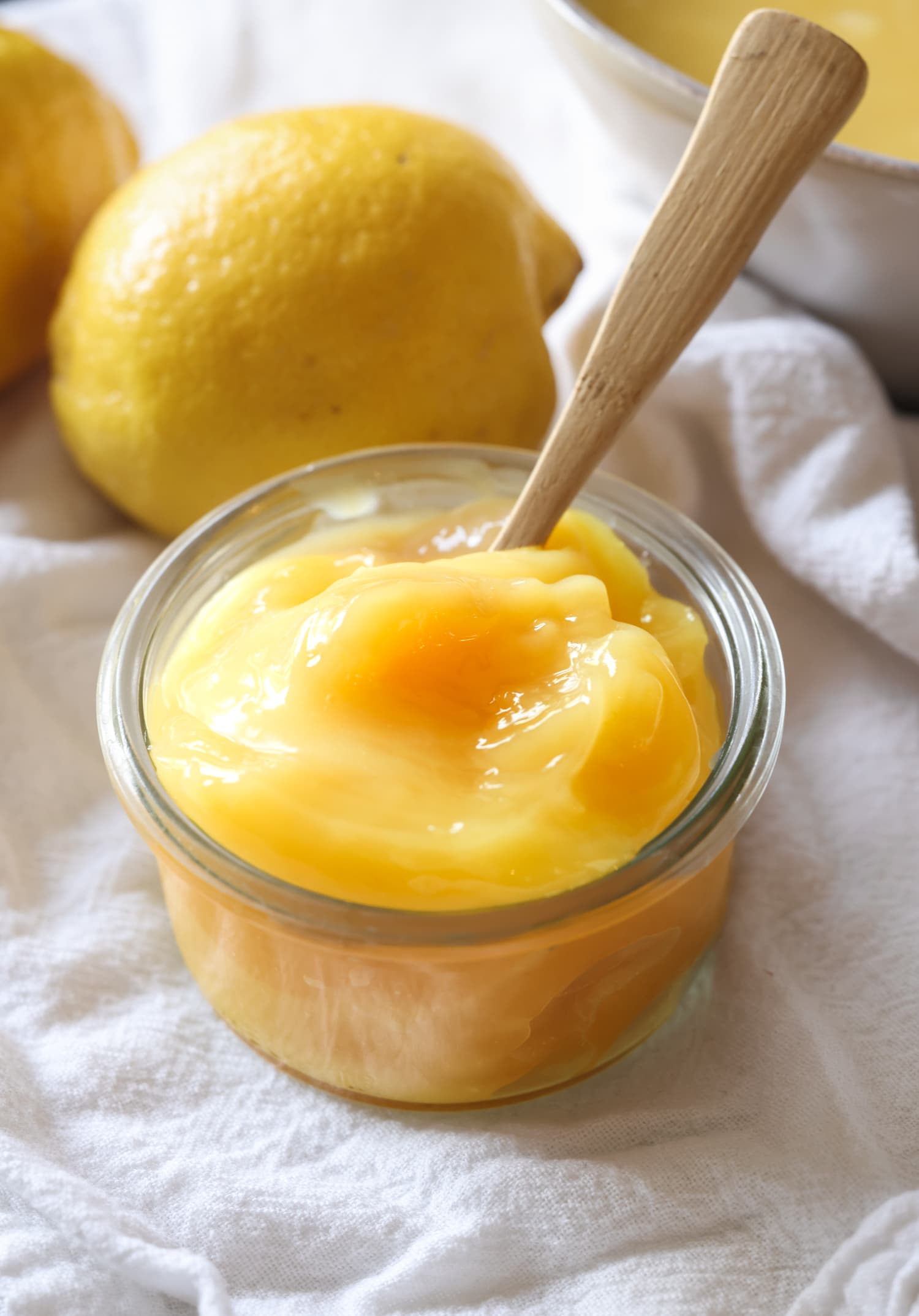 My Homemade Lemon Curd Recipe Is Easy And Delicious!
If there's one thing that can brighten up any dessert or breakfast spread, it's the tangy citrus sweetness of homemade lemon curd. With its silky texture and vibrant flavor, lemon curd is a versatile treat that can be used as a filling for cakes, a topping for pancakes, a spread for scones, or simply enjoyed on its own by the spoonful…which I am definitely guilty of!
I love a lemon recipe, which is tough in my house, because I am the only one. I have tons of lemon recipes here on my site that I adore, but have to share with friends and family just to get them out of my house…otherwise I'll eat them all! Regardless of that I won't ever stop making them because I know you love them too! SO today we're making Homemade Lemon Curd, and I've learned some tips and tricks that I'm excited to share with you.
What Is Lemon Curd?
It is a creamy, citrus-based sweet spread or filling. Think of it a lot like a jam or jelly, but perfectly smooth, almost like the filling of a lemon meringue pie. The process of making lemon curd involves cooking the lemon juice, zest, sugar, and eggs together until thickened to create a luscious and velvety consistency. The addition of butter make sit rich and silky, make it a true sweet treat. How you use is it totally up to you, but I especially love spreading it in cakes along with buttercream. The two paired together is outrageous. 
Only 5 Ingredients Needed!
The ingredient list is simple: lemons, granulated sugar, unsalted butter, eggs, and salt. Beyond fresh lemons you most likely have all the other ingredients in your kitchen right now! And don't skip using fresh lemon juice…the bottled juice is fine in a pinch for recipes, but fresh is best for this recipe. 
TIP: Make sure all your ingredients are at room temperature! Everything will thicken up smoother and nicer with room temperature butter, eggs, and lemon juice!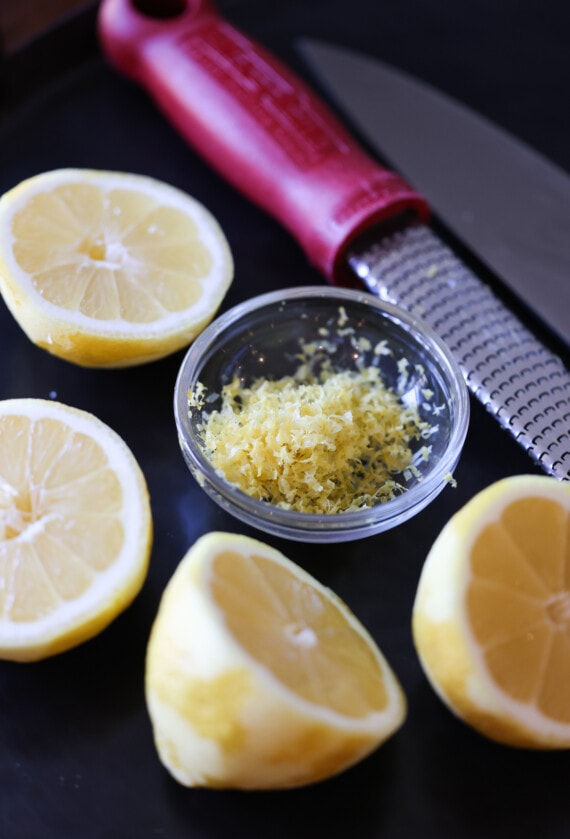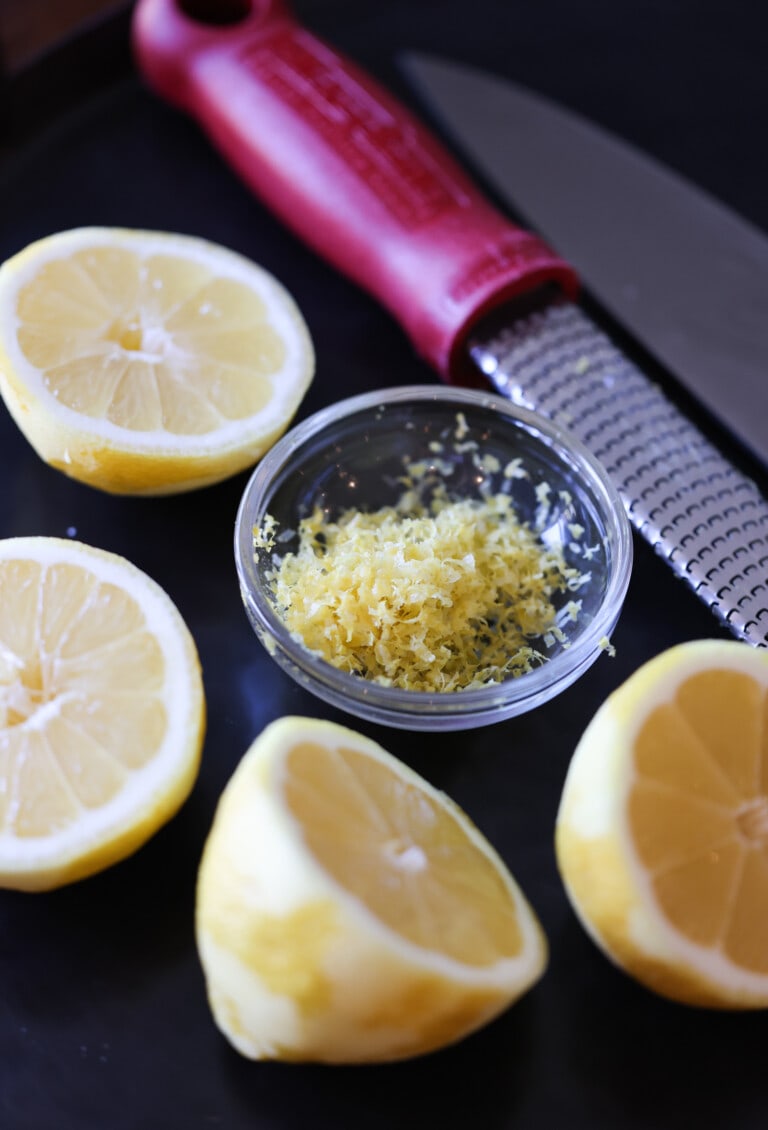 Special Tools:
There is nothing out of the ordinary needed for to make this recipe, but having the proper equipment is always a key to success. Nothing on this list is necessary to make this recipe, they are all just helpful tools!
Zester. A zester is a very common kitchen tool, and if you don't have one, I highly recommend it. They are inexpensive and perfect for grating zest from citrus fruits as well as Parmesan cheese! If you don't have one, use any fine grater you have. 
Lemon Squeezer. This is TOTALLY optional, but I will say that once i bought one I can't imagine not having it. I use my squeezer WAY more than I thought I would. It makes squeezing lemons/limes/small oranges SO easy and gets out way more juice from the fruit than I ever got out by hand. Plus is catches all the seeds!
Ceramic coated, or porcelain heavy bottomed saucepan or Dutch Oven. I recommend (if possible) not using a metal saucepan for lemon curd. You can and it will be fine…I do from time to time (as you see in my pictures). But using a metal pan can sometimes give your lemon curd a metallic flavor as the citrus reacts to the metal. I'll hit on this a little later, but it's just a tip to note. 
Silicone whisk. Like I said above, metal can react with the citrus, so use a silicone whisk if you have one. 
Strainer. If you want impossibly smooth lemon curd, go ahead and strain it!
How to Make Lemon Curd:
Prep: In a small saucepan/Dutch oven over medium heat, whisk your eggs, sugar, salt, and lemon juice together until combined.
Cook: Add in the butter and lemon juice and cook the mixture at medium-low heat until it's thickened. You will need to whisk it consistently, so don't leave it alone! This step will take 10-ish minutes. But you will know when it starts to thicken, and an easy test is to see if the curd coats the back of a spoon, a lot like syrup would.  If not cook a little longer.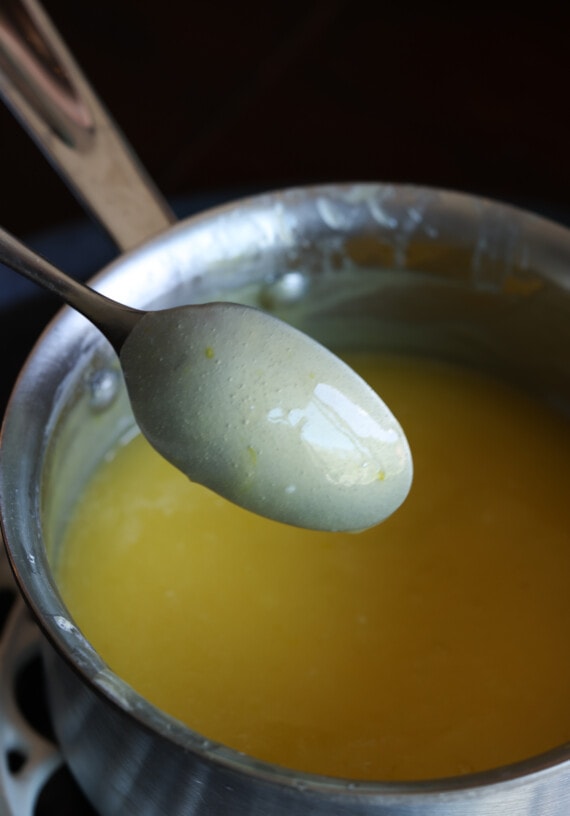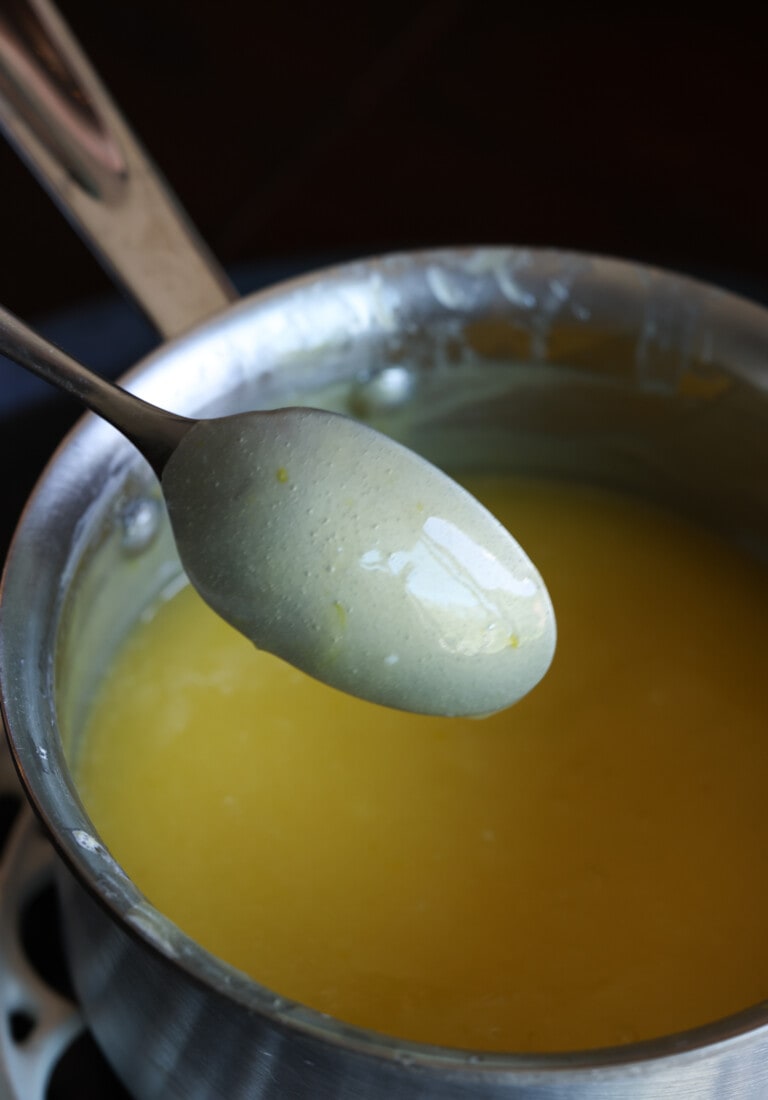 Chill: Transfer the curd to a small glass bowl. If you are choosing to strain it, this is when you would do that. Allow the curd to cool at room temperature for 15 minutes or so, and then press a piece of plastic wrap gently into the top and pop it into the fridge until completely chilled. The custard texture will continue to thicken as it chills.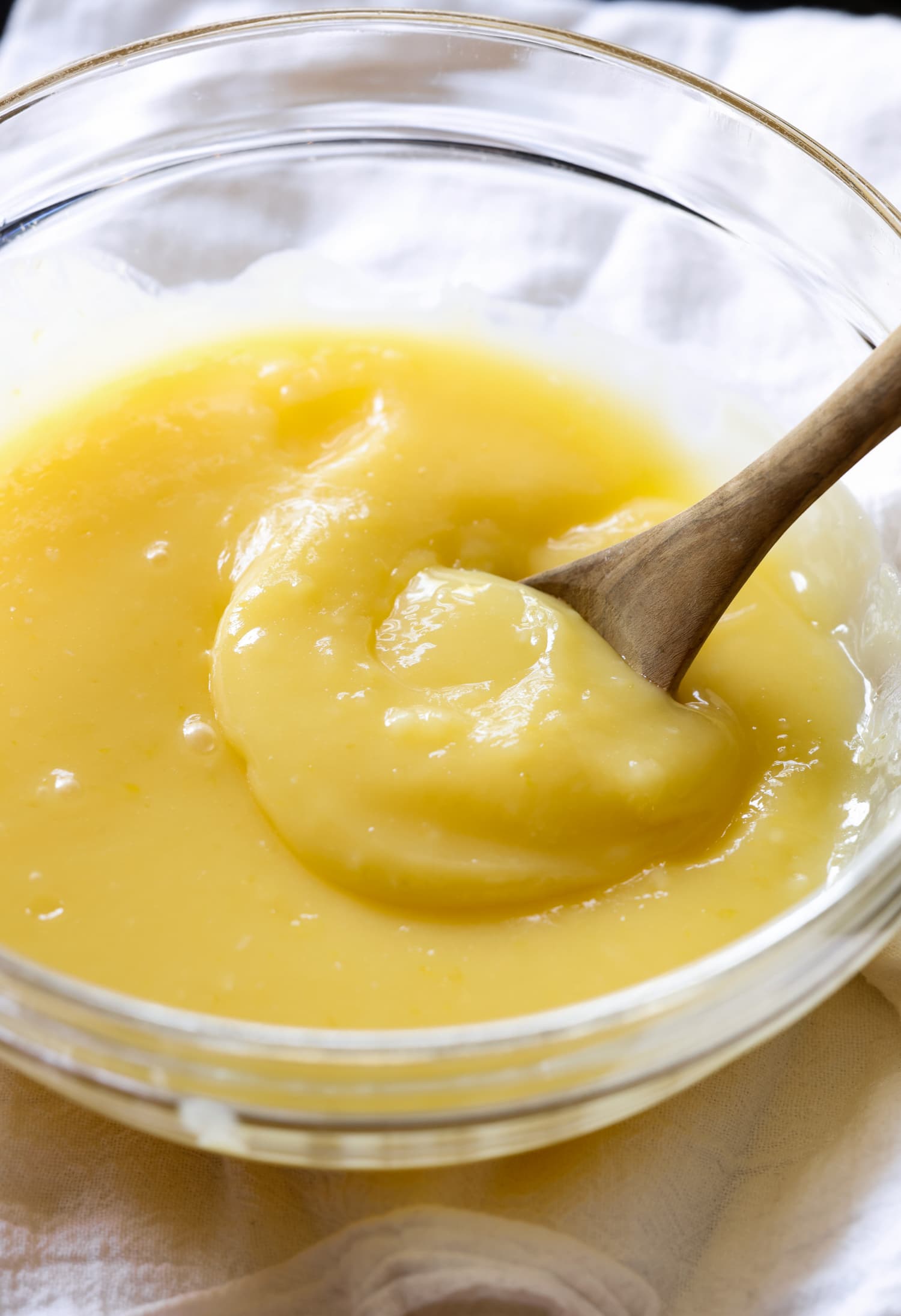 Why Does My Lemon Curd Taste Metallic?
The use of uncoated aluminum cookware/utensils is probably the culprit. Lemon juice is highly acidic and can react with uncoated aluminum cookware, leading to a metallic taste in the lemon curd. To avoid this, use cookware that is coated or made of non-reactive materials, for example a silicone whisk and a ceramic coated Dutch oven are easy alternatives. 
TIP: If you don't have a ceramic coated pot you can use a double boiler. Place a heat-safe glass bowl on top of a bowl of simmering water and whisk until thickened.
What to Do If Your Curd Won't Thicken 
If you're lemon curd isn't thickening, there are a few reasons that are possible:
Not enough cooking time. Continue cooking and whisking the lemon curd…it will eventually thicken!
The ratio of eggs, sugar, butter, and lemon juice in the recipe is crucial for the proper thickening of lemon curd. We have all mis-measured in the past, even when you think you are being the most careful…just double check you didn't use extra large eggs, or too much juice!
The heat is too high or too low: Cooking lemon curd at too high or too low heat can affect its thickening. If the heat is too high, the eggs can scramble too quickly, resulting in a curd that won't thicken properly. If the heat is too low, the curd may take longer to thicken or not thicken at all. Make sure to cook the lemon curd over low to medium heat as per the recipe instructions.
Why Strain Your Lemon Curd?
This is an optional step that helps ensure a smooth and velvety texture, free of any lumps or bits of cooked egg. Here's how:
Place a fine mesh sieve or strainer over a glass bowl. 
Once your lemon curd is cooked and thickened, remove it from the heat and carefully pour it through the strainer. Any lumps or bits of zest will catch in the strainer. 
Discard any bits the strainer caught!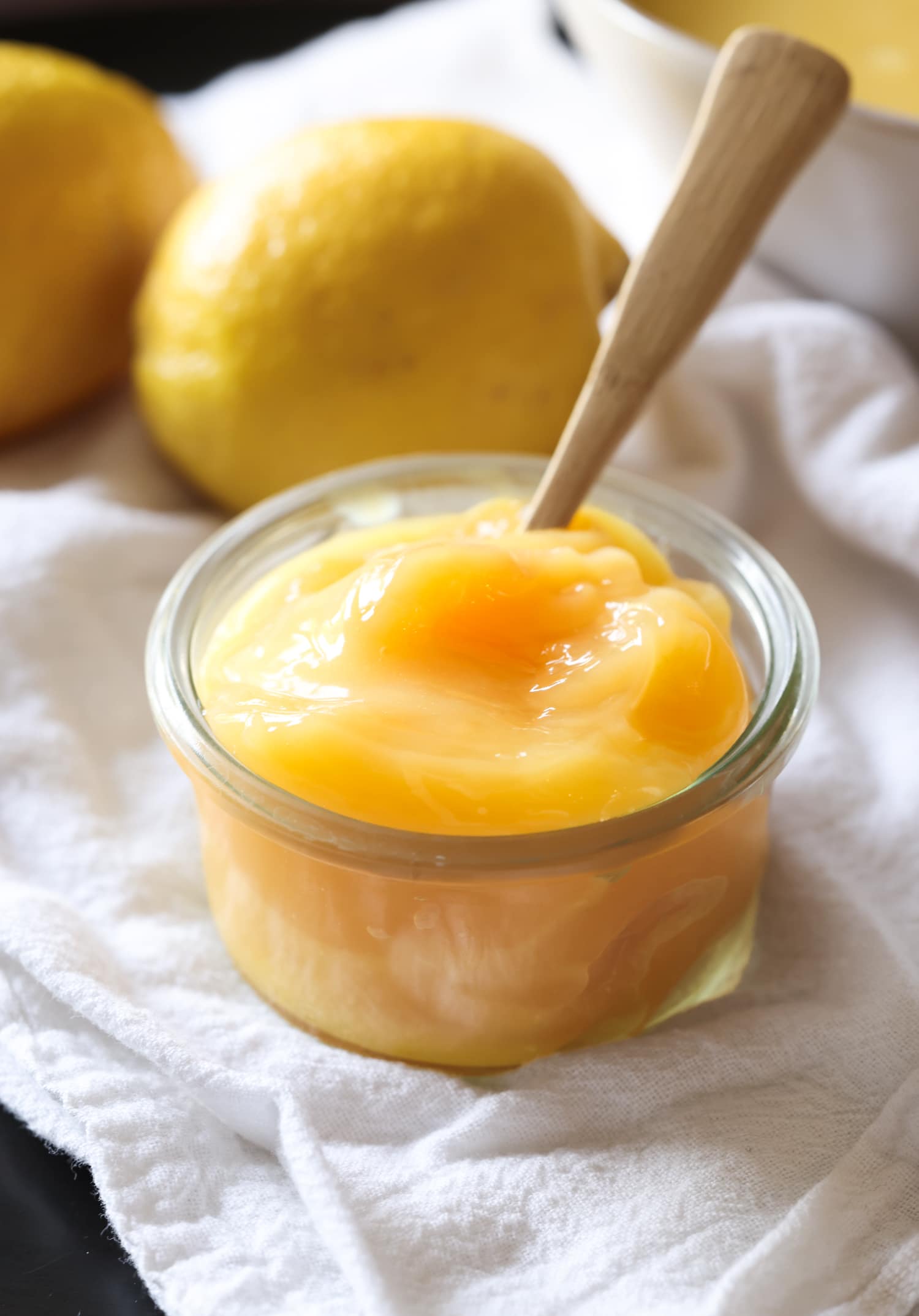 Ways to Use Lemon Curd:
As a Spread: It is commonly used as a spread on toast, English muffins, scones, biscuits, or pancakes. For breakfast try mixing it into yogurt, on French Toast, or as a filling in crepes!
In Desserts: It can be used as a filling in pies, tarts, or cakes. It can also be used as a layer in parfaits, trifles, or cakes.
As a Dip or Sauce: Lemon curd can be used as a dip for fruits, cookies, or even savory items like chicken tenders. It can also be used as a sauce drizzled over desserts, such as cheesecake, ice cream, or pavlova. 
In Baking: It can be used as an ingredient in baking recipes to add a zesty flavor. It can be used in cakes, cupcakes, cookies, or bars to add a tangy kick. It can also be used to fill pastries, turnovers, or danishes for a burst of citrusy goodness.
In Cocktails or Beverages: It can be stirred into cocktails or mixed with sparkling water, lemonade, or tea to create a refreshing and citrusy beverage.
As a Gift: It can be jarred and gifted to friends, family, or neighbors. Who wouldn't love a loaf of freshly baked bread and a cute jar of lemon curd?
Recipes To Use Lemon Curd In:
Storing or Freezing Your Lemon Curd 
In the Refrigerator: It will keep in the refrigerator airtight for up to 10 days. You can remove the plastic wrap that you pressed into the curd when it is chilled and transfer to jars with lids if desired. Once it is chilled a skin will not form.
To Freeze: Transfer the lemon curd into a freezer safe/airtight container for up to 30 days for best freshness. When you're ready to use the frozen lemon curd, transfer it to the refrigerator and let it thaw overnight. Avoid thawing lemon curd at room temperature or using the microwave, as this can cause the curd to become too runny. Once thawed, give the lemon curd a gentle stir to restore its smooth texture. If needed, you can also whisk it lightly to bring back its creamy consistency.
---
Description
Homemade Lemon Curd is very easy to make and so delicious used in baking recipes, or spread on a piece of toast!
---
3

large eggs

1 1/4 cups

granulated sugar

1/2 teaspoon

kosher salt

2/3 cup

lemon juice (3 to 4 medium lemons)

1/2 cup

butter, cut into slices at room temperature

1 tablespoon

lemon zest
---
In a small saucepan (*see tip) over medium heat, whisk together the eggs, sugar, salt, and lemon juice until smooth. 

Add in the butter and lemon zest and continue cooking until the mixture is thickened enough to coat the back of a spoon, whisking constantly, about 10 minutes.

*See note

Transfer the lemon curd to a small glass bowl and allow it to cool at room temperature for 15 minutes. Use a strainer or sieve when pouring into the bowl if you notice the curd has any lumps. 

Press plastic wrap to the surface of the curd to prevent a skin from forming, and then and refrigerate until completely chilled. (see Tip#2)
---
Notes
*Tip #1 – I like to use a small ceramic coated Dutch oven (like a Le Creuset) to cook my lemon curd to avoid a metallic taste that can happen when using a metal saucepan. The lemon juice can react to the metal when it's hot giving the lemon curd that metal taste. Additionally a metal whisk can cause this to happen as well, so swap that out for a silicone whisk. 
*Tip #2 – Once the lemon curd is completely chilled you can remove the plastic wrap pressed into the top and transfer the curd to jars with lids if you prefer.
Store airtight in your refrigerator for up to 10 days in a glass container.
Freeze airtight for up to 30 days.
Keywords: cookies and cups, lemon curd, lemons, lemon zest
Want To Save This Recipe?
Find more recipes like this:
PIN for later: