Elevate your meals with this easy, tangy lemon cream sauce! Perfect for pasta, fish, and vegetables. A gourmet delight awaits in your kitchen!
Venture into the exciting world of cooking with the versatile lemon cream sauce. This delightful blend of tangy lemons, smooth cream, and savory seasonings can turn any meal into a culinary masterpiece. Whether you're just getting your feet wet in the kitchen or are a seasoned home cook, the lemon cream sauce offers an opportunity to add a zesty twist to your meals. The balanced fusion of citrus zest and creamy texture will make this sauce a cherished staple in your kitchen.
Frequently Asked Questions
Can I use bottled lemon juice instead of fresh?
While bottled lemon juice can be used, fresh lemon juice offers a more vibrant and authentic flavor.
Can this sauce be made vegan?
Yes, you can always substitute the butter with a vegan alternative and the heavy cream with a plant-based cream to enjoy a vegan version. Please note that these changes will affect final taste and texture.
Can I use a different kind of pepper instead of white pepper?
Certainly. Black pepper can be used as an alternative. While the flavor may slightly differ, the result will still be delicious.
Can I make this gluten free?
Yes! Use gluten-free flour as a replacement for all-purpose flour if dietary restrictions require.
Serving Suggestions
This tangy lemon cream sauce beautifully complements a wide range of dishes. Try it over a bed of pasta, grilled fish, or roasted vegetables for a gourmet home-cooked meal. It's also a perfect sauce for special occasions, turning your everyday meals into restaurant-quality dishes.
Tips From the Chef
Constant whisking of the sauce is key to avoiding lumps.
To maintain a smooth texture, ensure to add the lemon juice off the heat.
If the sauce is too thick, add small amounts of broth or water until desired consistency is achieved.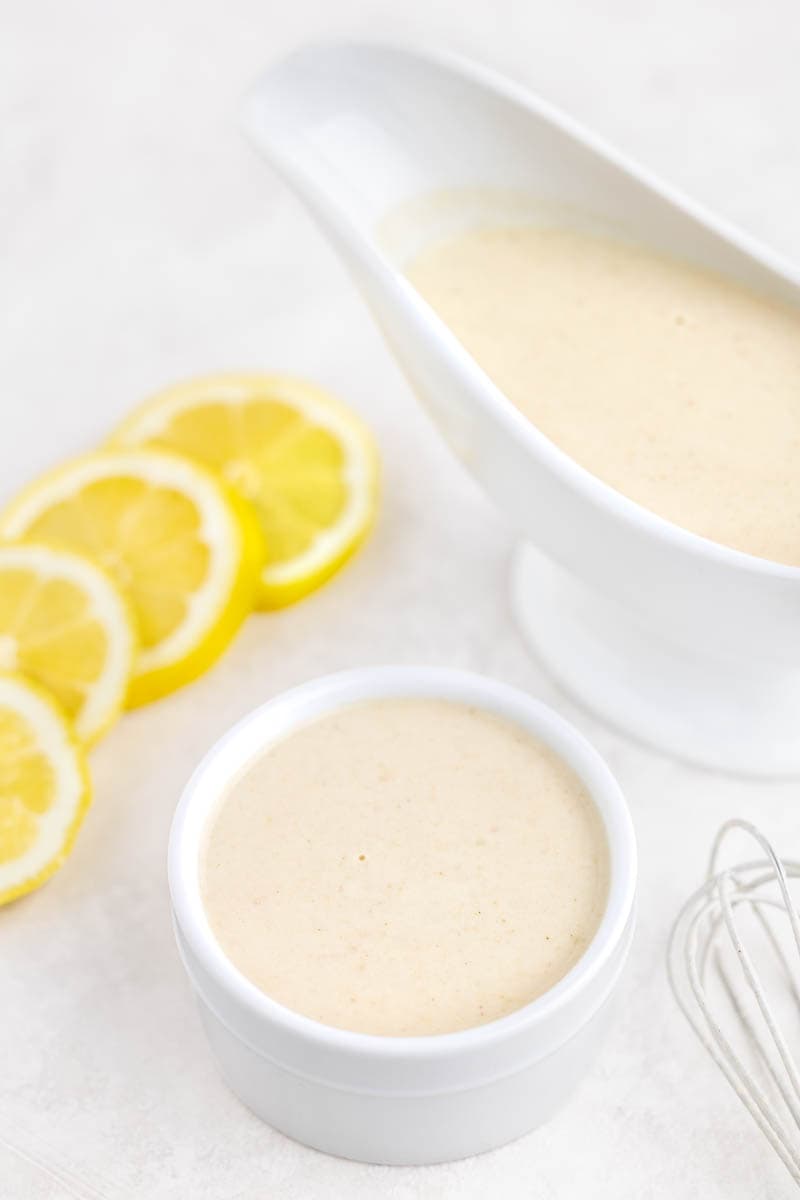 Storage & Reheating Instructions
Leftover lemon cream sauce can be stored in an airtight container in the refrigerator for up to 3 days. To reheat, gently warm on the stove, adding a bit of broth or water to maintain consistency if needed.
Watch the video below where Caytlin will walk you through every step of this recipe. Sometimes it helps to have a visual, and we've always got you covered with our cooking show. You can find the complete collection of recipes on YouTube, Facebook Watch, or our Facebook Page, or right here on our website with their corresponding recipes.