Instant Pot Hawaiian chicken is an easy one-pot dinner that leaves the hard work to your pressure cooker! This recipe makes juicy chicken cooked with pineapple, bell peppers, and onions in a sweet and tangy sauce.
The Best Instant Pot Hawaiian Chicken
This Instant Pot Hawaiian chicken is out of this world YUM. The flavors are a mix between pineapple chicken teriyaki chicken, and spicy BBQ chicken: tangy, a little spicy, and a little smoky. This dish is totally irresistible and perfect for summer. Like a luau for your tastebuds. Plus, the Instant Pot won't heat up the whole kitchen. Aloha!
I've borrowed the teriyaki-inspired sauce from my Hawaiian grilled huli huli chicken recipe and tossed it together with tender chicken pieces, bell peppers, onions, and chunks of sweet pineapple. The sauce caramelizes in the Instant Pot, wrapping around the chicken and veggies like a delicious, sweet, and spicy hug.
Why You'll Love This Hawaiian Chicken Recipe
One pot. Aside from a bit of chopping and occasional stirring, this easy Hawaiian chicken comes together in one pot and it's mostly hands-free. Let the Instant Pot do the work for you! I also include directions to make this recipe in the slow cooker.
Easy ingredients. I'll bet that most of the ingredients you need are already in your kitchen. This recipe uses simple pantry staples and turns them into a crazy-flavorful chicken dinner.
Make-ahead friendly. Hawaiian chicken is perfect for meal prep. You can make a big batch and have leftovers for days! Plus, it freezes well.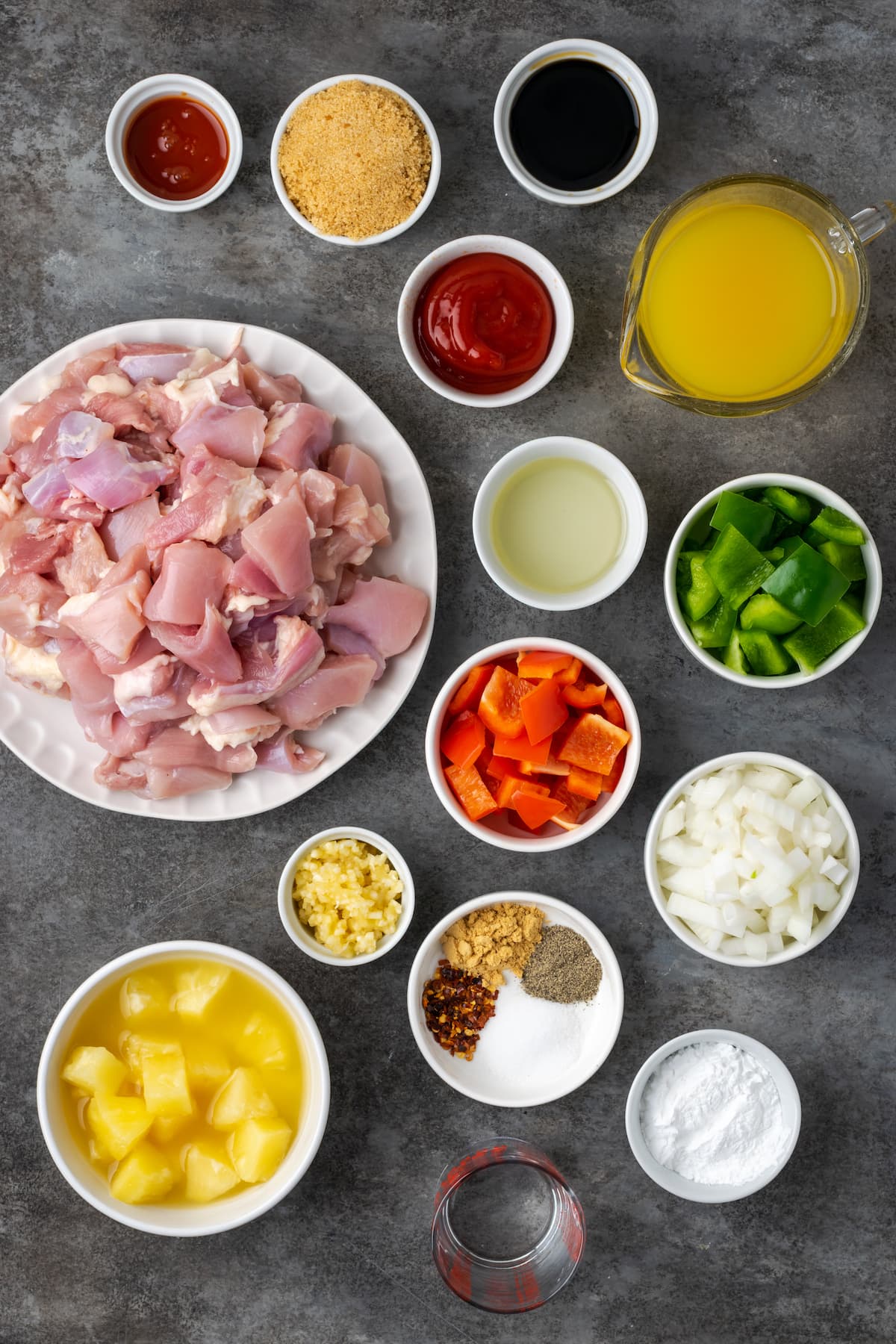 What You'll Need
Let's have a quick look at the ingredients you'll need to make this flavor bomb of an Instant Pot recipe. Be sure to scroll down to the recipe card below the post for the full amounts and recipe details.
For the Sauce
Hot Sauce: You can use your favorite hot sauce (like Tabasco) or chili sauce, like sriracha.
Brown Sugar and Soy Sauce: Regular or light brown sugar caramelizes in the heat and sweetens the sauce, while soy sauce adds a punch of salty umami flavor. Coconut aminos in place of soy sauce would also work well.
Ketchup: For sweet, tangy flavor. 
Pineapple Juice: For an extra boost of Hawaiian-style flavor.
Cornstarch: You'll use cornstarch mixed with a bit of water as a thickener for the sauce.
For the Chicken
Chicken: Boneless skinless chicken thighs, cut into cubes. You can also make this recipe with chicken breasts, see below.
Pineapple: I use one 20 oz. can of pineapple chunks. No need to drain the pineapple chunks beforehand. If you don't have canned pineapple, 1 cup of diced fresh pineapple plus additional pineapple juice can be used instead. See the tips section later on for details.
Olive Oil: For sauteing. Use good-quality, extra virgin olive oil or avocado oil.
Bell Peppers and Onion: Trust me, even if you don't like bell peppers, you're going to love them in this recipe! Green and red bell peppers (or any color you'd like) and diced onions become rich and caramelized in the sauce. Chop the veggies into chunks beforehand. 
Garlic: Freshly minced garlic cloves
Spices: Salt and pepper, crushed red pepper flakes for extra spiciness, and ground ginger. If you'd prefer milder Hawaiian chicken, feel free to leave out the red pepper flakes.
What Chicken Is Best to Use?
This Instant Pot chicken recipe works best with boneless, skinless chicken thighs or breasts. I like using thighs because they come out of the pressure cooker deliciously moist and tender, and they're less likely to overcook. 
How to Make Instant Pot Hawaiian Chicken
Let's make some Hawaiian chicken! And the best part is, there will be hardly any dishes to clean when all's said and done.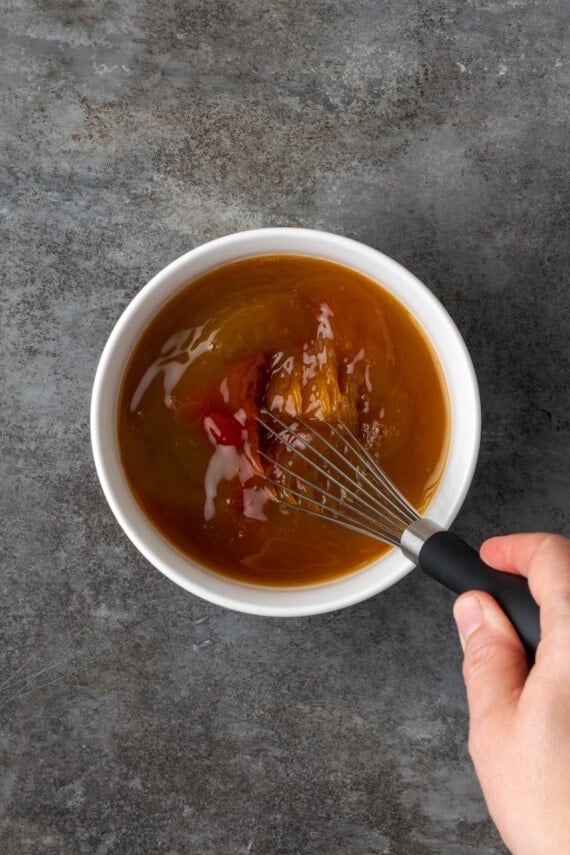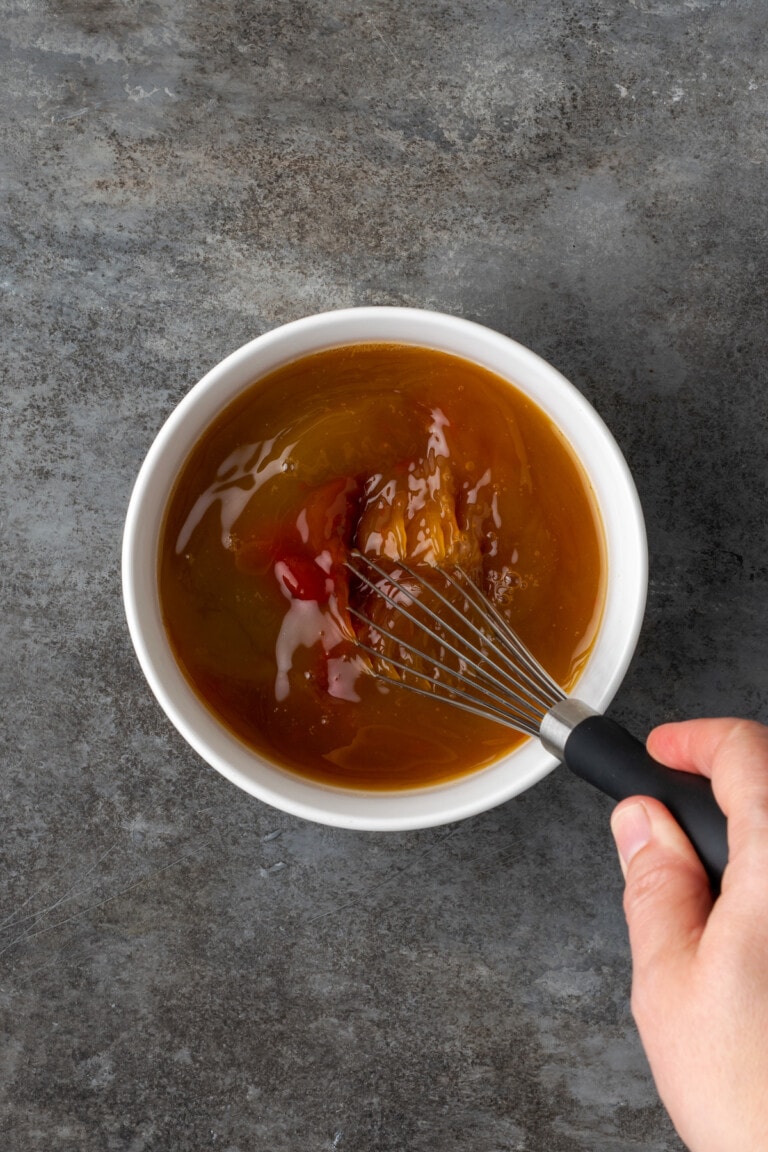 Make the sauce. First, add the sauce ingredients in a bowl and give everything a whisk to combine.
Saute the veggies. Next, with the Instant Pot set to saute, cook the bell peppers in a bit of oil to soften them up a little, then add the onions.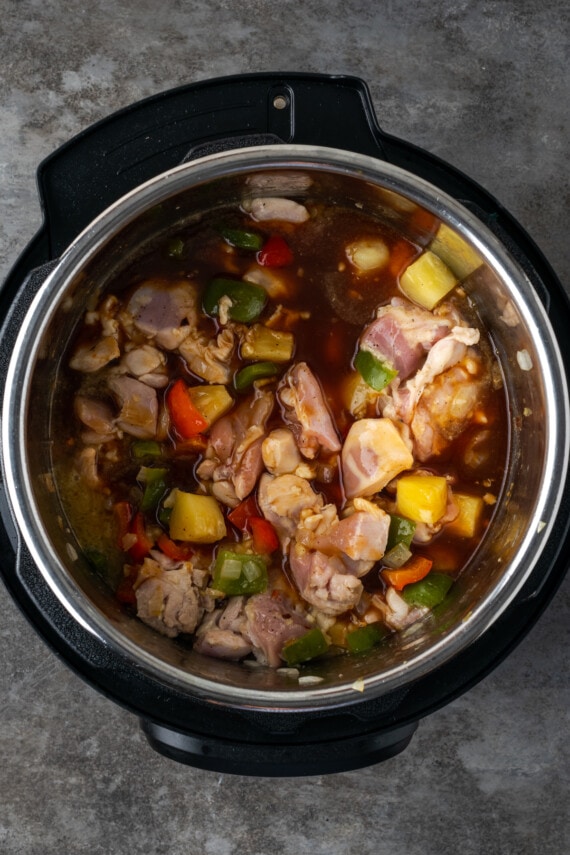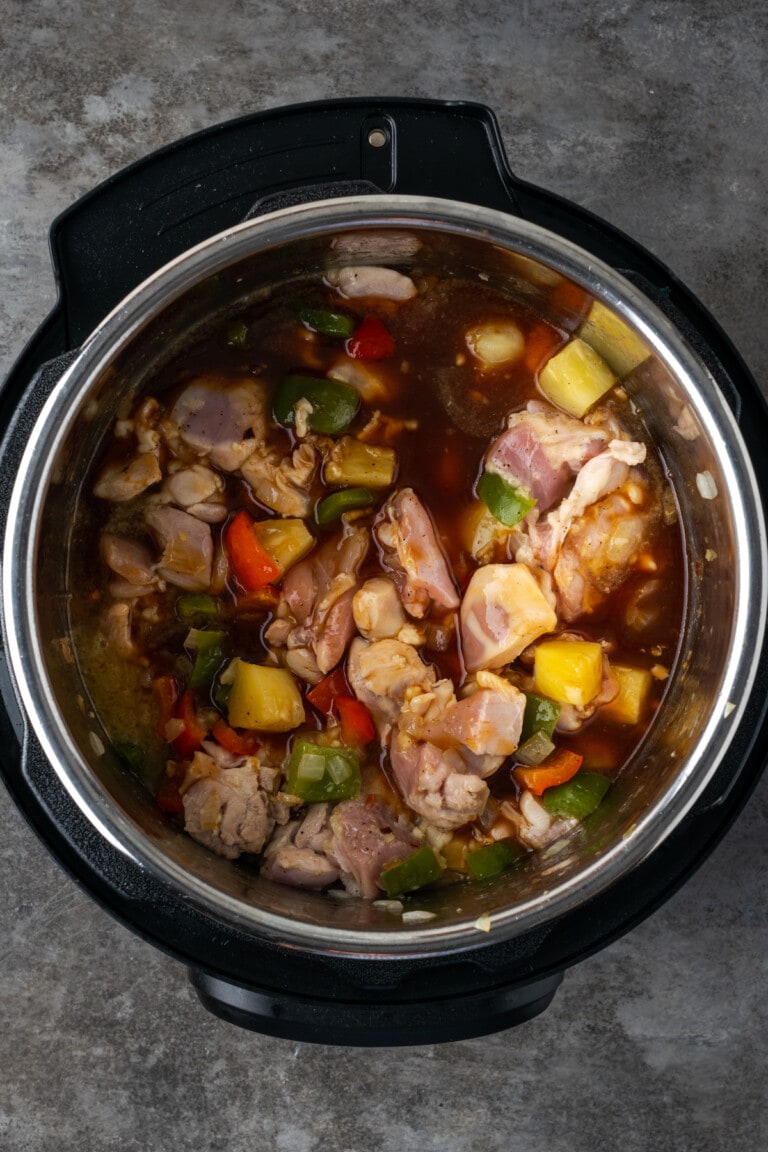 Add the chicken. Cook for a few minutes more, then stir in the chicken pieces, garlic, and seasonings. Give the chicken a minute to sear, then switch off saute mode.
Combine and cook. Pour over the prepared sauce, stir, then close the lid and seal. Cook on high for 4 minutes, then naturally release the pressure for 10 minutes. Afterward, vent the remaining pressure manually and open the lid.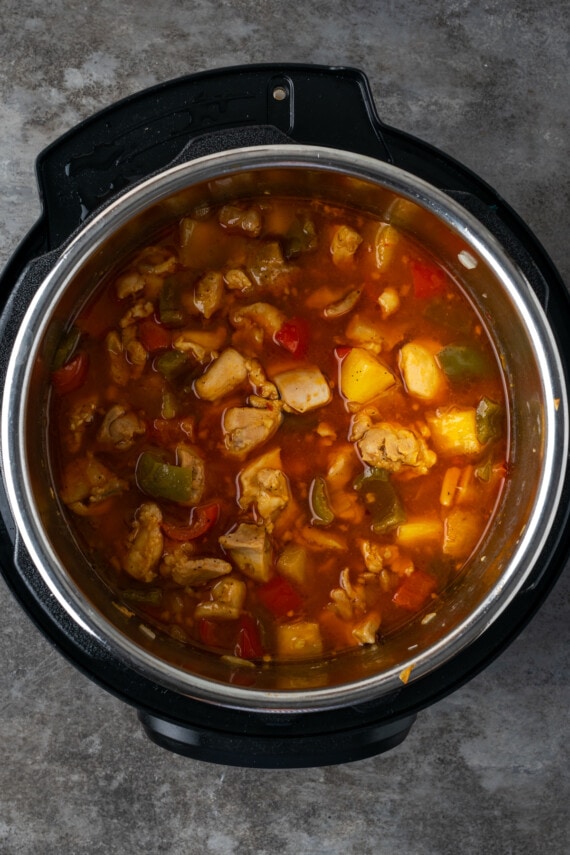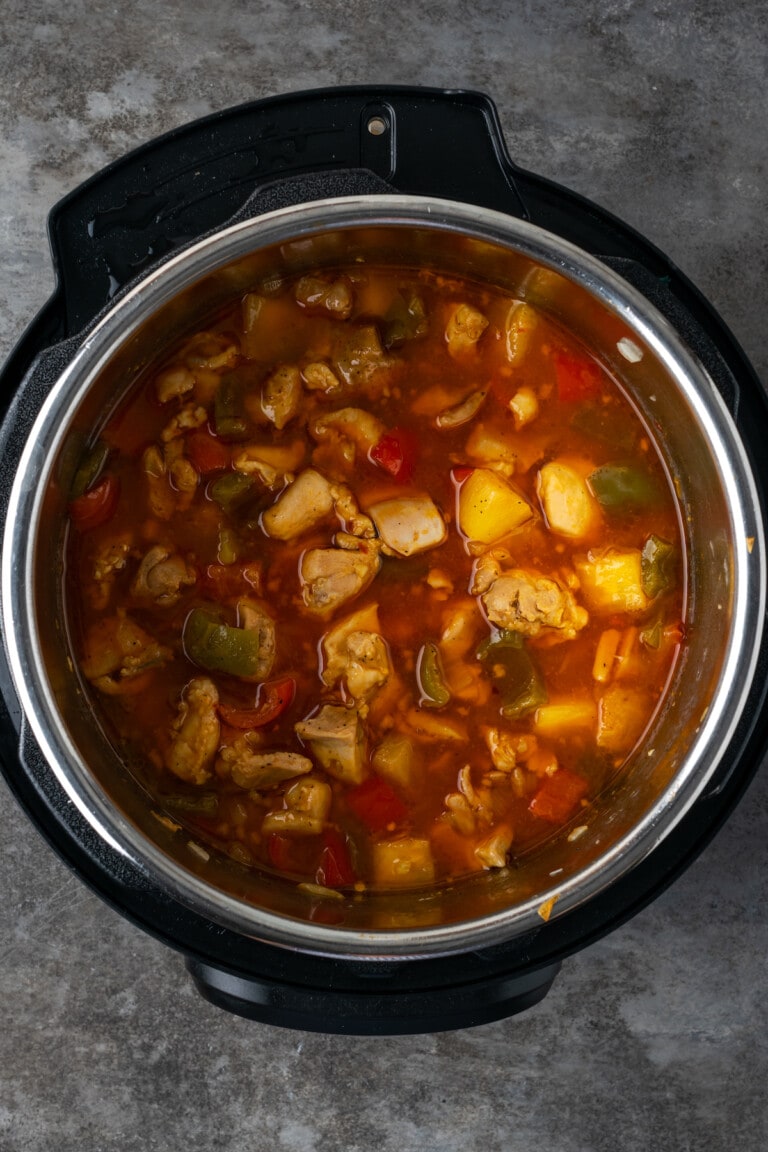 Thicken the sauce. Lastly, set the Instant Pot to saute one more time, and then whisk in a slurry of cornstarch and water, simmering until the sauce thickens a bit. Your Hawaiian chicken is ready to serve! I like to garnish this saucy chicken with chopped green onions. See below for more serving ideas.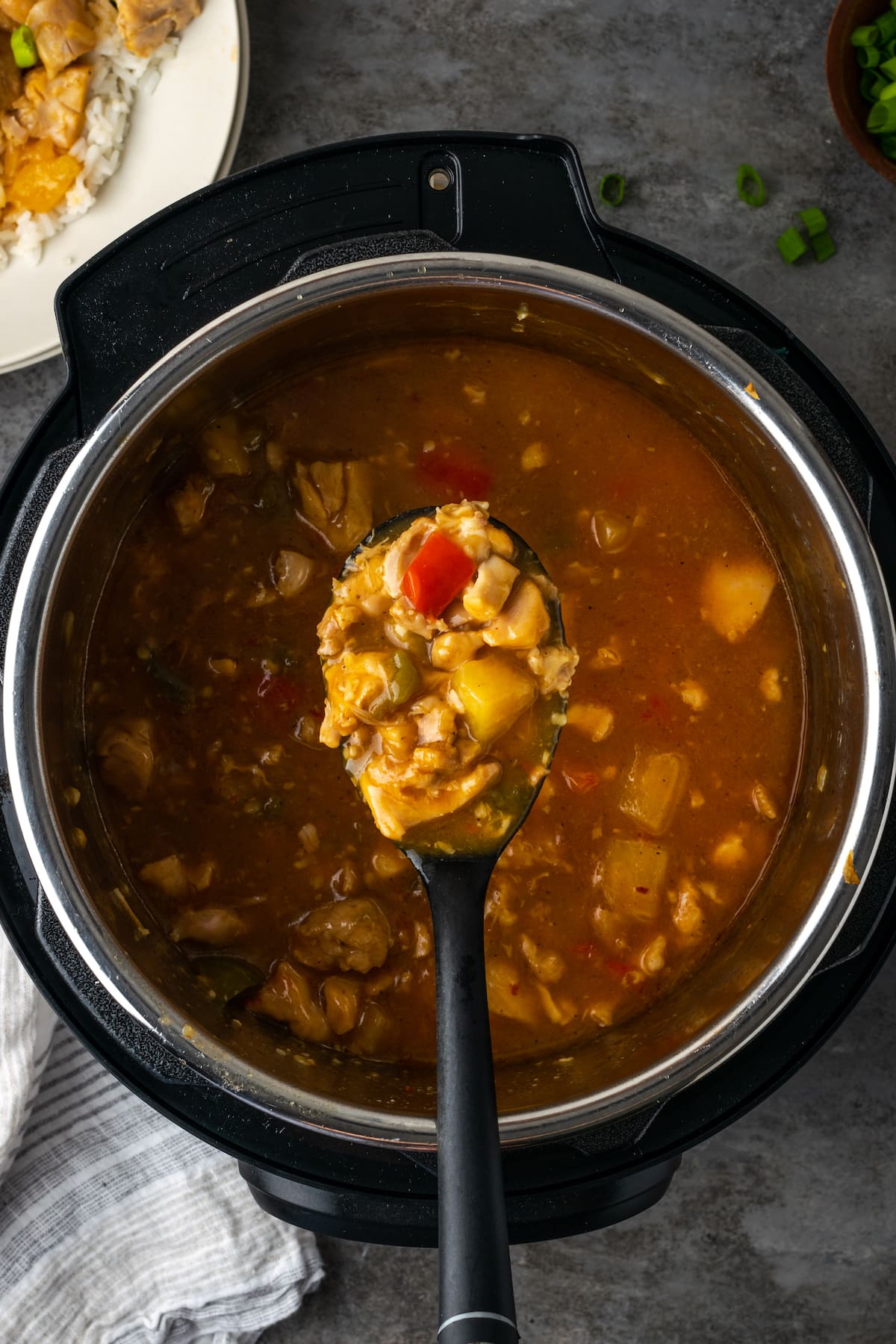 Can I Make This Recipe in the Slow Cooker Instead?
Absolutely. You can easily make this Hawaiian chicken recipe in the slow cooker or crockpot instead. In this case, there's no need to saute the veggies and chicken beforehand, simply dump and go:
Whisk together the sauce.
Add all the ingredients to the bowl of your crockpot or slow cooker, apart from the cornstarch. Stir everything together. 
Cook for 6-8 hours on high, or 3-4 hours on low. 
When the cooking time is up, whisk in the cornstarch slurry. Set the cooker to cook on high while the sauce thickens, and voila! Simple, delicious slow cooker Hawaiian chicken.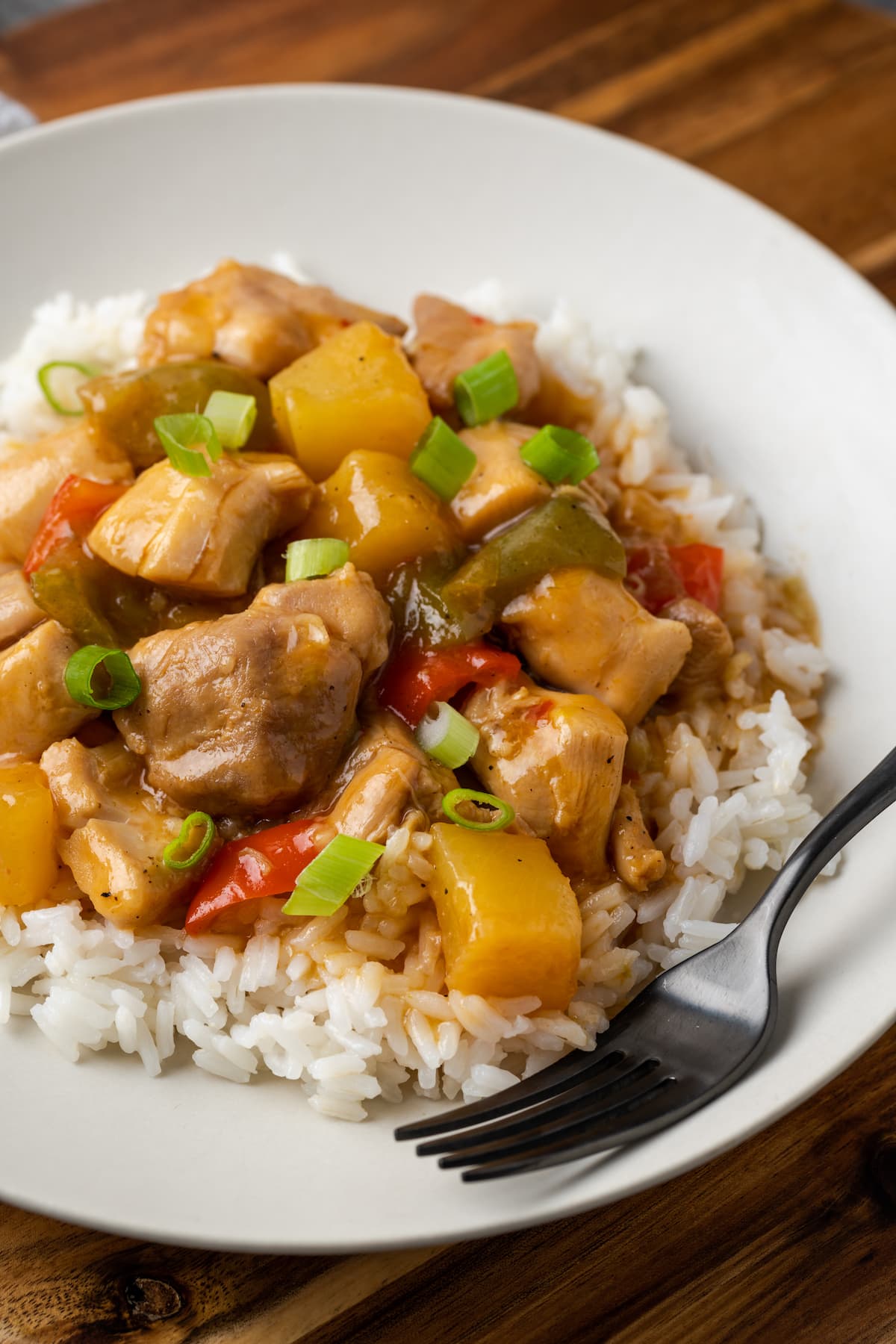 Tips for Success
Here are my tips for cooking perfect chicken in the Instant Pot:
Cut your chicken into same-size cubes. This ensures that they'll cook up nice and even in the Instant Pot.
Budget enough time. Your Instant Pot will take additional time to come to pressure before the actual cooking time starts. Make sure that you plan for the full cooking time required for your delicious chicken dinner!
Make sure to add enough liquid. The Instant Pot will throw a burn notice if there isn't enough liquid inside when it comes to pressure. If you're using fresh pineapple instead of canned pineapple, add an additional 1-2 cups of pineapple juice or water to compensate for the missing canned juices. 
Double the recipe. Depending on the size of your Instant Pot, you can double or even triple the recipe (or work in batches) and freeze the leftovers for easy meals down the road. It's seriously the best for meal prep!
Common Questions
Can I make this recipe with fresh pineapple?
Yes, fresh pineapple works in this Instant Pot recipe. Make sure to add an extra 1-2 cups of liquid (either water or pineapple juice) to the pot before cooking.
Why did my chicken turn out tough in the Instant Pot?
If your chicken comes out rubbery, this is usually a sign that the chicken is overcooked. Make sure to cut your chicken thighs into even-sized cubes that aren't too small, and follow the cooking times as written.
What to Serve with Hawaiian Chicken
Instant Pot Hawaiian chicken is such a simple and delicious meal, just add rice! And there are so many more creative ways to turn this pressure cooker chicken recipe into a satisfying family meal. Try these ideas: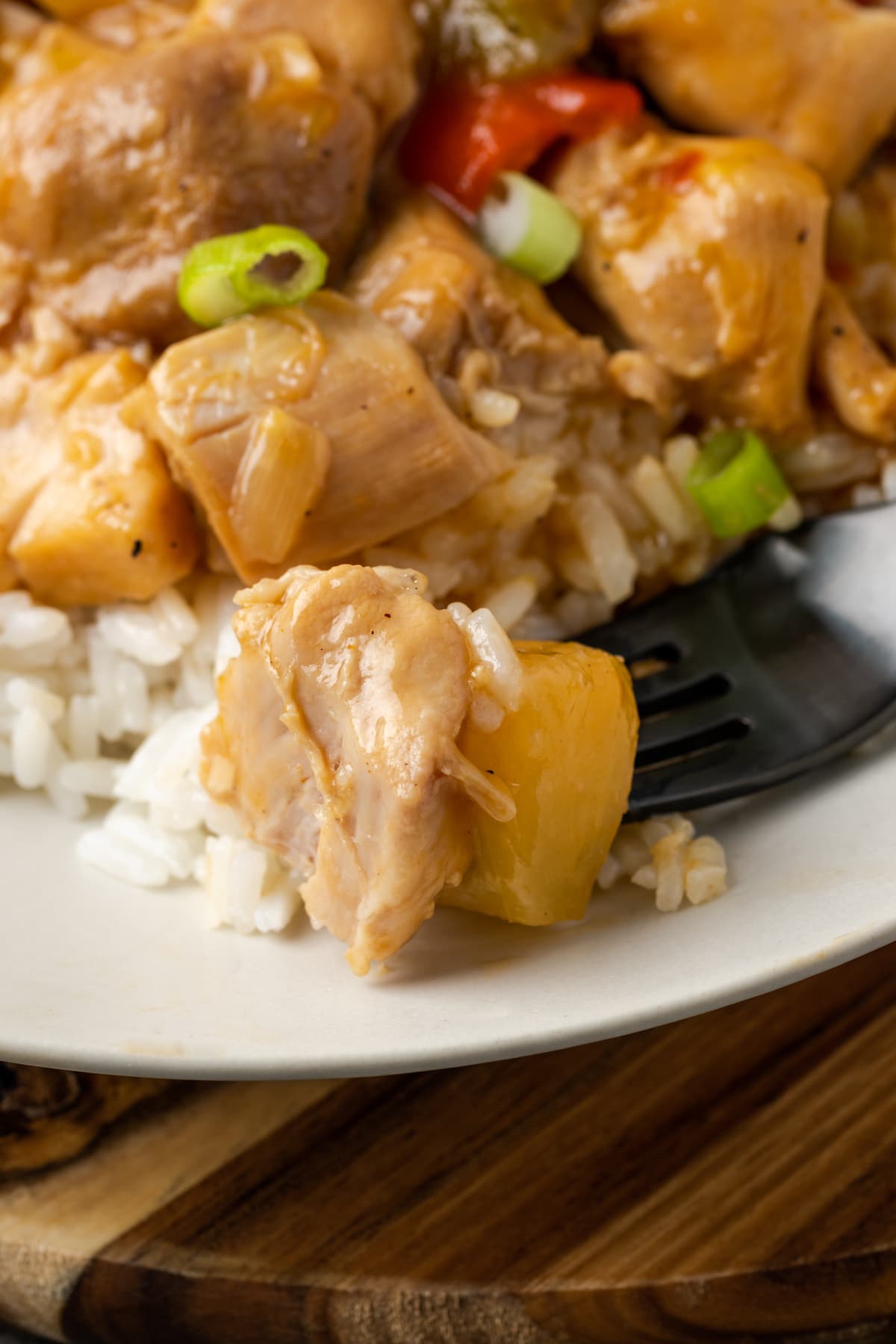 Storing and Reheating Leftovers
Hawaiian chicken is a great make-ahead meal that stores well and tastes even better in the following days after it's soaked in the sauce. Store the cooked chicken together with the sauce airtight in the fridge for up to 3-4 days. Reheat the chicken in the microwave for a couple of minutes until warmed through.
Can I Freeze Hawaiian Chicken?
Yes! And this recipe freezes beautifully. To freeze, store the cooled chicken in a freezer-safe container or freezer bag and keep it frozen for up to 3 months. Defrost the chicken in the fridge overnight before reheating.
More Pressure Cooker Chicken Recipes
---
Description
Instant Pot Hawaiian chicken is an easy one-pot dinner with tender, juicy chicken pieces cooked with pineapple, bell peppers, and onions in a sweet and tangy sauce.
---
1 Tablespoon

hot sauce

1/3 cup

light brown sugar

1/3 cup

low sodium soy sauce

1/4 cup

ketchup

3/4 cup

pineapple juice

2 Tablespoons

olive oil

1/2 cup

green bell pepper, cut into chunks

1/2 cup

red bell pepper, cut into chunks

1/2 cup

yellow onion, diced

2 ½

pounds boneless skinless chicken thighs, cubed

3

cloves garlic, minced

1 teaspoon

salt

1/2 teaspoon

black pepper

1/4 teaspoon

red pepper flakes

1 teaspoon

ground ginger

8 ounce

can of pineapple chunks (do not drain)

3 Tablespoons

cornstarch

3 Tablespoons

water
green onion for garnish
---
Combine the hot sauce, brown sugar, soy sauce, ketchup, and pineapple juice in a small bowl. Whisk together until well mixed and set aside.
Add the oil to the instant pot and set it to saute.
Add the green and red bell pepper and cook, stirring occasionally for 5 minutes.
Then add the onions and continue to cook for another 5 minutes until the onions are softened.
Add the chicken cubes, garlic, salt, black pepper, red pepper, and ginger to the instant pot. Cook for 1 minute more, stirring constantly. Cancel saute mode.
Pour the sauce into the pot. Stir everything together.
Seal the instant pot valve and set it to manual high pressure for 4 minutes. After the cooking time has elapsed, naturally release the pressure for 10 minutes. Then open the valve to release the remaining pressure. Remove the lid.
Return the instant pot to saute mode. Make a slurry of cornstarch and water and whisk it into the sauce. Allow to simmer for 3 minutes to thicken. Cancel the saute mode.
Serve the Hawaiian chicken over rice and garnish with green onions.
---
Keywords: instant pot hawaiian chicken, hawaiian chicken recipe, pressure cooker chicken recipes
Want To Save This Recipe?
Find more recipes like this: