Hearty and flavorful Instant Pot Chicken Noodle Soup is the cozy bowlful you need on your next chilly day. This satisfying soup recipe is brimming with classic ingredients, including tender chicken and veggies, egg noodles, and herbs in a savory chicken broth. It's fast, easy, and cooks up perfectly every time.
Looking for a stove-top version? Check out my traditional recipe for Chicken Noodle Soup!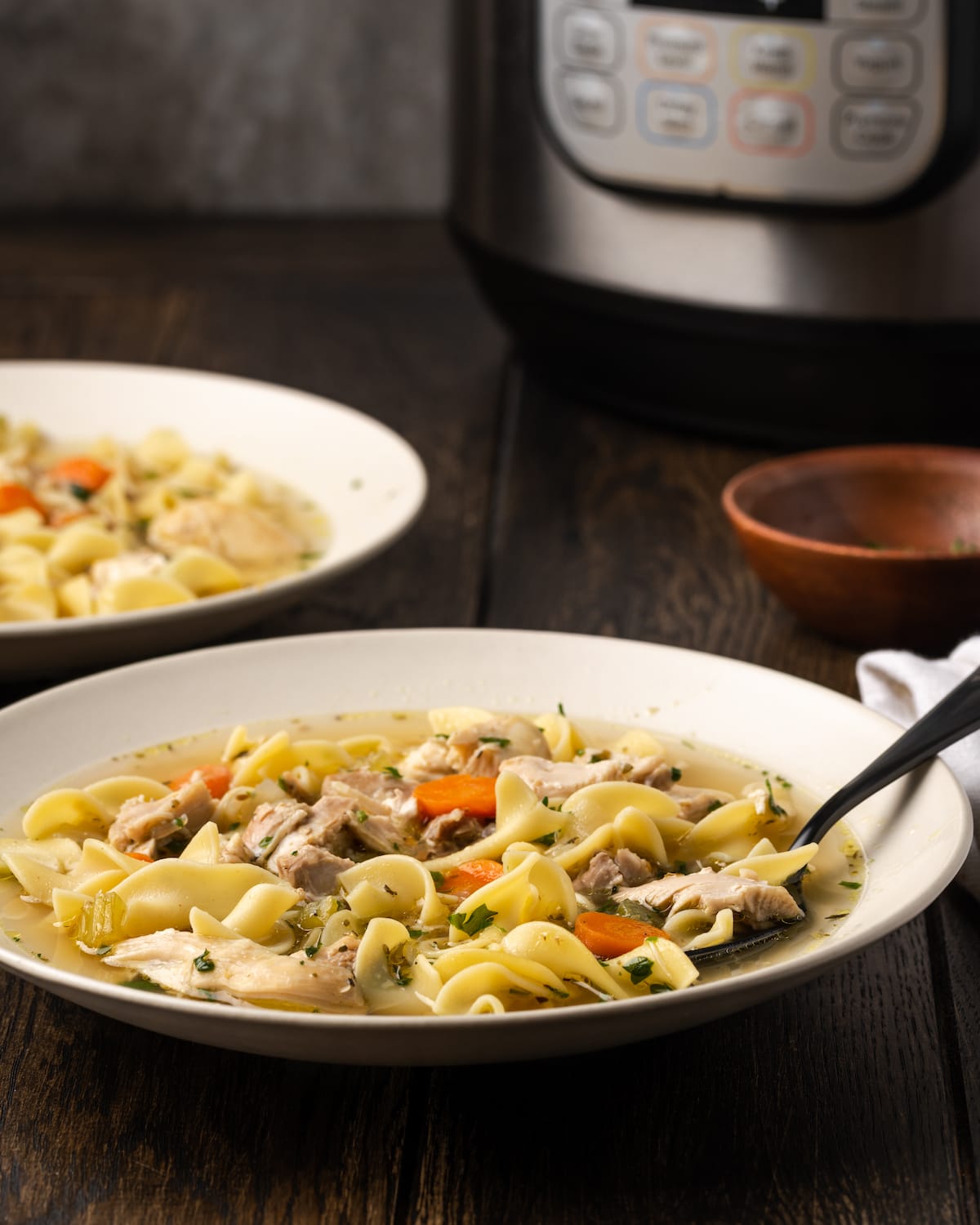 Cozy Instant Pot Chicken Noodle Soup
You could say that chicken noodle soup is a pretty big deal around here. I've made just about every variation of the cozy, comforting chicken-and-carb combo, from Chicken Noodle Casserole to Crockpot Chicken and Dumplings, to classic Chicken Soup, of course. Juicy chicken, tender egg noodles, and veggies basically define comfort food in this house.
The Instant Pot cooks the chicken perfectly and makes the whole soup-making process that much easier. You saute and cook everything all in one pot! It's a quicker and easier way to make wholesome and hearty homemade chicken noodle soup. I can't wait for you to try it.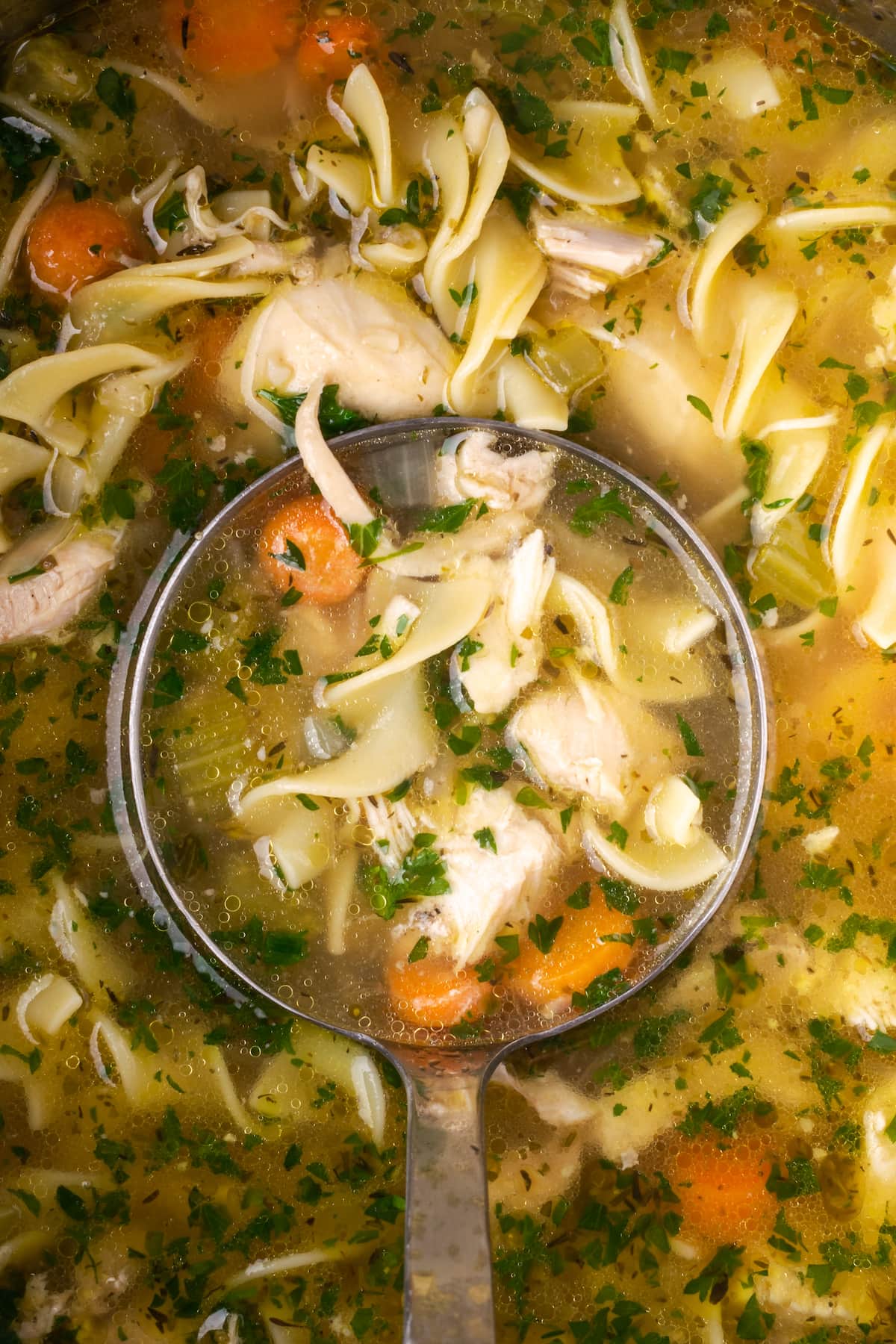 Why Make Soup In the Instant Pot?
If you're a fan of stovetop chicken soup, wait until you try this easy IP recipe. Here's why Instant Pot chicken noodle soup works:
Fast and easy. Instant Pot chicken soup is perfect for weeknights. This recipe comes together quickly and easily in one pot, with minimal clean-up.
Super flavorful. The instant pot concentrates tons of flavor into a short cooking time, for an exceptionally delicious homemade chicken noodle soup. The tender chicken, healthy veggies, and rich broth really shine.
Extra cozy. Our family loves cozying up with a warm pot of soup whenever the weather gets chilly. I just know yours will, too.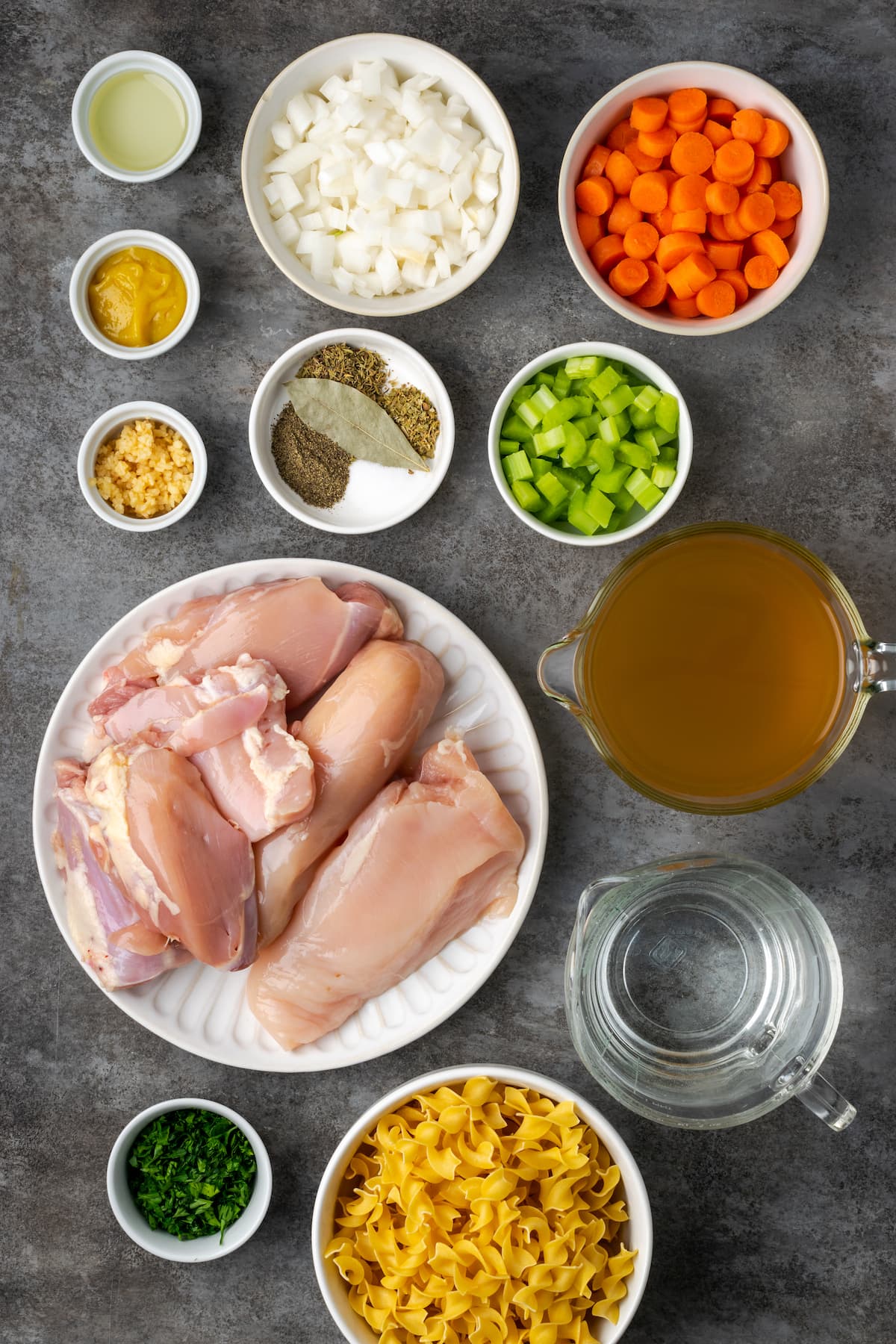 Ingredients You'll Need
You don't need any fancy ingredients to make a good ol' bowl of hearty and wholesome chicken noodle soup. The rustic flair is part of the charm! Below are the basic ingredients you'll need to make this Instant Pot chicken soup, with the full recipe deets available in the recipe card.
Olive Oil: For sauteing the veggies. You can also use unsalted butter.
Onion, Carrot, and Celery: Also called "mirepoix" in French cooking, this combination of diced veggies is the aromatic foundation for many soup and stew recipes. I also include minced garlic (because everything is better with garlic).
Herbs and Seasoning: Fresh or dried thyme, oregano, and bay leaf, along with salt and pepper.
Bouillon: I love to add this for even more flavor. You can use chicken bouillon paste or bouillon cubes, or even vegetable bouillon.
Chicken Broth: I recommend using low-sodium chicken broth so that you can better control the saltiness of the soup. Or, you can always use your own Homemade Chicken Stock.
Chicken: You'll need about 2 pounds of boneless, skinless chicken (breast, thighs, or a mix of the two). You can use skin-on chicken, just make sure to remove any pieces of skin from the soup after cooking.
Egg Noodles: Like the chicken stock, if you have the extra time, you can also make your own Homemade Egg Noodles. It's easier than you think!
Parsley: Freshly chopped.
What Are the Best Noodles for Chicken Noodle Soup?
Egg noodles are the classic choice in chicken soup recipes. However, you can really use any type of noodle: Rice noodles, ramen noodles, or even orzo pasta are good options, too. This recipe will also work with other pasta varieties like fettuccine or pappardelle, fusilli, or bow-tie pasta.
How to Make Chicken Soup in the Instant Pot
Chicken noodle soup is so easy to make, perfect for those chilly nights and days when some extra comfort is needed ASAP. Here's how to make this easy chicken soup in the pressure cooker: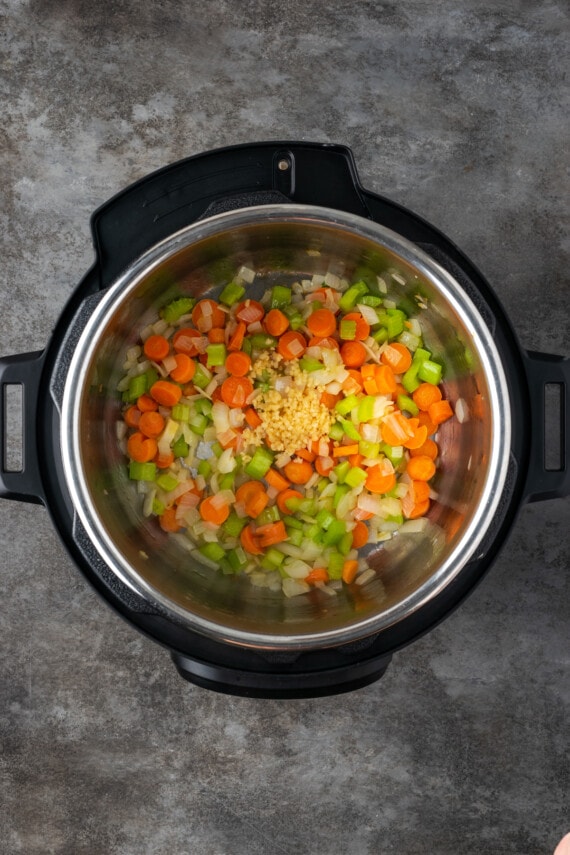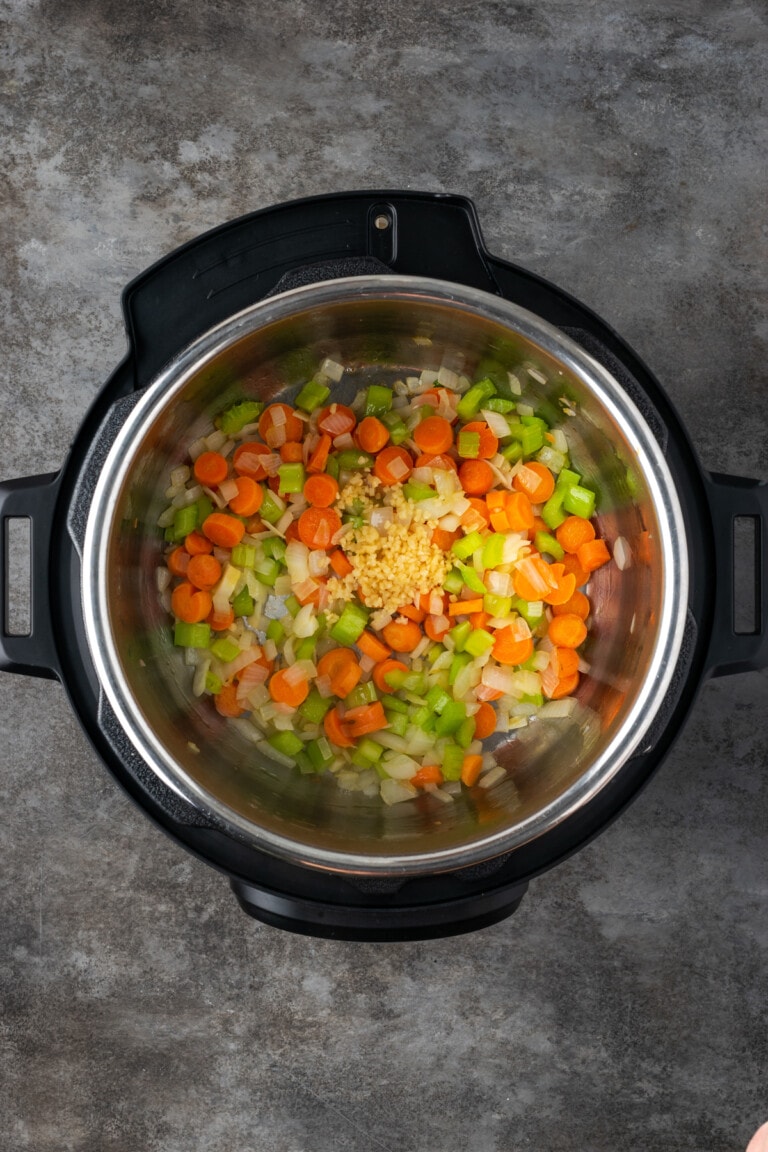 Saute: First, with the Instant Pot set to Saute, cook the onion, carrot, and celery in a bit of oil until softened and fragrant. Next, stir in the minced garlic.
Season: Switch off saute mode and add in your soup seasonings (salt, pepper, thyme, oregano, bay leaf) along with the bouillon and broth. Add water and stir in the whole, uncooked chicken pieces.
Cook: Close the lid and cook on High Pressure for 7 minutes. Allow the pressure to naturally release for 10 minutes, then open the lid. 
Shred the Chicken: Remove the chicken from the pot, using a fork or tongs. Be careful of any remaining hot steam. Afterward, shred or dice the chicken into bite-sized chunks, and leave it aside for now.
Add Noodles: Next, fish out the bay leaf, and then add the egg noodles to the pot. Switch the IP to Saute again, and leave the lid open while the pasta cooks until tender. 
Finish and Serve: Finally, turn off the pot and stir in the shredded chicken, along with fresh parsley to serve.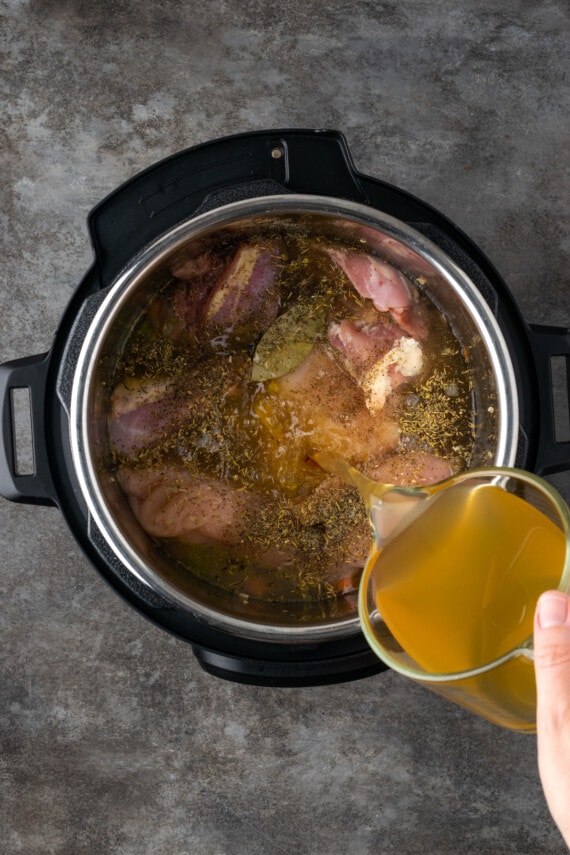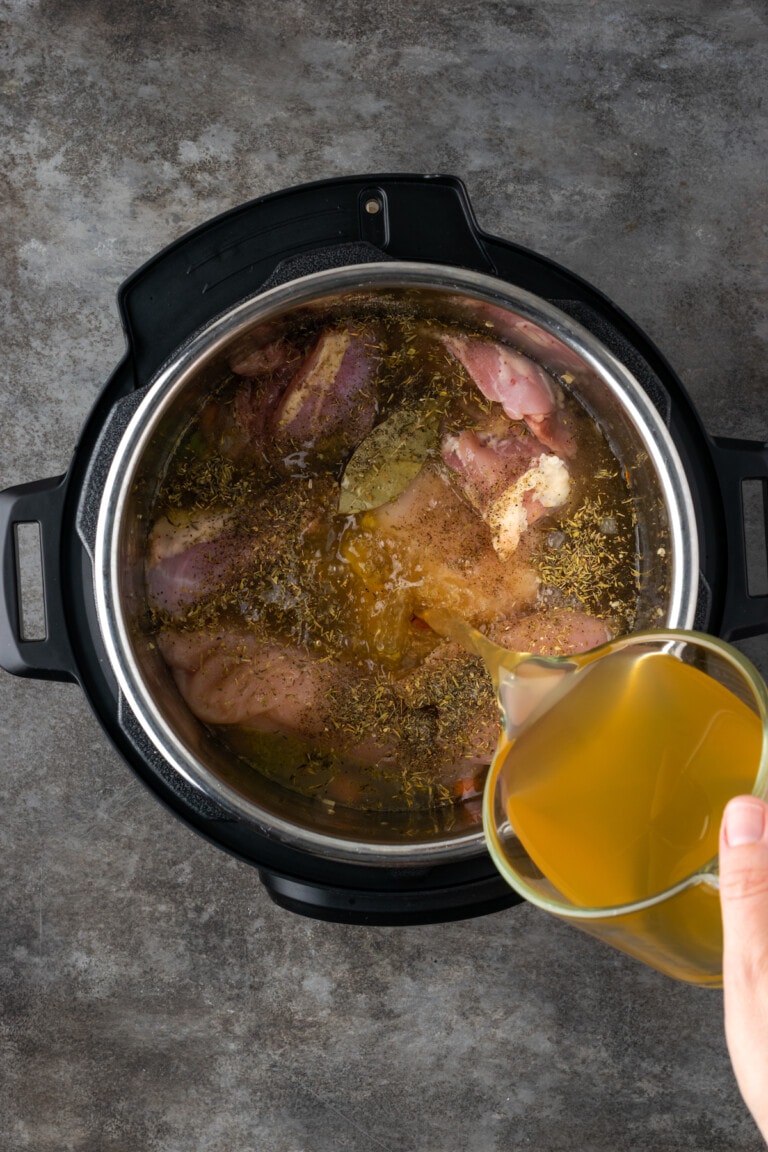 Can I Make This Recipe Without the Instant Pot?
If you don't have an Instant Pot, you can still make a delicious and flavorful homemade chicken soup on the stovetop instead. Simply follow the recipe as directed, adding the ingredients to a Dutch oven. Rather than pressure cooking, bring the soup to a boil, then turn the heat to low and simmer, covered, for 30-40 minutes or until the chicken is cooked through.
Afterward, remove the cooked chicken, shred it, and proceed with adding the noodles and finishing the soup per the rest of the recipe. If you'd like more in-depth instructions, you can also check out my recipe for traditional Homemade Chicken Noodle Soup.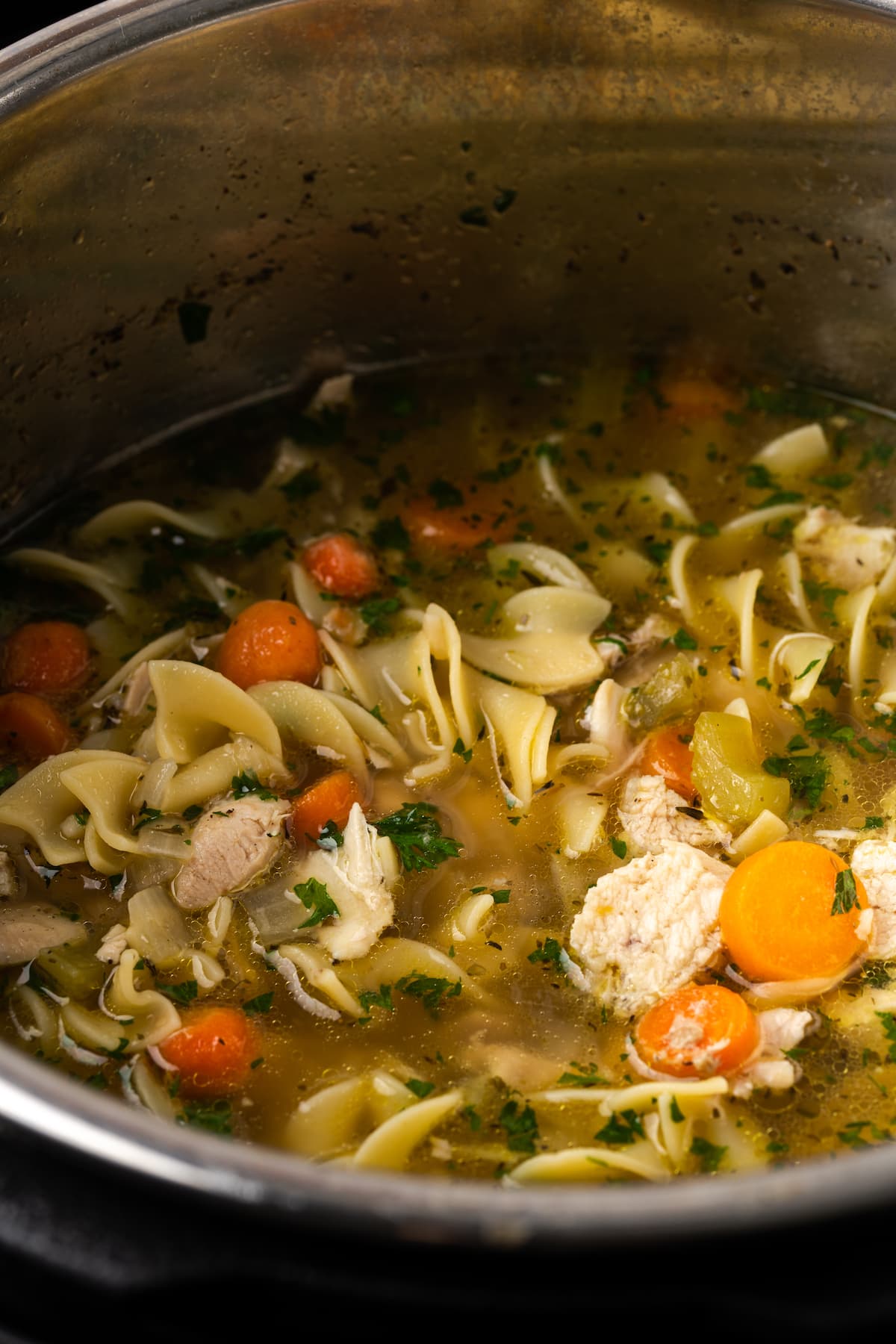 Tips for Success
If you're new to cooking with your Instant Pot, soups are a great place to start. It's almost impossible for them to turn out anything but delicious! Here are some final tips and tricks for making the best chicken noodle soup in the pressure cooker:
Not all IP models are the same. For safety reasons, be sure to familiarize yourself with your pressure cooker. Refer to the manual for detailed recommendations about your particular model.
Avoid over-seasoning. You can always add more, but you can't take it away. It's best to leave a final seasoning of salt and pepper for the very end so that your soup doesn't come out overly salty while it reduces.
Don't skip the saute. Whether you're making chicken soup in the Instant Pot or on the stove, sauteing the veggies first lays the groundwork for a flavorful broth. Don't just chuck all the ingredients in at once and cook – the results just won't be the same!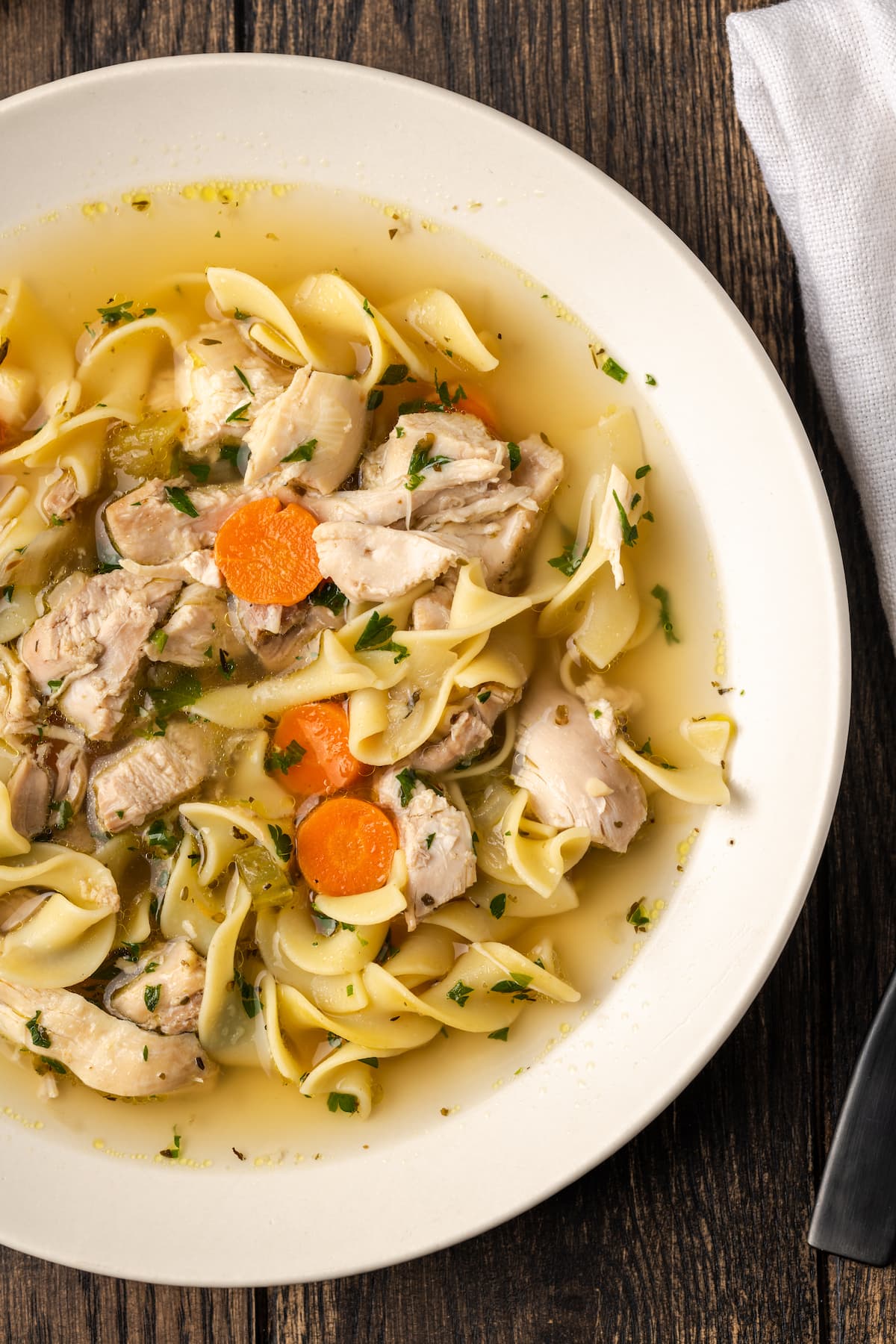 Add-Ins and Variation Ideas
Another awesome thing about soup recipes is how versatile they are. This chicken noodle soup and its ingredients can be adapted to suit your family's tastes and preferences. Try these easy add-in ideas:
Veggies: Add frozen peas, baby spinach leaves, sweet corn, diced zucchini, or sautéed mushrooms.
Herbs: Fresh herbs are best, but dried ones will also work. Play around with the flavors of your soup and add rosemary, tarragon, or even Italian seasoning.
Lemon: Squeeze in some fresh lemon juice right at the end to make an easy lemon chicken soup. The extra acidity can really boost the flavors, and the extra vitamin C is a great flu-buster.
Cheese: Grate fresh parmesan over top.
Serving Suggestions
Whenever there's a pot of chicken noodle soup in the house, I'll enjoy a cozy bowlful for lunch, dinner, or even a snack with saltine crackers and a sprinkle of grated cheese. On chilly days, you just can't beat it.
For lunch, a warm bowl of chicken noodle soup served with a grilled cheese sandwich or a green salad tossed with Homemade Ranch Dressing is a match made in heaven. 
On weeknights, I'll serve hearty chicken noodle soup with a side of easy Air Fryer Biscuits or homemade French Bread for dunking. For an extra dose of veggies, I'll serve a side of Air Fryer Asparagus, or a batch of The Best Bruschetta to bulk up the meal.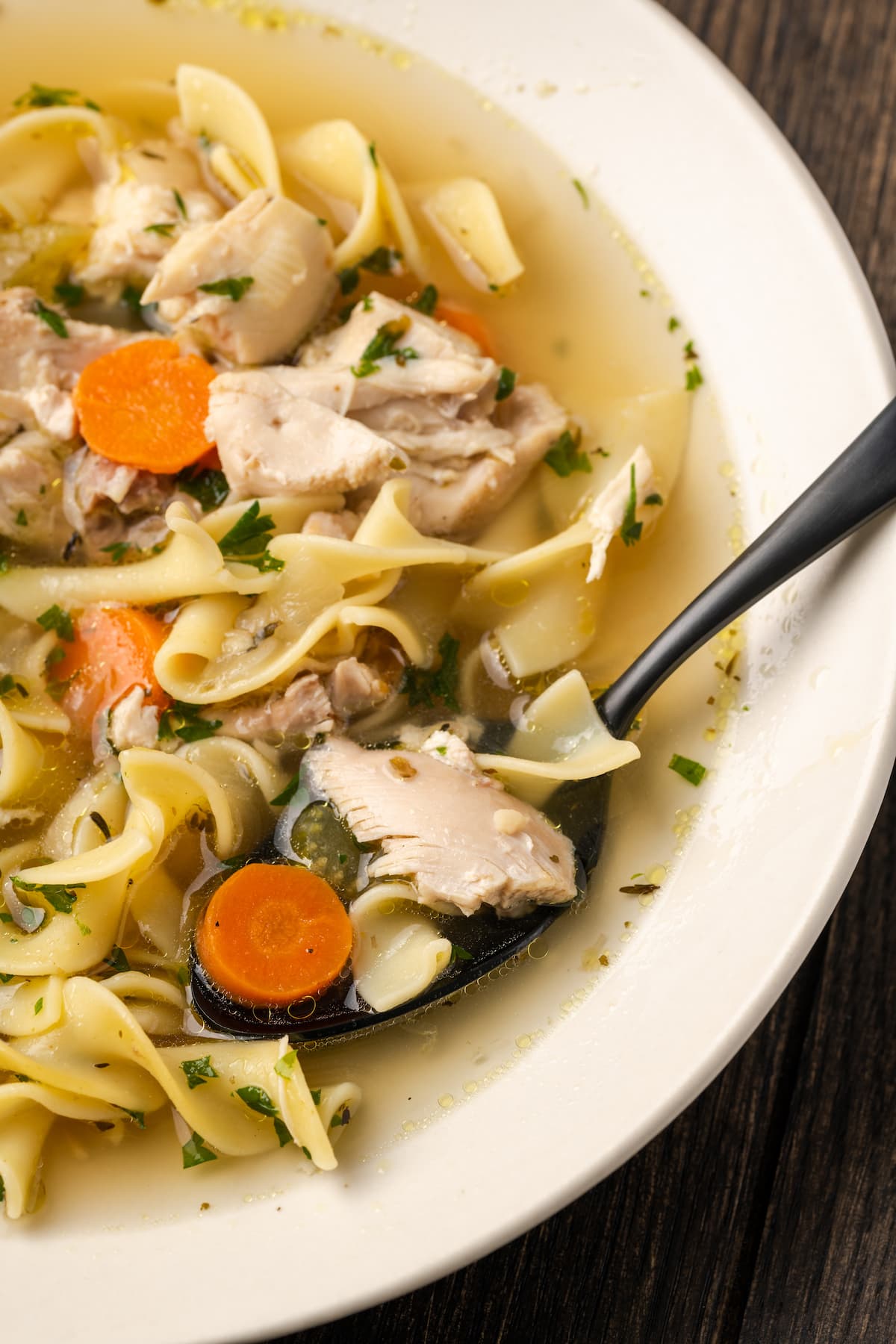 How to Store and Reheat Homemade Soup
Store any leftover chicken noodle soup airtight in the fridge for up to 5 days. Note that the noodles will become softer over time. This never bothers me, but if you're making this soup ahead and are concerned about the noodles becoming too mushy, you can always leave them out and cook the egg noodles separately before serving. Reheat the soup either in a saucepan on the stovetop or in the microwave until warmed through.
Can I Freeze Chicken Noodle Soup?
You can freeze the leftover soup in an airtight container for up to 3 months. Thaw the soup overnight in the fridge before reheating. Again, if you're making this recipe ahead (with the intention to freeze it), I recommend leaving out the noodles. Freeze the soup with the chicken and broth, then defrost and reheat it before boiling a fresh batch of noodles to add in when serving.
---
Description
Hearty and flavorful Instant Pot Chicken Noodle Soup is a quick and easy shortcut to a comfort food favorite! Brimming with classic ingredients, including tender chicken, cozy egg noodles, herbs, and veggies in a savory chicken broth.
---
2 Tablespoons

Olive Oil

1 Cup

Yellow Onion, diced

1 Cup

Carrots, cut into

1

?4" thick coins

1/2 Cup

Celery, diced

3

cloves Garlic, minced

3/4 teaspoon

Salt

3/4 teaspoon

Black Pepper

1 teaspoon

Thyme

1/2 teaspoon

Oregano

1

Bay Leaf

1 Tablespoons

Chicken Bouillon Paste

4 Cups

Chicken Broth

3 Cups

Water

2

pounds Boneless, Skinless Chicken (breast, thighs, or mix)

2 Cups

Egg Noodles

2 Tablespoons

Fresh Parsley, chopped
---
Set the instant pot to saute mode. Add the oil, onion, carrot, and celery. Cook, stirring occasionally, for 5-6 minutes until softened.
Add the garlic and cook for 1 minute more, stirring constantly.
Press cancel.
Add the salt, pepper, thyme, oregano, bay leaf, chicken bouillon, broth, water, and uncooked chicken. Stir together.
Seal the instant pot. Cook on manual high pressure for 7 minutes. Naturally release the pressure for 10 minutes.
Open the instant pot and remove the chicken. Set it aside to cool for a few minutes before cutting or shredding.
Remove the bay leaf and discard.
Turn the instant pot to saute again. Add the egg noodles and cook for 6 minutes (or until tender) with the lid off.
Press cancel. Stir in the cut chicken and fresh parsley.
Serve immediately.
---
Notes
You can use skin-on chicken, just make sure to remove any pieces of skin from the soup after cooking the chicken.
Keywords: instant pot chicken soup, easy chicken noodle soup, best chicken noodle soup
Want To Save This Recipe?
Find more recipes like this:
More Satisfying Soup Recipes