These Fluffy Buttermilk Pancakes are light and tender made with simple ingredients. Top them with butter and maple syrup for the best classic, homemade pancakes ever!
Make sure to try my Blueberry Pancakes, they're a huge hit during blueberry season!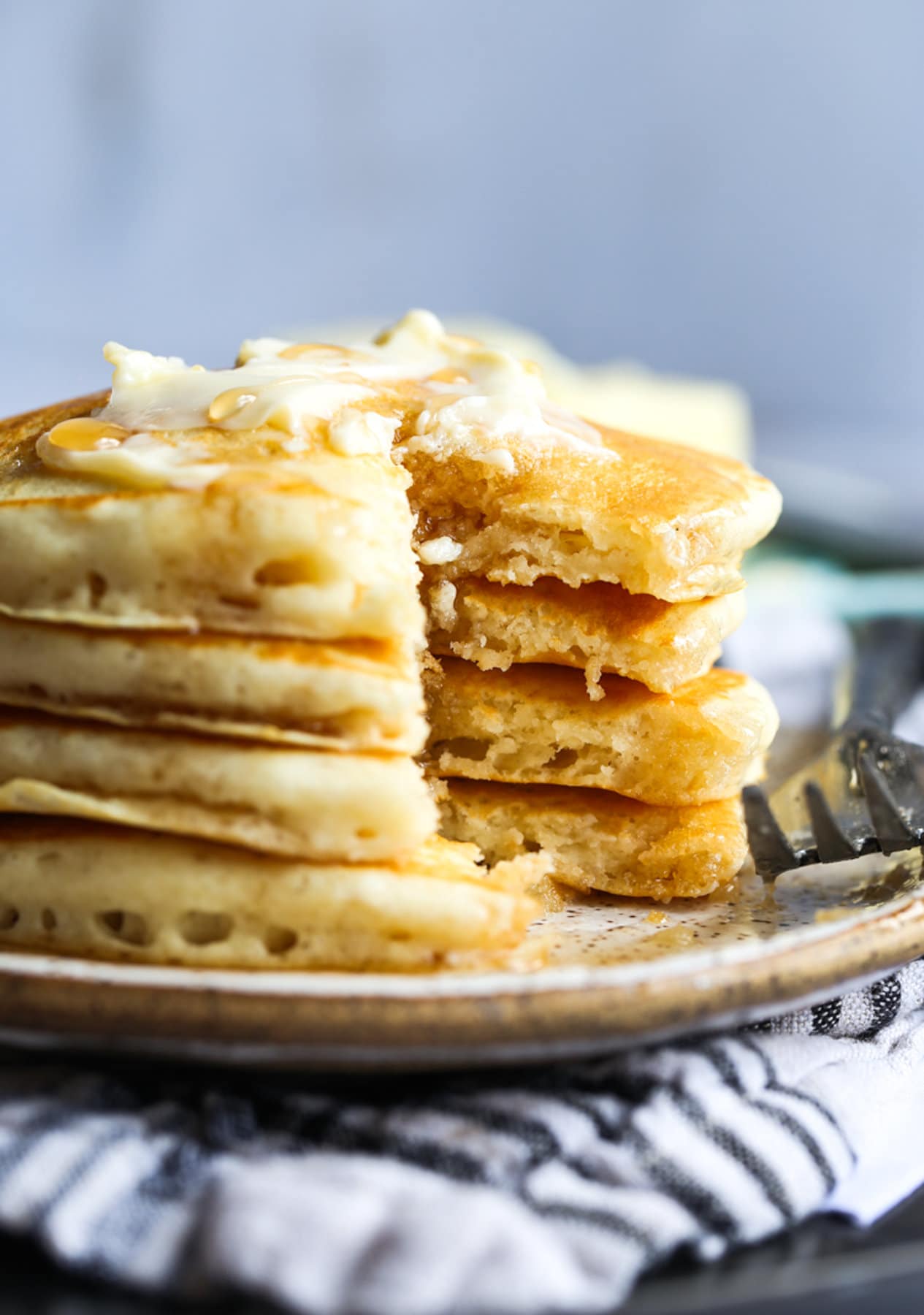 Homemade Fluffy Buttermilk Pancakes
If not, get ready because today's the day! Homemade Buttermilk Pancakes are literally only take minutes to make, and are perfect for a weekend brunch, a weekday breakfast or even breakfast for dinner!
My kids love pancakes, and I have some pretty great recipes that I make on the regular around here. Today we're taking it back to basics, or should I say classics…and buttermilk pancakes are really the best of them. These are soft and tender on the inside with a light, ever-so-slight crisp, buttery edge. They're the classic "diner pancake", and now you can make them in your own kitchen in minutes!
I could go on and on about this buttermilk pancake recipe, but really, let's just get down to it, shall we? I mean minimal ingredients, quick cook time, and topped with butter checks just about every box in my favorite food checklist!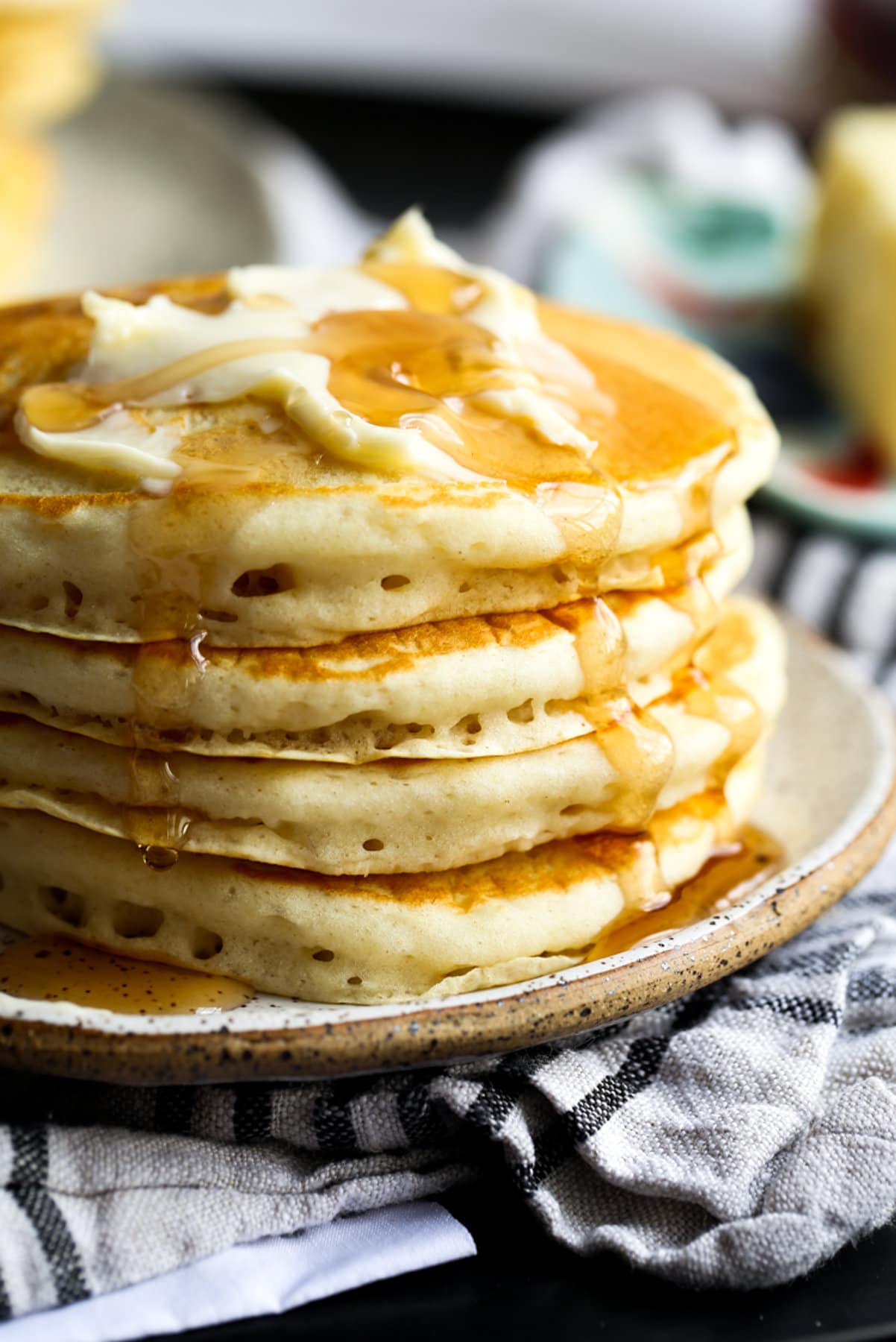 What Ingredients Do You Need For Fluffy Buttermilk Pancakes?
Like I said, this recipe requires minimal, everyday ingredients…most that you probably have in your kitchen right now!
Buttermilk: Buttermilk makes these pancakes fluffy and tender. The acid of the buttermilk combined with the baking soda and baking powder gives these the height and airiness. 
Flour: Just good old all purpose flour works best for these pancakes! If you would like, you could even use half all purpose and half whole wheat flour to give them a nutty flavor and a few more health benefits!
Sugar: A little granulated sugar adds to the flavor of these pancakes! You could certainly use brown sugar if you would like!
Dry Ingredients: Salt, Baking Soda, and Baking Powder: The salt adds a little flavor, and the baking soda and powder (combined with the buttermilk) are what make these fluffy!
Eggs: Use large sized eggs for this recipe, and if you have an egg allergy you could even use 1/2 cup applesauce in place of the eggs. Generally in baking, 1/4 cup applesauce = 1 large egg! But check out my full post on Egg Substitutes for tons of egg alternatives!
Oil: A little fat add to these pancakes keeps them extra moist. I prefer to use oil instead of melted butter for the lightest texture possible. You can use any light colored oil like vegetable oil or canola oil in this recipe. 
Vanilla: This is optional, but I love adding vanilla into my pancakes to add a subtle yummy flavor.
What If You Don't Have Buttermilk?
No problem! I wrote a whole post explaining just how easy Homemade Buttermilk can be! Check it out, because we don't want something as silly as not having buttermilk in your fridge stop you from making these pancakes, especially when the substitute is so easy! It's just a little milk and acid like white vinegar and lemon juice.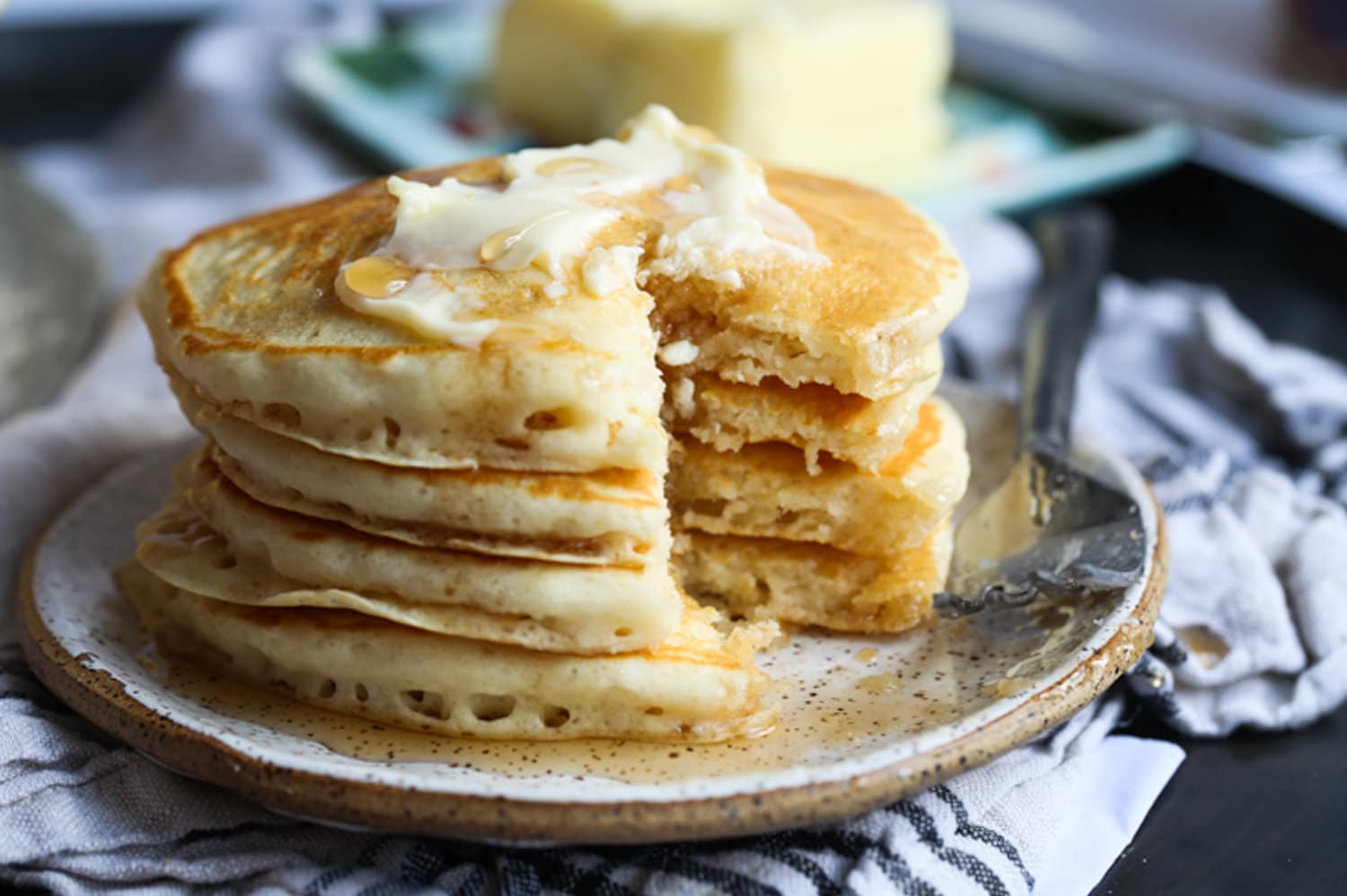 Tips To Make the Perfect Pancake
Classic buttermilk pancakes are super easy to make, but there are always a few tricks that make them come out perfect every time!
Don't heat the griddle or skillet too hot. To get that perfect golden brown pancake slower is best!
Don't flip too soon! This is my main problem with pancakes, I get impatient! But make sure all the bubbles on top have popped and the sides are set before attempting to flip them over. 
Use a pancake batter dispenser for perfectly round pancakes. I held out on getting one of these handy tools for WAY too long! I have always used a measuring cup to pour out the batter, but using a dispenser makes the process SO much easier and way less messy! Also note it works great for cupcake batter too!
What Can I Top Buttermilk Pancakes With?
Buttermilk Pancakes are the perfect vehicle for tons of toppings! Beyond butter and maple syrup here are a few ideas that we love:
Fresh Fruit like blueberries, strawberries, or sliced bananas. 
Whipped Cream
Powdered Sugar
Cinnamon Sugar
Chocolate Sauce
Nutella
Can You Freeze Pancakes?
Freezing pancakes is great when you are meal prepping. You can easily double (or triple) this recipe and have pancakes for the week!  
Cool the pancakes completely. Place them in between layers of parchment paper in an airtight container or zip-top bag in the freezer for up to a month for best freshness.
To reheat the pancakes place them on an un-greased baking sheet and into a 375°F oven. Heat for 5-6 minutes, or until warm.
Alternately you can reheat the pancakes in the microwave from frozen. Just heat 3-4 pancakes at a time on high for 45 seconds, or until warm.
Looking For More Breakfast Ideas? Try these:
---
Description
Fluffy Buttermilk Pancakes are so easy and make the best breakfast!
---
2 cups

all purpose flour

2 tablespoons

granulated sugar

1 teaspoon

kosher salt

1 teaspoon

baking powder

1 teaspoon

baking soda

2

large eggs

1 teaspoon

vanilla extract

1/4 cup

vegetable oil

2 cups

buttermilk
Butter for frying
---
In a large bowl whisk together the flour, sugar, salt, baking powder, and baking soda.
In another bowl whisk together the eggs, vanilla, oil, and buttermilk.
Make a well in the dry ingredients and stir the wet ingredients into the dry ingredients until just combined. If there are a few lumps this is fine.
Heat a griddle or large skillet over medium-low heat. When hot, melt a tablespoon of butter onto the griddle. Spoon 1/4 cup of pancake batter onto the hot griddle and cook until the edges are lightly set and bubbles form on top of the pancake. Flip and cook until golden brown.
Serve immediately or place on a baking sheet in a warmed oven until ready to serve.
---
Notes
Store airtight at room temperature for up to 3 days.
Nutrition
Serving Size:

1 pancake

Calories:

123

Sugar:

4.2 g

Sodium:

354.6 mg

Fat:

2.4 g

Carbohydrates:

20.5 g

Protein:

4.5 g

Cholesterol:

35.5 mg
Keywords: pancakes recipe, cookies and cups, pancakes, buttermilk pancakes, homemade pancakes, pancakes
Want To Save This Recipe?
Find more recipes like this:
PIN for later: