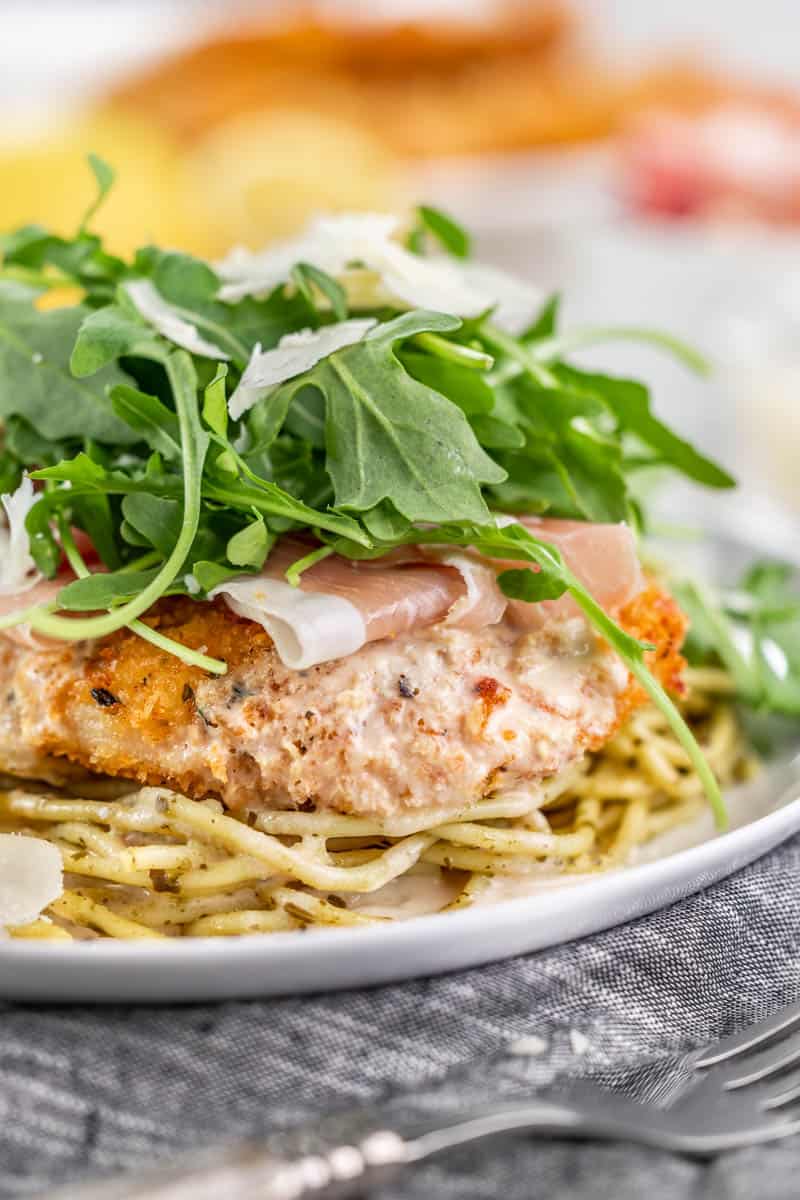 Savor the robust taste of better than Bellagio chicken, a masterpiece of crispy, golden-brown chicken cutlets paired with velvety pesto-infused pasta and laced with a tantalizing lemon cream sauce.
Better than Bellagio chicken is more than just a meal; it's a culinary journey that you can embark on from the comfort of your home. Imagine delighting in a succulent, crispy chicken cutlet, resting atop a pile of al dente pasta gently tossed in rich pesto. The dish is then graced with a drizzle of zesty lemon cream sauce, creating a harmony of flavors that play in your mouth. It's like bringing the elegance and sophistication of restaurant-quality dining to your kitchen. Every element of the dish, from the golden-brown chicken to the tangy sauce, contributes to a taste experience that lingers long after the meal is over.
Frequently Asked Questions
Can I use chicken thighs instead of chicken breasts?
Yes, you can use boneless, skinless chicken thighs. However, cooking times may vary.
Can I make the lemon cream sauce in advance?
Yes, you can prepare it a day ahead and refrigerate it. Heat it gently before serving.
Can I use a different type of cheese?
Yes, you can substitute Parmesan with Asiago or Romano cheese.
Substitutions
For those navigating gluten sensitivities, better than Bellagio chicken can easily be adjusted. Simply use gluten-free flour and breadcrumbs to maintain the crisp texture of the chicken without the gluten.
To make the dish more heart-friendly, reduce sodium by using low-sodium chicken broth in the lemon cream sauce and minimize added salt.
It's worth noting that this dish is rich in dairy ingredients, which contribute significantly to its characteristic taste and texture. While minor adjustments can be made, such as using lactose-free milk, attempting to make this dish entirely dairy-free could result in a markedly different flavor profile and texture. Therefore, those with dairy allergies or intolerances may need to consider other recipes that are more amenable to dairy-free adaptations.
Chef's Tips
This dish requires no fancy ingredients or equipment. For the pesto, you can make your own or purchase from the store, or simply use basil oil. While the servings are generous, as they should be for a restaurant-style experience, they can easily be adjusted according to personal preference or dietary needs. As with all recipes, the key to success lies in fresh ingredients, careful preparation, and above all, a passion for good food.
Serving Suggestions
Better than Bellagio chicken stands as a fulfilling meal on its own. However, it pairs well with a crisp, leafy green salad dressed in a light vinaigrette, and a side of garlic bread. This dish makes for a splendid dinner choice when hosting guests or for a family-style weekend meal. Finish the meal with a light, fruity dessert like sorbet or a lemon tart to balance the richness of the main dish.
Storage & Reheating Instructions
This dish is best enjoyed fresh but can be refrigerated for up to 2 days. To reheat, warm the chicken and pasta separately to maintain the crispness of the chicken. The lemon cream sauce can be gently reheated over low heat.
If you like this recipe, you may be interested in these other delicious chicken recipes:
Watch the Video
Watch the video below where Caytlin will walk you through every step of this recipe. Sometimes it helps to have a visual, and we've always got you covered with our cooking show. You can find the complete collection of recipes on YouTube, Facebook Watch, or our Facebook Page, or right here on our website with their corresponding recipes.