Crunchy bacon meets smooth cheddar cheese while vibrant peas and olives bring a refreshing twist to bacon ranch pasta salad. Topped off with a creamy, homemade ranch dressing, this dish proves that salads can indeed be the star of the show.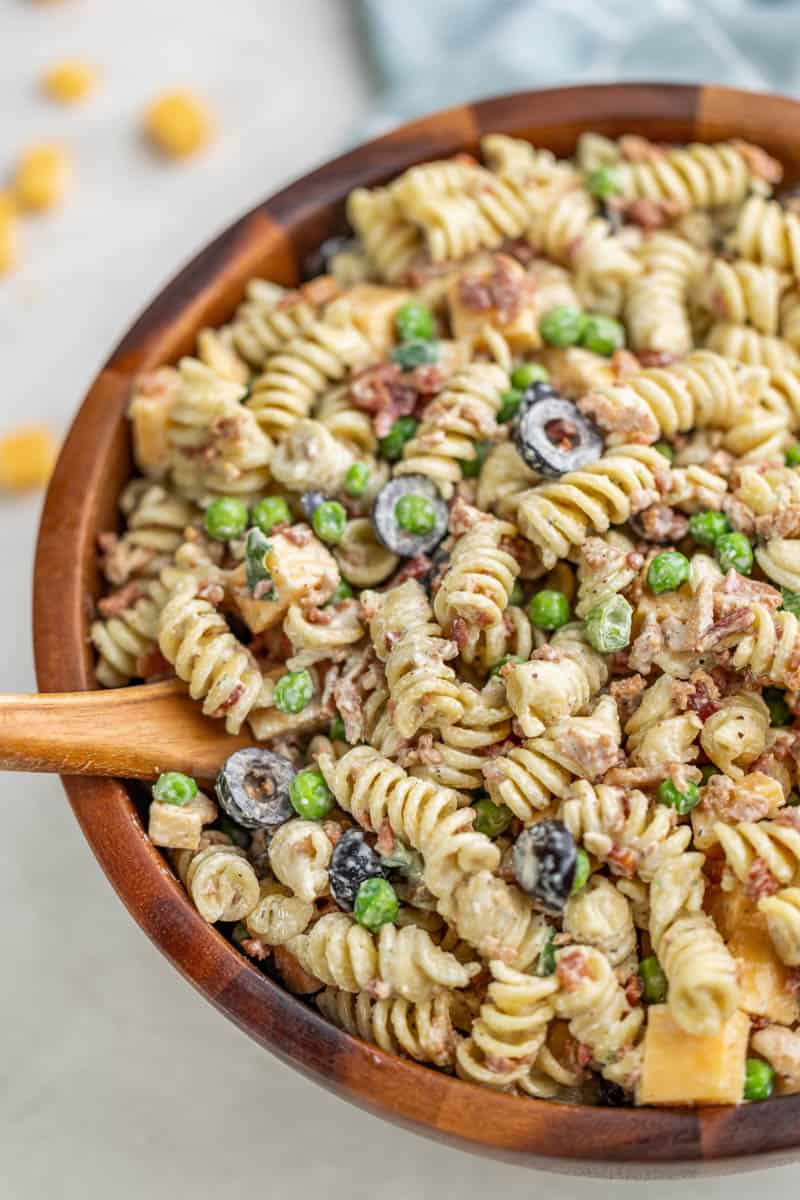 This bacon ranch pasta salad is a harmonious blend of creamy, savory, and refreshing notes, dancing together in every bite. With the satisfying crunch of bacon, the smooth richness of cheddar cheese, and the vibrant burst of green peas and olives, this dish is a medley of flavors that delight the senses. And the homemade ranch dressing? It's the cherry on top, tying everything together in a delectable bow of culinary delight.
Far from your typical garden-variety salad, this is substantial, satisfying, and versatile. It can be served as a stand-alone dish for a light lunch or as a complementary side for a barbecue or dinner party. Not to mention, it's a surefire crowd-pleaser. Whether you're looking for a dish to bring to a picnic, potluck, or just a weekday family dinner, this pasta salad is a versatile option that fits the bill.
Frequently Asked Questions
How do I keep the pasta from sticking together?
The key is to rinse the cooked pasta under cold water. This not only stops the cooking process but also removes the extra starch that can cause stickiness.
Can I prepare this dish in advance?
Absolutely! In fact, making this salad a few hours ahead can enhance the flavors as it gives the ingredients a chance to meld together. Just remember to give it a good stir before serving to redistribute the dressing.
Can I use a different type of pasta?
Definitely. While rotini is great for holding onto the dressing, other types of pasta like penne, fusilli, or farfalle can work equally well.
What if I don't have all the herbs for the ranch dressing?
The beauty of homemade dressing is that it's adaptable. If you're missing an herb, you can skip it or substitute it with something else. Dill, basil, or tarragon could all add unique flavors to the dressing.
Can I add other proteins to this salad?
Yes, if you'd like to make this dish even heartier, grilled chicken would be a nice addition. Just ensure any added protein is cooked thoroughly and cooled before adding to the salad.
How do I know when the pasta is perfectly cooked?
The best way to know is by tasting it. Pasta is ideally cooked al dente, meaning it should still have a slight bite to it. This ensures it doesn't turn mushy in the salad.
Can I use precooked bacon?
Absolutely! Using precooked bacon can save you time, especially when you're in a rush. Just ensure it's properly heated before adding it to the salad.
What other toppings can I add?
This salad is quite flexible. Feel free to add in chopped bell peppers, red onion, carrot matchsticks, tomatoes, cucumbers, or even broccoli. It's all up to you!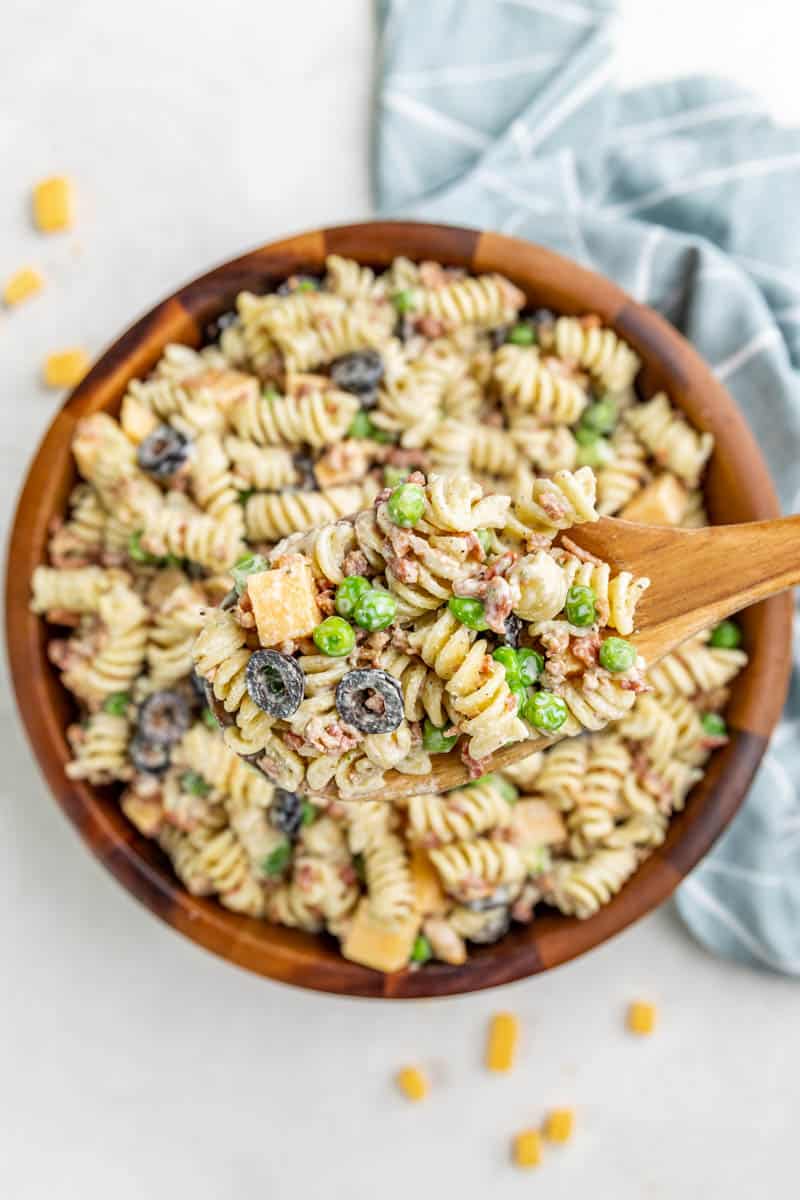 Serving Suggestions & Storage Instructions
This salad can be served immediately after preparation or refrigerated to let the flavors meld together. It's a perfect dish for warm weather gatherings or a quick, refreshing meal.
To store, simply cover the salad and refrigerate. It will keep well for up to 3 days. If the salad seems a little dry after storage, you can stir in a bit more dressing to freshen it up.
If you like this recipe, you may be interested in these other delicious pasta salad recipes: