Try these 8 Satisfying Ground Beef Pasta Recipes that turn protein-rich beef mince into delicious, comforting pasta dinners! From meaty noodle casseroles to bolognese, I've rounded up easy pasta recipes from the creative to the classic.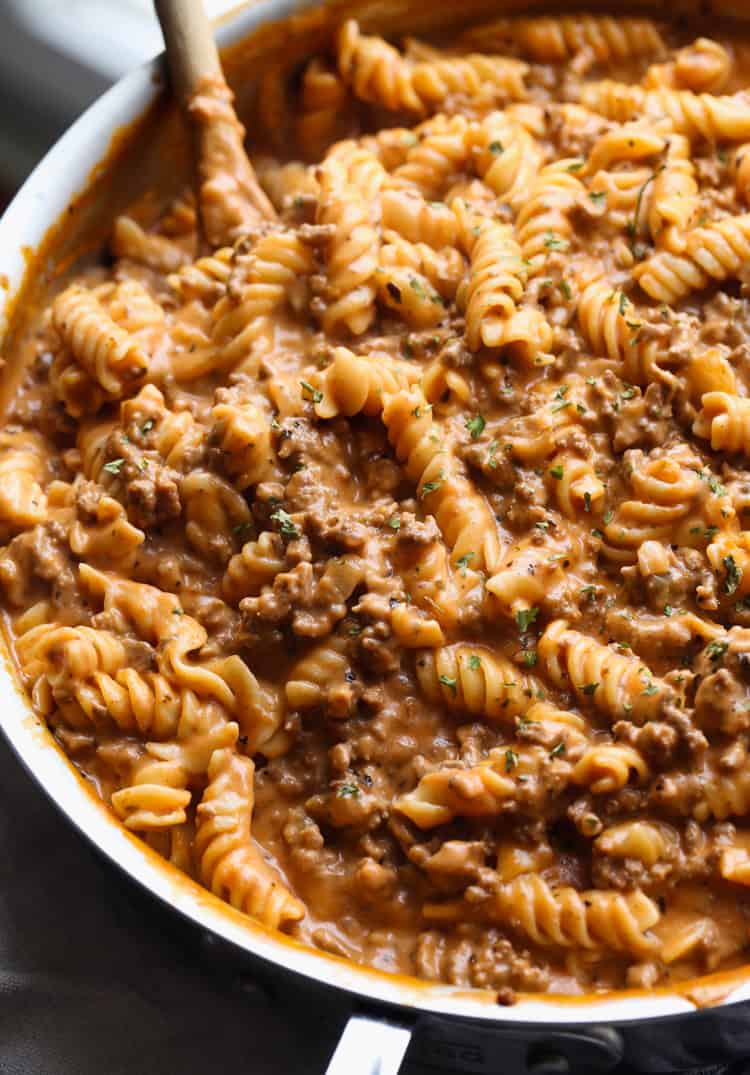 Hearty Ground Beef Pasta Dinner Ideas
All aboard! Ground beef in pasta recipes is a one-way ticket to comfort food. Ground beef, with all of its heartiness, rich and savory flavor, and healthy proteins makes it a perfect addition to a satisfying meal.
I don't know about you, but I almost ALWAYS have a package of ground beef or two in my freezer. It's such a versatile ingredient. Among the many ways to use ground beef, it's an easy way to level up your pasta dishes to make them even more flavorful and filling.
I've rounded up a handful of my best ground beef pasta recipes that I just know the whole fam is going to LOVE. From cheesy ground beef casseroles to meaty lasagna, creamy pasta, and more beef-filled recipes, there's really something for everyone.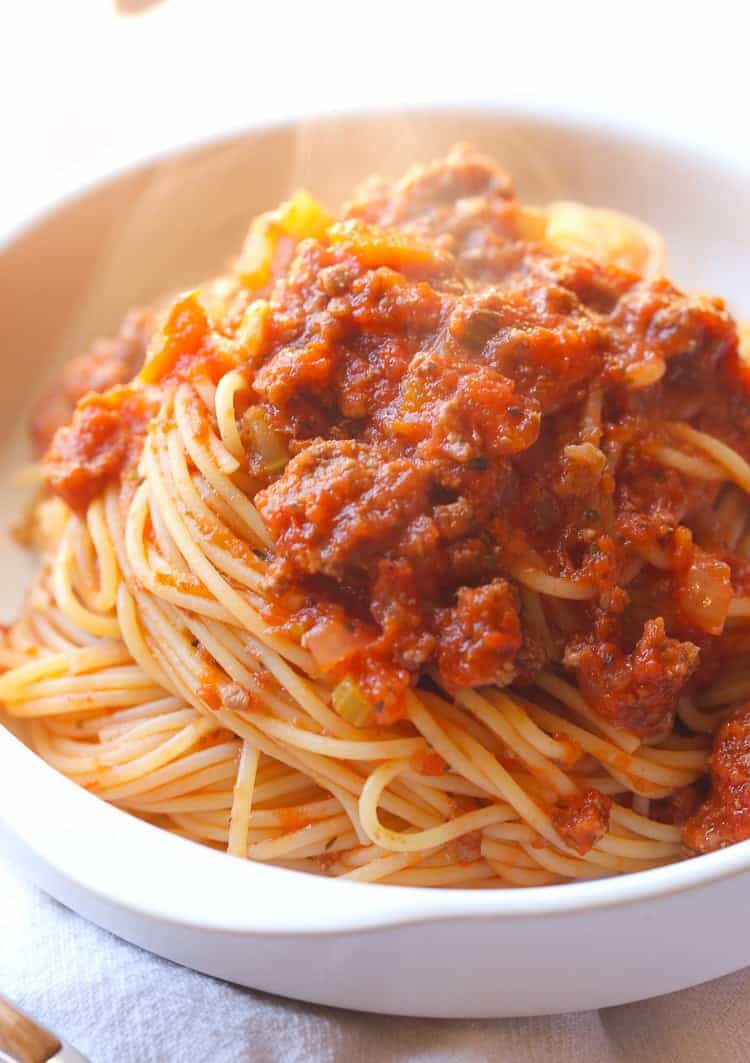 Is Ground Beef Healthy?
Beef is a natural source of complete protein, iron, healthy fats, vitamins, minerals, and other nutrients. Of course, factors like the cut of beef that you're using, as well as how your ground beef is prepared will always impact how healthy an overall dish is.
For example, some ground beef is high in saturated fats and, in large amounts, can lead to an increased risk for things like heart disease. However, there are options: ground beef that's labeled "lean" contains less fat than regular varieties of ground beef, and can be a healthier choice to use in recipes.
You don't need to eat ground beef with every meal to reap its health benefits, either! A balanced diet of meat, vegetables, grains, and other plant-based foods is the way to go, always.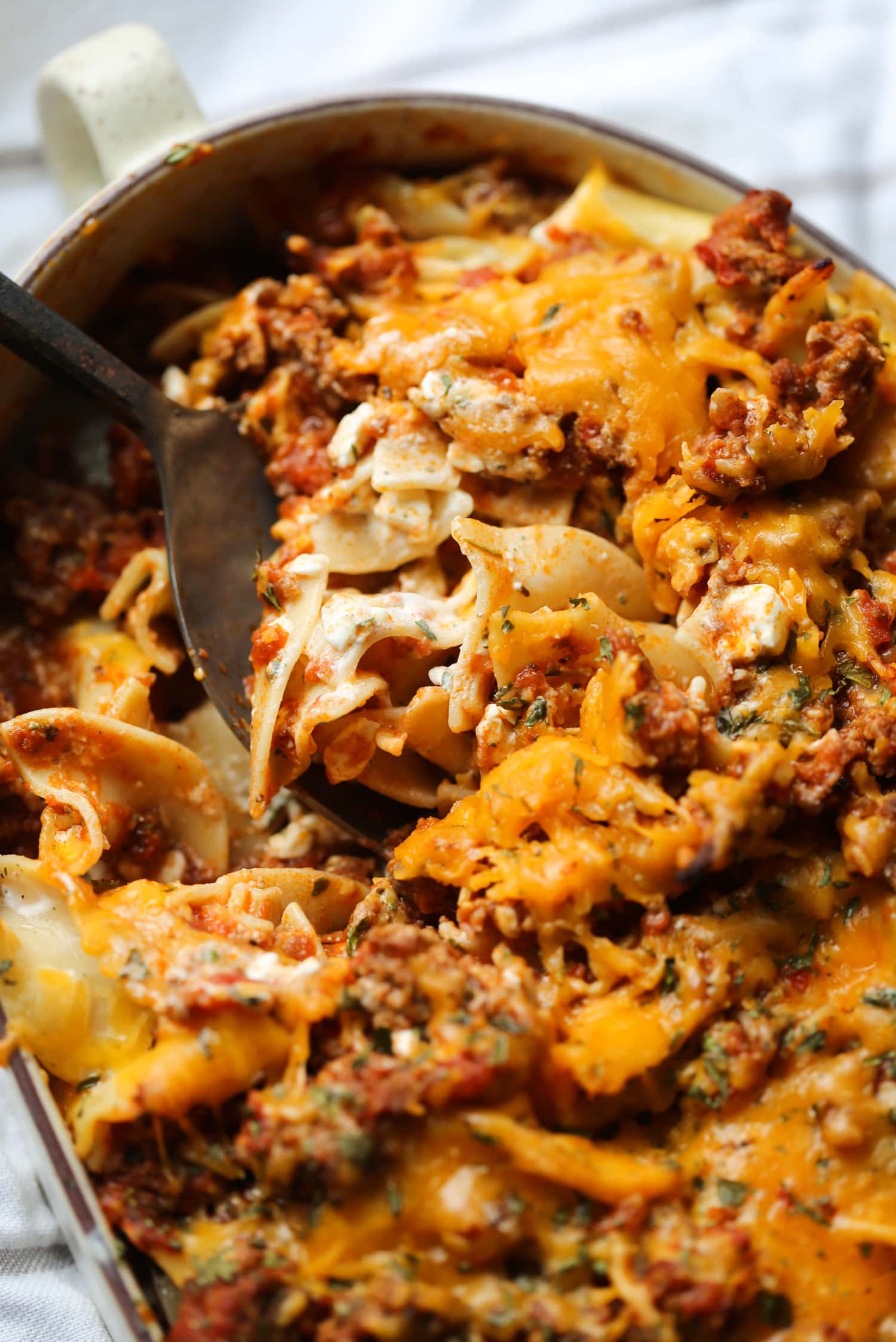 Can I Substitute Ground Beef in Recipes?
Certainly. If you're looking to replace the ground beef in the recipes below with a leaner or vegetarian option, try these easy substitutes for ground beef in pasta recipes:
Other Ground Meats: Looking for something lighter? Ground turkey or ground chicken is a leaner alternative to ground beef and can be used interchangeably in most pasta recipes. One thing to remember is that ground chicken and turkey generally cook faster than beef, so adjust the cooking times as needed. 
Lentils or Mushrooms: These are good sources of plant protein and make great vegetarian replacements for beef in pasta dishes. Keep in mind that both lentils and mushrooms may require different cooking techniques, and may even need to be cooked separately before they're used in recipes.
Tofu: Firm, crumbled tofu can also be used in place of beef in vegetarian recipes for bolognese, lasagnas, and more.
As with any substitution, changing up ingredients can impact the overall texture and flavor of a recipe. Cooking times may also vary depending on the substitution you're using, so always refer to the instructions for each recipe and adapt accordingly.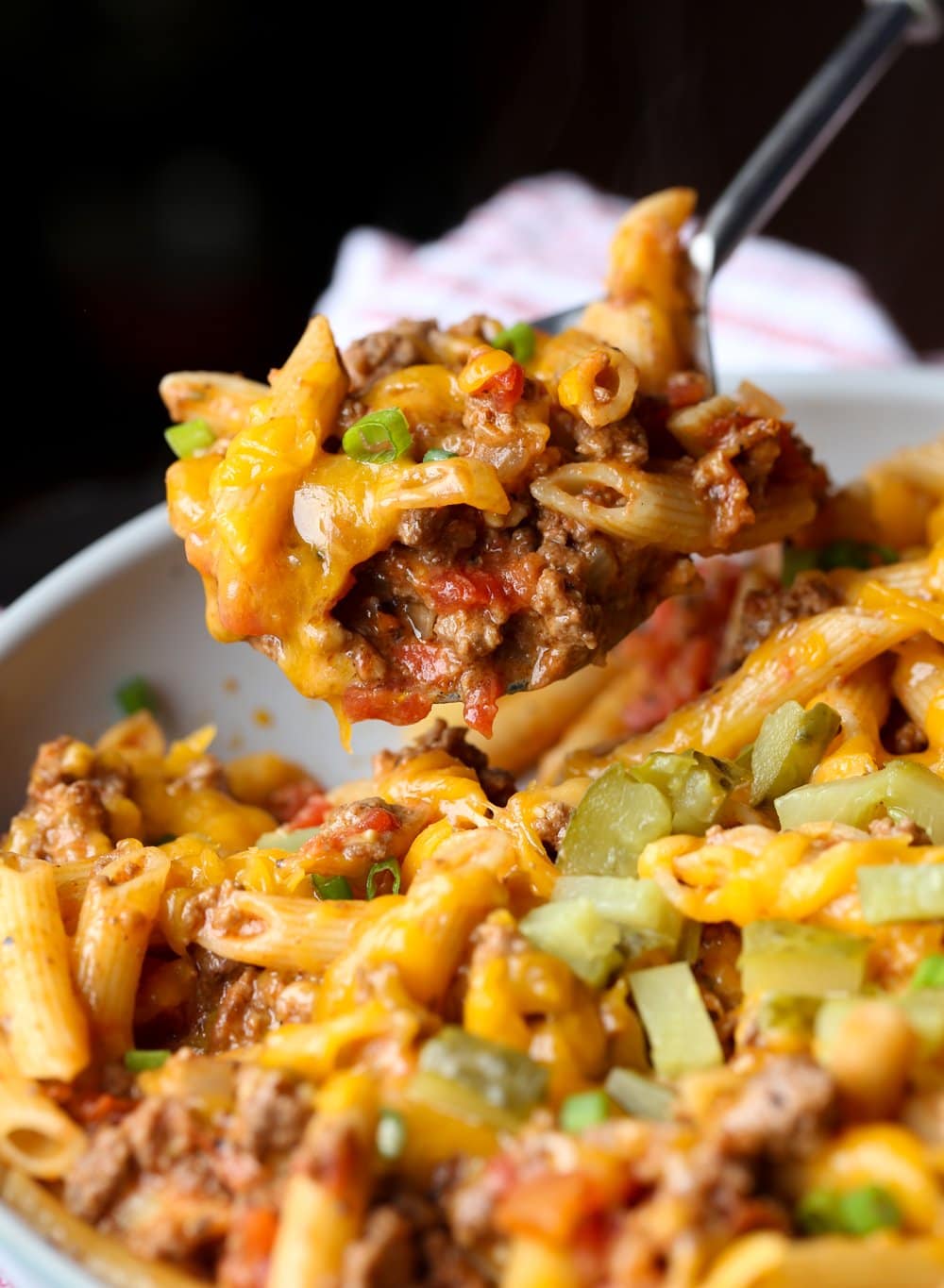 8 Easy Pasta Recipes with Ground Beef
Below I'm showcasing 8 easy ways to use ground beef in homemade pasta dishes. Don't forget to scroll for delicious serving suggestions along with how to store and reheat leftovers!
What to Serve with Pasta
In my house, nothing complements a comforting pasta dinner more than a glass of my favorite red wine. Of course, there's always loads of room for easy side dishes and more pasta serving ideas. Here are a few serving suggestions for meaty pasta dishes: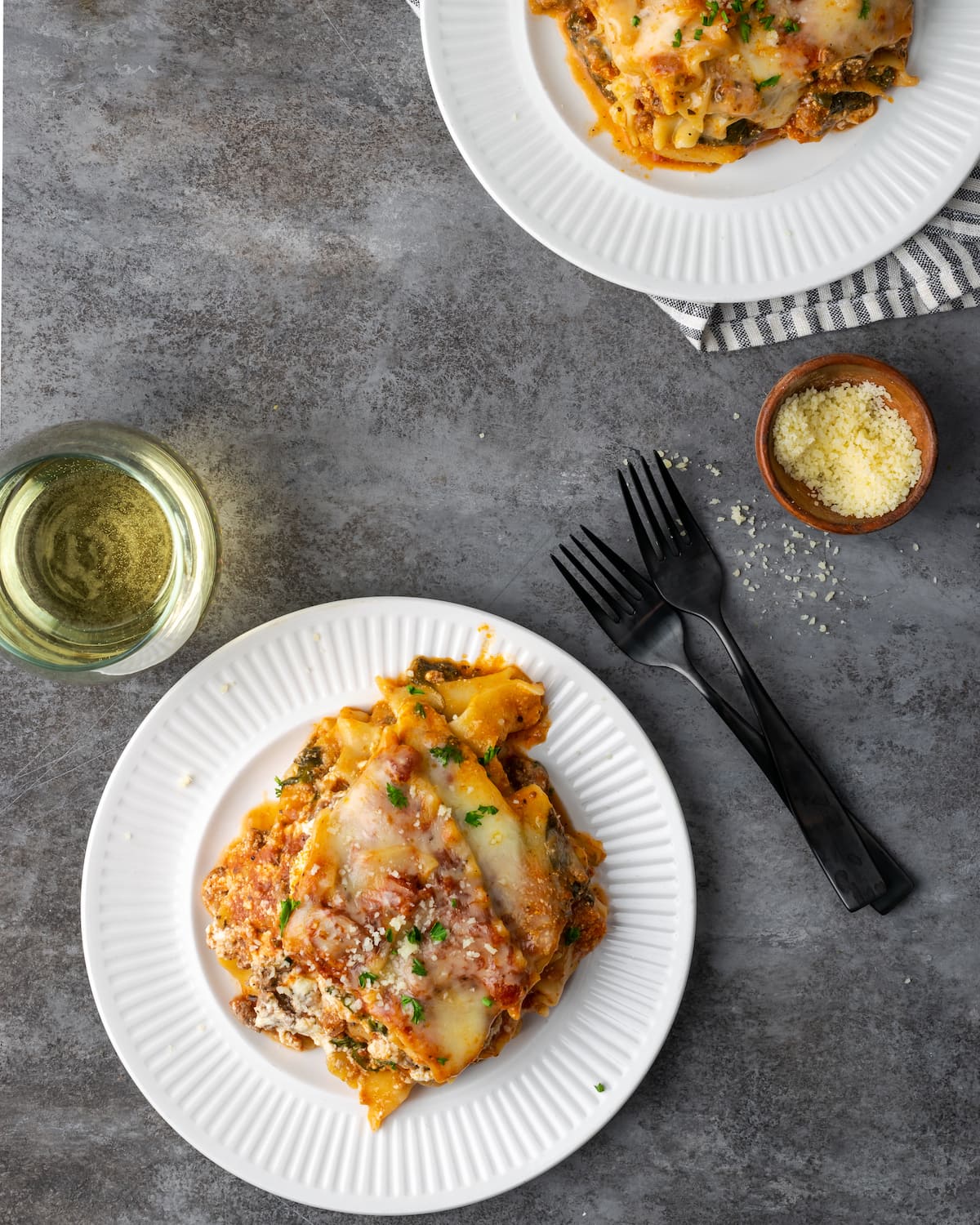 How to Store and Reheat Pasta
Make sure to let leftover pasta cool to room temperature before storing it airtight. When properly stored, most pasta dishes will keep in the fridge for up to 3-4 days. 
To reheat, warm your pasta in the microwave or in a skillet/saucepan on the stovetop until heated through. I'll sometimes sprinkle over a spoonful of water to help prevent the pasta from drying out while it reheats.
Can I Freeze These Pasta Recipes?
Freezing pasta is an easy way to make a recipe ahead of time, or to store leftovers for another day. Many of the recipes I've included above are freezer-friendly. Some pasta recipes freeze better than others, though, so it's a good idea to always check the individual storage instructions to be sure. Here are my tips for freezing pasta dishes:
In general, the best way to freeze pasta recipes is to allow the dish to cool completely, and then store it airtight in a freezer-safe container or freezer bag. Pasta casseroles can also be frozen in freezer-safe baking dishes, so they can go right from the freezer to the fridge to thaw, and then to the oven to bake.
Thaw your leftover frozen pasta in the fridge overnight and then reheat as directed.